[bsa_pro_ad_space id=4]
In 2019, CIT launched its The Journey series, depicting icons of travel. The common aesthetic frame is given by the use of Black Proof as the dominating finish, combined with other finishes. Steam Dream takes this to the extreme: four different finishes were applied to the coin. Again, Black Proof dominates and is used for the field and individual parts of the locomotive. The headlights and cowcatchers are Proof, the clutch and the door of the smokebox Frosted. A Black Frosted finish was created for the major part of the locomotive, the pressure gauge and the legend. In addition to the silver "Steam Dream" minting, CIT also presents the gold coin "Golden Train". Both new issues were minted using the special smartminting® technique at B. H. Mayer's Kunstprägeanstalt in Munich.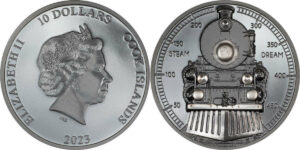 Description of the 10-Dollar Coin
One side of the silver coin shows an American steam locomotive from the front, around it the scale of a pressure gauge, on the door of the smokebox the CIT logo; in the field the legend STEAM – DREAM.
The other side features the portrait of Elizabeth II, below IRB (= Ian Rank-Broadley), around it the legend ELIZABETH II 10 DOLLARS COOK ISLANDS / 2023.
Description of the 1-Dollar Coin
One side shows a locomotive from the side. The blank is minted in the shape of a locomotive.
The other side features the coat of arms of Palau with the circumscription REPUBLIC OF PALAU 1 $.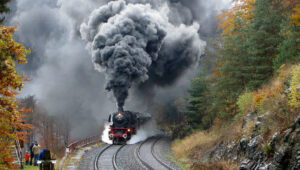 Background
With Steam Dream, CIT captures a period of travel in which steam locomotives opened up entire continents. The typically American detail we refer to as cowcatcher is well-known in Europe thanks to countless Western movies. And to save all railroad fans some time: this train was not inspired by a specific type. As with the Classic Car and King of the Road issues, CIT decided to create kind of a steam locomotive archetype from various iconic vehicles.
In addition to Steam Dream, an enchanting small gold coin in the shape of a steam locomotive is released. It is a wonderful lucky charm for everyone who loves trains.
Visit the CIT website for more information on the "Steam Dream" and "Golden Train" mintages.
You can find more CIT coins in the online database of Cosmos of Collectibles.
Don't miss any new coin issues! Subscribe to the Cosmos of Collectibles newsletter for free.
View this short film to understand how a steam engine functions.
If you want to experience all three dimensions of this coin, you have to watch the corresponding film: