[bsa_pro_ad_space id=4]
By 2023, CIT has already arrived at the third major European city to be featured on their successful Tiffany Art Metropolis series. This year's issue is dedicated to London, the most-visited tourist destination in Europe. In 2018 alone, more than 19 million people flocked to Greater London. CIT is presenting a $50 1kg silver coin with a mintage of 99 and a smaller, 3-ounce silver coin with a mintage of 999. The coins are minted in the highest quality proof with the help of the special technique smartminting® in an ultra high relief at the B. H. Mayer's art minting institute in Munich. The highlight of the coin is the inlay made of Tiffany glass.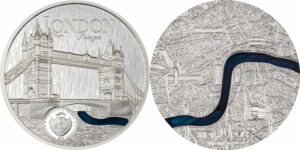 Description of the Coin
One side features the map of London, the most important sights stand out thanks to 3D minting. The River Thames is represented by a Tiffany glass inlay in the shape of a blue line. In the lower field METROPOLIS / Tiffany Art 2023.
The other side presents Tower Bridge in pouring rain, below it the River Thames, partially depicted with Tiffany inlay. In the field on the bottom left, the coat of arms of Palau with the legend REPUBLIC OF PALAU 20 resp. 50 $; above LONDON I love you.
Background
They would have all been able to find their way with this coin in their hand – that is how detailed the depiction of the city map is. Buildings that every tourist considers characteristic of London stand out thanks to 3D minting: Big Ben, Buckingham Palace, the British Museum, St. Paul and the Tower. Of course, the typical double-decker bus is represented, too. Tower Bridge is depicted as the city's most famous bridge on the other side.
As always, this year's release of Tiffany Art Metropolis will include four issues: one of 3 oz and another one with the weight of one kilogram. Later this year, CIT will present the corresponding 5-oz issues in gold and silver / Black Proof, which will be inspired by London's most famous building. What building that will be is not to be announced until the summer of 2023.
For more information about embossing, visit the CIT website.
Here you will find the previous coins in the Tiffany Art Metropolis series with the Paris and Rome coins.
You can find more CIT coins in the online database of Cosmos of Collectibles.
Don't miss any new coin issues! Subscribe to the Cosmos of Collectibles newsletter for free.
If you want to experience all three dimensions of this coin, you have to watch the corresponding film: