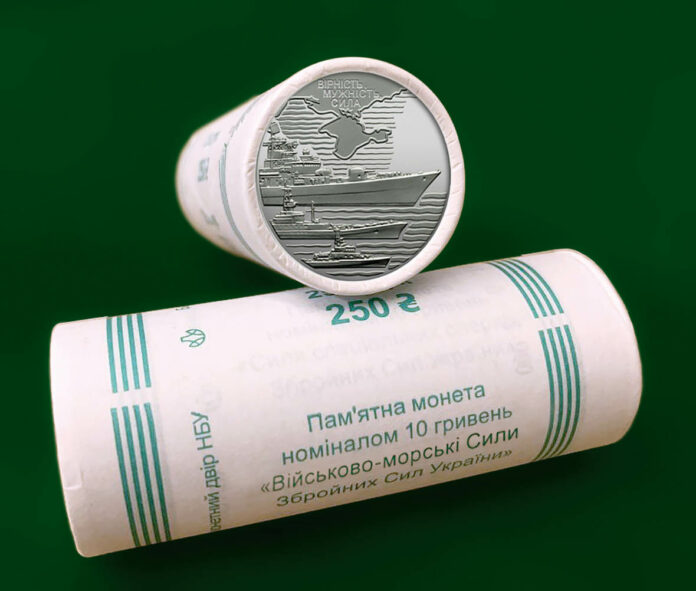 [bsa_pro_ad_space id=4]
The Ukraine honors their separate branch of the Armed Forces with a special coin series. This coin celebrates the navy, a separate branch of Ukraine's Armed Forces, designed to deter or repulse, together with other branches of the Armed Forces, other military formations and law enforcement authorities, preventing armed aggression against Ukraine from the sea and in coastal areas, and protecting the sovereignty and state interests of Ukraine. The Ukrainian military is an army of indomitable and unconquered fighters and true patriots who, in this time of war, are demonstrating courage, bravery, fortitude, willpower, and a great desire to defeat the enemy. Today, millions of Ukrainians are supporting and helping Ukrainian defenders, believing in them and a shared victory! The 10 Hrywnja coin was designed by Volodymyr Taran, Oleksandr Kharuk and Serhii Kharuk. It was engraved by Anatolii Demianenko and Volodymyr Demianenko.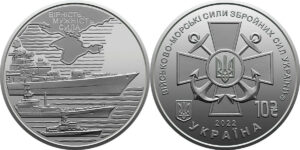 Obverse: in the center, against a smooth background, is the emblem of the Navy of Ukraine's Armed Forces; beneath, to the left of the emblem, is Ukraine's small coat of arms; beneath, to the right of the emblem, are the face value 10 and the graphic symbol of the hryvnia; above is the semicircular legend: ВІЙСЬКОВО-МОРСЬКІ СИЛИ ЗБРОЙНИХ СИЛ УКРАЇНИ (the Navy of Ukraine's Armed Forces); beneath is the legend 2022/УКРАЇНА (2022/Ukraine); the mint mark of the NBU's Banknote Printing and Minting Works is to the right of the coin's face value.
Reverse: against the background of stylized waves are various types of ships that symbolize the Navy of Ukraine's Armed Forces. Apart from surface forces, the navy also comprises naval aviation, marines, coastal artillery and other components; above, against the backdrop of Ukraine's southern coastal borders and the country's exclusive economic zone, are the following legends: ВІРНІСТЬ,/МУЖНІСТЬ,/СИЛА (loyalty,/courage,/strength).
We already presented the Ukrainian coin "In Unity Strength".
Read here how you can help Ukrainians by buying collectibles.
Estonia is currently planning to issue a 2 euro commemorative coin on Ukraine's freedom.
Find more coins from the National Bank of Ukraine in our online archive Cosmos of Collectibles.
We published an interview with Tetiana Fomenko, a stamp collector who runs a post office in Kharkiv. She gives insight in how it is to live in a besieged city during the war.