[bsa_pro_ad_space id=4]
Tetiana Fomenko (Татьянка Фоменко) lives in Kharkiv (Харків). The Ukrainian philatelist collects stamps of modern independent Ukraine as well as cat and dog stamps. She is the director of the philatelic shop of the Ukrainian Postal Service Ukrposhta and volunteers to maintain the Facebook page of Kharkiv Philately.
We feature a detailed excerpt of an interview with her that was conducted in German on 19 May 2022 by Axel Dörrenbach (Association Auditor / AIJP) for the Japanese magazine Yūshu (郵趣):
Axel Dörrenbach: Mrs. Fomenko, on 24 February, Russia invaded Ukraine with brutal military force. So, first of all: are you and your family doing okay?
Tetiana Fomenko: Thank you! Everything's fine with me and my family. We are in good health. As for our state of mind, of course, things are far from normal. But we hang in there and cope with the situation.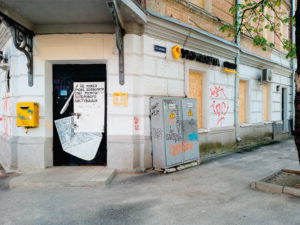 AD: You live in Kharkiv, in the east of Ukraine. Russian invaders are trying to conquer this major city. What is the supply situation like during the siege?
TF: No matter how hard the Russian invaders tried, Kharkiv was never completely surrounded by their troops. Hostilities around the city, especially in the first weeks of the war, cut the food supply chain. Therefore, there was a shortage of some products for some time. Now the supply has been restored. The range of products is limited, but all important products are available in the stores.
Water, electricity and heat supply, television, internet, mobile communications – all this works in Kharkiv. The shelling caused disruptions, but utility companies continued to work – they made repairs and restored the supply. Sometimes it took hours, sometimes a day or a couple of days. But all disruptions were quickly resolved. We are very grateful for that.
Only during the first few days of the invasion was the post office in Kharkiv unable to operate. It took several days to adapt the logistics and the tasks carried out by the different post offices to the situation. Initially, there were restrictions – shipping, for example, was limited to the city or the region. Now the post offices in Kharkiv and the region are fully functional again for both domestic and international shipping.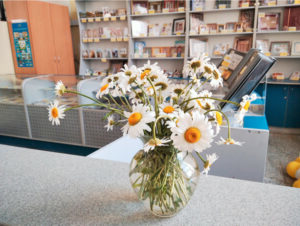 AD: How close did the invaders get to your workplace?
TF: The branch is located in one of the oldest post offices in Kharkiv, a monument of constructivism. The former main post office is on Privokzalnaya Square, next to it are other architectural monuments such as the main station and the regional railroad administration. Russian troops were on the outskirts of the city, about 15 to 18 kilometres from the city centre.
AD: Were post offices targeted? Were there casualties? Was there any material damage?
TF: Ukrposhta has an extensive network of branches. Of course, the shelling hit buildings, including post offices. Therefore, some damage occurred and there is still damage done today, but I don't know to what extent.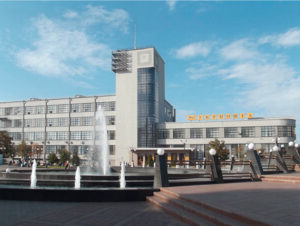 AD: And yet, you stayed. Why? Was the post office counter open every day?
TF: Yes, I stayed. Why? This is my city, my land. Until 24 February, I lived in a free, independent country. Russia had no reason to exercise this criminal military aggression against our state. Why should I cede something to someone that belongs to me by law? I stayed in the city because I had and have confidence in and trust the Ukrainian armed forces.
Since March, the post office has been operating in a restricted mode. Before the war, the philatelic shop was open Tuesdays to Saturdays from 9 a.m. to 6 p.m. The post office was even open around the clock. Now we open Tuesdays to Saturdays from 9:30 a.m. to 2:30 p.m.
Air-raid sirens ring out almost every night. On 18 May, for example, there were sirens for Kharkiv and the surrounding areas at 7:58 p.m., 8:33 p.m., 9:45 p.m., 12:02 a.m., 5:01 a.m. and 5:58 a.m. When the sirens go off, we go to the shelters with our emergency luggage.
AD: Are there still people sending letters despite modern media?
TF: Yes, there are still letters being sent. However, during the war, the volume decreased considerably. But there are mailings from ordinary people and also from post crossers and philatelists, who want to have something physical abroad. Ukrainian stamps thus became a link to their homeland.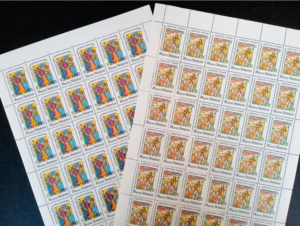 AD: When was the postal service interrupted?
TF: I can only talk about the situation in Kharkiv: the postal service was only interrupted for a few days. First, the local services for the city and the surrounding areas were resumed, then national mailing and finally the international mail service. Just postal relations with Russia and Belarus are suspended.
AD: What kind of things are being mailed?
TF: People mainly sent documents and personal items. The region's economy is now starting to recover, which is why commercial shipments are increasing.
AD: Is there a postal censorship by the military?
TF: People hand in parcels that are still open so they can be subjected to visual inspection. The list of prohibited items remained unchanged. There's no postal censorship carried out by the military. However, sharing information about our troops endangers our country, which is why responsible Ukrainians don't spread such details.
AD: According to your experience, how long does it take to mail the items?
TF: The situation changes by the day and is different in every region. Regarding international shipments, post offices of other countries are involved, and delays are not related to Ukrposhta.
But I know from experience that national letters and parcels need a few days up to two weeks to be delivered. Although letters to foreign countries get delivered faster than parcels, they need at least two weeks up to one and a half months.
AD: Was mail still delivered to people's doorsteps in Kharkiv despite the siege?
TF: Regarding mail delivery, every post office is assigned a certain district that is located around the branch. Except for emergency situations, mail and parcels were delivered to people's doorsteps all the time.
AD: The motif "Russian warship, go f*ck yourself" attracted a lot of attention worldwide. Did you sell these stamps, too?
TF: Every stamp issued in Ukraine is sold throughout the country on the first day of issue – including Kharkiv. On 12 April, we sold the stamps and offered cards and special postmarks.
AD: Do you sell stamps for foreign destinations in Ukrainian hryvnia or in euro/US dollar?
TF: Stamps with the nominal value expressed by the letter "F" are intended for domestic destinations, stamps with the letter "W" for foreign mail, they correspond to 1.50 US dollars. The sale is made in local currency at the respective exchange rate of the National Bank of Ukraine.
AD: What other stamps were sold during the siege?
TF: New stamps were planned to be issued on 25 and 28 February: the "Medobory Nature Reserve" postage block and the special stamp "Sputnik Sich-2-30". The issuance of these stamps was cancelled due to the outbreak of war.
After the stamp "Russian warship, go f*ck yourself" was released, the demand for other stamps with national, patriotic and military motifs increased drastically. Stamps like these were sold in every region within the limits of what was available. In some places they sell faster, in other places they are available for a longer period.
As for the standard stamps that are used by many postal customers for their mailings, every branch has a "basic stock" of such stamps to ensure uninterrupted operation for an entire month. Therefore, there was no shortage of standard stamps – and it is not expected that there will be one in the future.
AD: Mrs. Fomenko, thank you for the interview!
After the interview, Tetiana Fomenko sent some follow-up information:
As a result of shelling, bombardment and missile attacks on Kharkiv, the Russians damaged 2,229 multi-story buildings by the beginning of June, 225 of which were completely destroyed. 2,229 multi-story buildings… in Kharkiv alone. That's the living space of ten thousand people. Since then, Russian shelling on Kharkiv has intensified by the day.
First published in the BRIEFMARKEN SPIEGEL 8/2022
Stamps aren't the only items used to convey messages and foster a shared identity – coins do so, too. In our online archive Cosmos of Collectibles, you can see the coins Ukraine has issued so far.
Here we presented one of the latest coins from Ukraine.