[bsa_pro_ad_space id=4]
There are many projects to help Ukrainians in this difficult time. Some of them aim at collectors with special issues whose revenues are used for huminatarian help. We present two of them, a banknote from the Czech Republic and a medal from the USA.
Memorial Glory to Ukraine Banknote
The České Ducáty Partners, a numismatic retail company based in Prague, Czech Republic have designed a memorial banknote in support to the people and country of Ukraine. Following the unprovoked invasion and attack of the Ukrainian Republic by Russian armed forces beginning on the 24th February 2022, the ongoing war in this part of Eastern Europe has already seen the deaths of thousands of innocent civilians and caused a massive wave of refugees seeking safety. The situation is dire, besieged towns and cities have been reduced to rubble and unfit for habitation due to the endless shelling and constant barrage of bullets from Russian soldiers. Despite the heroic defense of the country by the Ukrainian army as well as brave armed civilians protecting their homeland, many have fled their homes and are now seeking safety in neighboring countries and further afield. The fighting continues and the crucial need for relief assistance by Ukrainians both in and out of their country remains a priority for many governments and non-government agencies alike.
As a fund-raising project, the České Ducáty Partners announced all proceeds from the sale of this memorial banknote entitled Sláva Ukrajině (Glory to Ukraine) will be donated to the Post Bellum Organization, who are actively raising funds to help the people of war-torn Ukraine. Post Bellum is a non-governmental non-profit organization founded by a group of Czech journalists and historians, their function is to accurately document the memories of witnesses of important historical phenomena of the 20th and 21st century.
České Ducáty Partners publicized the banknote for the first time at the Together for Ukraine event held on the 3rd April 2022 in Prague. They also announced the project has been fully funded and have stipulated only defense equipment and medical supplies will be purchased from the funds generated by this project, which are also immediately distributed to the affected areas. The memorial banknotes which bear no denomination are produced by the Státní Tiskárna Cenin – State security printers at their facilities in Prague in the Czech Republic on behalf of the České Ducáty Partners.
The memorial banknote is designed by noted painter Eva Hašková, an experienced and award-winning artist prevalent in the field of stamps and banknotes. Her design utilizes the national colors of Ukraine, blue and yellow. On the obverse is a detail of the statue of Berehynia – a symbol of freedom – erected on Independence Square in Kiev. On the reverse is a depiction of the oldest church in the capital of Ukraine, the Church of St. Sofia. Behind the Church is a map of Europe highlighting Ukraine shown in a golden color – together with the outline including Crimea, territory illegally annexed by Russia in 2014. Also shown on the same map is an outline of the Czech Republic shown in blue. The notes measure 194 / 84 mm. and is printed on security paper using an off-set method including a linden leaf watermark. A total of 20,000 banknotes are available with 2000 notes assigned to each letter prefix beginning with A and including B, C, D, E, F, G, H, I and J. Each note is priced at 1500 CZK (£51.00).
To date, the government of the Czech Republic has now issued nearly 260,000 special visas to Ukrainian refugees, according to the Ministry of the Interior. As a statement of civic solidarity to the people and government of Ukraine, the portion of Prague's Korunovační Street which the Russian Embassy is located has been officially renamed "Ukrainian heroes" street. The renaming was approved by Prague City Hall last month.
Additional information on purchasing one of these memorial banknotes, can be found online.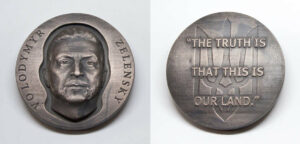 Zelensky Medal
The non-profit Jewish-American Hall of Fame has commissioned Jim Licaretz, a former sculptor-engraver at the U.S. Mint, to create a bold heroic portrait of Ukraine's valiant President Volodymyr Zelensky for a limited edition of large 3 1/2 inch art medals – which are being offered to the public, with 100% of the profits being contributed to aid the embattled Ukrainians in their homeland and as refugees.
The reverse of the medals feature Zelensky's inspirational words "Our truth is that this is our land," and the state seal of Ukraine. The quote is an excerpt from a speech, in which Zelensky said: "We are not putting down arms. We will be defending our country, because our weapon is truth, and our truth is that this is our land, our country, our children, and we will defend all of this."
Licaretz created the original model in resin using a 3-D printer. He then made a mold and will cast medals in bonded bronze, each of which Licaretz will hand finished.
Volodymyr Oleksandrovych Zelensky was born to Jewish parents on 27th January 1978 in Krywyj Rih, then in the Ukrainian Soviet Socialist Republic. Zelensky's great-grandfather and his three great-granduncles died in the Holocaust.
Zelensky earned a degree in law from the Kyiv National Economic University. He then pursued comedy and created a company which produced films, cartoons, and TV shows including the TV series Servant of the People, in which Zelensky played the role of the Ukrainian president. In 2019, Zelensky actually won the Ukrainian Presidential election with over 73 per cent of the votes.
No more than 199 Zelensky commemorative medals will be issued, each accompanied by a certificate of authenticity and a stand so that it can be proudly exhibited in a home or office. The cost is $150 plus $15 per order in USA or $25 elsewhere for shipping, with a limit of 3 medals per person. If all medals are sold, a contribution of about $15,000 will be made to help the Ukrainian victims of Russian aggression.
To order, pay with paypal using email address of directorjahf@yahoo.com.
For further information, visit the Jewish-American Hall of Fame website.