[bsa_pro_ad_space id=4]
CIT dedicates the second issue of their Masters of Art series to Claude Monet (1840-1926). He is considered the founder of Impressionism and a defining figure of classical modernism. Today, Claude Monet's paintings are among the most popular exhibits of any museum. One of his paintings was sold at 110 million Dollars in 2019, making it one of the top ten most expensive paintings in the world. The 10 Dollars coin was minted with the special technique smartminting® in an Ultra High Relief at the B. H. Mayer's art mint in Munich.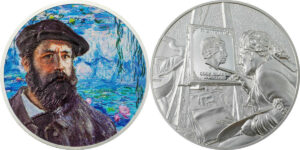 Description of the Coin
One side shows a self-portrait of the artist Claude Monet of 1886; in the background a detail from one of his water lily paintings; on the rim the year 2023.
The other side depicts a painter in the Rococo style, inspired by the painting "Le dessinateur" by the French artist Jean Louis Ernest Meissonier; the depicted painting presents the portrait of Queen Elizabeth II by Ian Rank-Broadley (initials: IRB); above it the name of the ruler, below the issuing nation and 10 DOLLARS.
Background
Three years before Claude Monet was born, Louis Daguerre developed his system for the photographic reproduction of reality. In this way, he was the first to deprive artists of their most important task, namely using color to preserve a visual impression for posterity. As photography steadily improved in capturing reality, innovative painters redefined the function of a painting. Claude Monet was a pioneer in this field. He no longer depicted every detail he saw but captured the overall impression evoked by light, the object and the atmosphere. That is why this art movement is called Impressionism.
His father's inheritance enabled Claude Monet to create a large and well-tended garden, first in Argenteuil, then in Giverny. It became a source of inspiration for him. Many of his painting were created here, including countless versions of the water lilies, which CIT picks up with this coin design. Giverny became the center of a colony of artists, where mainly Americans settled down. The Giverny Group brought Impressionism to America.
For further information, visit the CIT website.
See here the first coin in the Masters of Art series: Vincent van Gogh.
You can find more CIT coins in the online database of Cosmos of Collectibles.
Don't miss any new coin issues! Subscribe to the Cosmos of Collectibles newsletter for free.
If you want to experience all three dimensions of this coin, you have to watch the corresponding film: