[bsa_pro_ad_space id=4]
Probably everyone who read fairy tales in their childhood knows that princesses have blue eyes. We internalized that blue eyes are something very special, and this has had an impact all the way into pop culture. There's no other eye color that was made the subject of so many successful songs. Just think of Elton John's Blue Eyes from 1982. And he isn't the only one: stars like Eric Clapton and The Who sang about their preference for blue eyes too. CIT is now dedicating an impressive coin to this enchanting eye color, which was minted at B. H. Mayer's Kunstprägeanstalt in Munich.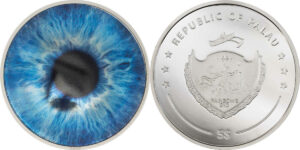 Description of the Coin
One side depicts a blue human iris with pupil filling the entire space.
The other side presents the coat of arms of Palau with the circumscription REPUBLIC OF PALAU 5 $.
Background
The enthusiasm for blue eyes is somewhat contradicted by the fact that only 8 to 10% of all people have blue eyes. According to the latest research, the phenomenon is due to the fact that 6,000 to 10,000 years ago the eyes of a single baby did not change their color after blinking into the world for the first time. Quite different from normal they retained their blue color – due to a gene mutation – throughout the person's entire life. So this very baby became the ancestor of all blue-eyed people of today.
CIT dedicates a coin entitled "ColorEYEzed: Ocean blue" to this eye color. It is highly interesting for collectors because the depiction illustrates the spectacular development of color printing techniques from their beginnings in 1992 to this day. 1992, exactly thirty years ago, CIT issued the world's first color coin on behalf of Palau. Only by comparing this coin to ColorEYEzed, one can really understand how much the possibilities of color application have widened since then.
For further information, visit the CIT-Website.
You can find more CIT coins in the online database of Cosmos of Collectibles.
Don't miss any new coin issues! Subscribe to the Cosmos of Collectibles newsletter for free.
If you want to experience all three dimensions of this coin, you have to watch this film:
How Do Blue and Green Eyes Exist When Those Pigments Are Not Found in the Human Eye?