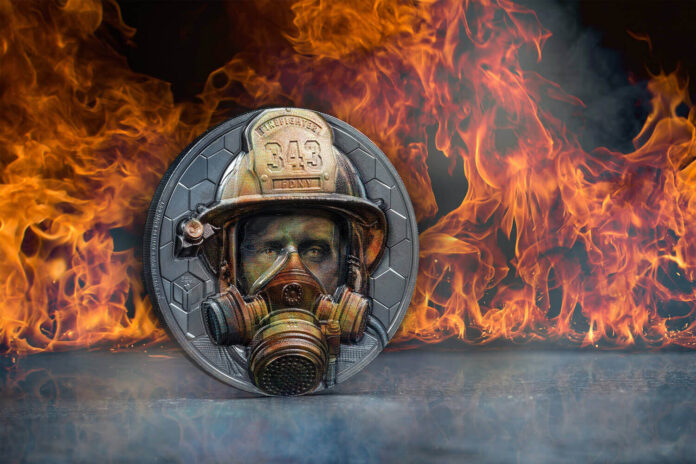 [bsa_pro_ad_space id=4]
Firefighters are among the real heroes. Their job is to save human lives. This fact is honored not only in the "Real Heroes" series, but now also with a coin from the CIT. Thanks to the special technology smartminting®, the silver coin was minted in an ultra high relief with partial color application and micro minting by the B. H. Mayer's Kunstprägeanstalt in Munich.
Description of the Coin
Firefighter with breathing mask and helmet in front of honeycomb pattern; in the left field REAL / HERO as micro inscription, below a stylized guardian angel; on the rim the incuse inscription WE RUSH IN WHEN OTHERS RUSH OUT.
The other side features the silhouettes of two firefighters in gear, holding a fire hose to extinguish the fire, behind them the silhouette of the Twin Towers; below the portrait of Queen Elizabeth II by Ian Rank Broadley (initials IRB); around it ELIZABETH II – 20 DOLLARS – COOK ISLANDS – 2021.
The Real Heroes: Firefighters
After the spectacular start of the Real Heroes series, CIT releases a tribute to firefighters all over the globe to commemorate the 20-year anniversary of the unimaginable disaster of 11 September 2001. They are the true heroes of our time, the ones who rush into a building when everyone else only wants one thing: to be as far away as possible.
Anyone who has ever experienced a big fire knows how terrifying the force of fire can be: it's hot, black smoke fills all the rooms and makes everyone lose their bearings, plus the constant danger as the building might collapse and flash fires or unforeseen explosions occur. Whoever enters such a room in order to extinguish the fire is a real hero, a hero of our daily life, a hero willing to put his life on the line for the safety of his fellow citizens. Such heroism comes at a high price: 343 firefighters died during their job in the World Trade Center.
CIT set a numismatic monument to them. Firefighter features the three-dimensional portrait of a firefighter with crash helmet and breathing mask. On the helmet, which was created after the model used by the members of the New York City Fire Department during the mission of September 11, the number 343 is engraved to commemorate those who died in that fight. The height of the relief is breath-taking, the colors are so realistic that we almost experience the fireman's fear ourselves. Nevertheless, his eyes tell us that he'll do what firemen do: WE RUSH IN WHEN OTHERS RUSH OUT, as one can read on the rim at the left.
Firefighter is a numismatic tribute to the heroes of 11 September 2001 and to all the true heroes of our daily life who extinguish fires around the world to save, rescue and protect people.
Further information about the coin can be found online at CIT.
Are you looking for other CIT coins? Then take a look at Cosmos of Collectibles too!
See how survivors of 9/11 describe their escape from the World Trade Center:
If you want to fully understand the three-dimensionality of this coin, you have to watch this film: