[bsa_pro_ad_space id=4]
On Thursday, January 16, 2020, Mark Anderson presented the 2019 Burnett Anderson Memorial Award for Excellence in Numismatic Writing to Dr. Peter van Alfen, at the Annual Gala of the American Numismatic Society.
Peter van Alfen
ANS Chief Curator Dr. Peter van Alfen has served at the American Numismatic Society for nearly two decades, during which time he has written or edited a dozen award-winning books and exhibition catalogs, and has written over 70 articles. In addition he has served as editor of the ANS Magazine, as editor of the American Journal of Numismatics, and as director of the Eric P. Newman Graduate Summer Seminar in Numismatics. Initially trained as an ancient philologist and archaeologist with specializations in Nautical Archaeology and the Bronze Age, he turned to numismatics late in his graduate studies. His publications on the ancient world reflect his diverse academic background, including broader contextual studies of Mediterranean and Near Eastern fiscal, trade, and monetary systems from the Bronze Age to the Byzantine period, as well as closer studies of coinages from ancient Arabia, the Levant, Asia Minor, and Greece. In more recent years, he has devoted considerable attention as well to medallic art, publishing studies of medallic art related to the First World War, the Olympics, ophthalmology and the history of medicine, and New York City.
The Burnett Anderson Memorial Award
The Burnett Anderson Memorial Award is intended to recognize quality and integrity in numismatic wordsmithing of every kind. The award was created by Krause Publications, the parent company of Numismatic News, World Coin News, Bank Note Reporter, and COINS magazine and named after longtime Krause correspondent and Washington Bureau representative Burnett Anderson. The medal was first given posthumously to Mr. Anderson in 1999, at the 108th anniversary convention awards banquet of the American Numismatic Association (ANA).
Before serving at Krause Publications, Mr. Anderson worked as a newspaper reporter, a foreign correspondent, and for 25 years the United States Information Agency. During his almost 20 years at Krause he wrote extensively on numismatics and other collectible areas, and his work appeared in several Krause periodicals.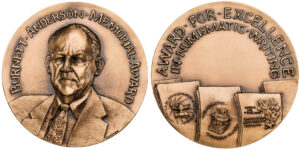 In presenting the award to Dr. van Alfen, Mark Anderson, son of the late Burnett Anderson, remarked, "The Burnett Anderson Award for Excellence in Numismatic Writing is a cooperative product of three very fine but diverse institutions: the American Numismatic Association, the Numismatic Literary Guild, and the American Numismatic Society, tonight's host. They do not always agree on everything, but for the last twenty-one years they have agreed on an outstanding author, journalist, or researcher deserving recognition of their career contributions to the numismatic field. In 2019, they agreed that Dr. Peter van Alfen should be the 21st recipient.
"My father would have strongly supported Peter's receipt of this award, for what he has brought to numismatics, for the many activities he has stewarded in his career at the ANS, and especially for the fine scholarly product and high standards he brings to the written word."
Today the award recognizes researchers, authors, and journalists for their career contributions to numismatics. Previous awardees include: David T. Alexander, Q. David Bowers, Kenneth E. Bressett, Thomas K. DeLorey, Beth Deisher, Paul A Gilkes, David C. Harper, Robert W. Hoge, Wayne Homren, R.W. Julian, Ursula Kampmann, Chester L. Krause, Clifford Mishler, Eric P. Newman, Donn Pearlman, Edward Reiter, Edward C. Rochette, Margo Russell, and Scott A. Travers.
Visit the website of the American Numismatic Society.
You can learn more about Peter van Alfen in our Who is Who section.
Wikipedia has a list of former winners of the award.