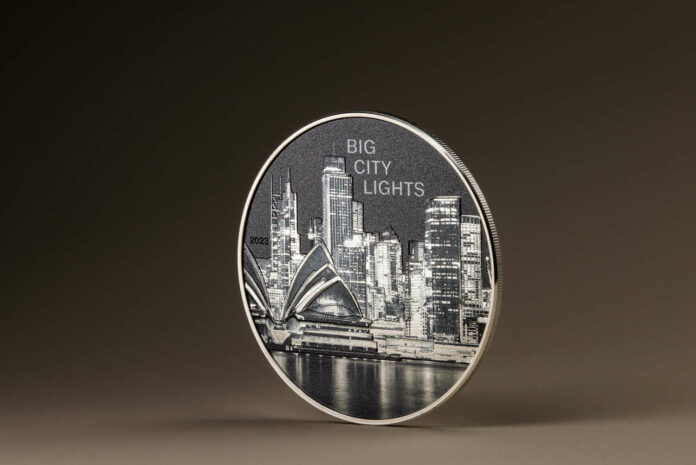 [bsa_pro_ad_space id=4]
The second issue of CIT's successful Big City Lights series of 2023 is dedicated to one of the world's most popular metropolises, Sydney, Australia. This choice was inspired by an anniversary: in 2023, the Sydney Opera House celebrates its 50th birthday.
CIT is presenting two new coins to match. Including a 1 ounce silver coin that was minted with the special technique smartminting® in a high relief and with partial color application. And a 0.5g gold coin. Both coins come from the B. H. Mayer's art mint in Munich.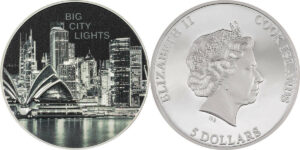 Description of the Coin
One side of the silver coin features the illuminated skyline of night-time Sydney with the Opera House in the foreground on the left, above it BIG / CITY / LIGHTS 2023.
One side of the small gold coin shows the Sydney skyline in the Art Deco style with radial sun rays, in front of it G'day from, below SYDNEY / 2023.
The other side features the portrait of Elizabeth II, below IRB (= Ian Rank-Broadley), around it the legend ELIZABETH II COOK ISLANDS / 5 DOLLARS.
Background
The iconic building was created based on designs by the Danish architect Jørn Utzon. It contains five theaters with 5,541 seats, a cinema, four restaurants, six bars, countless dressing and rehearsal rooms, offices and, last but not least, several souvenir shops. Completing this mammoth project cost several times the agreed budget and took a decade longer than expected. Instead of in 1963, the opening did not take place until 20 October 1973. Since then, the Opera House has become Sydney's new landmark. It has been a UNESCO World Heritage Site since 2007.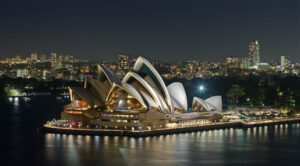 Anyone who visited this impressive city has fond memories of Sydney's city lights, which CIT perfectly captured on this coin. B. H. Mayers Kunstprägeanstalt applied the black coloring to the design with utmost precision, so that there was no need to add additional color for the illuminated windows – the effect is achieved by the natural luster of the Proof finish shining through the black color.
The accompanying small gold coin in the style of an Art Deco poster is a special highlight. It is a perfect gift or souvenir for all the fans of this wonderful city.
You can find more information about the silver coin and the gold coin on the CIT website.
See here the first coin in the Masters of Art series: Vincent van Gogh.
You can find more CIT coins in the online database of Cosmos of Collectibles.
If you want to experience all three dimensions of this coin, you have to watch the corresponding film: