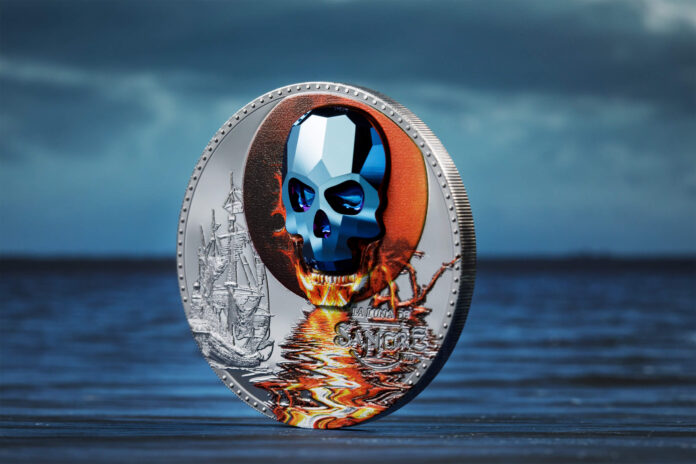 [bsa_pro_ad_space id=4]
Crystal Skull is back – with the ominous Luna de Sangre issue. Centerpiece of the coin designed by CIT Coin Invest AG on behalf of Equatorial Guinea is a metallic blue, skull shaped Swarovski crystal superimposed on a blood moon.
Description
The obverse shows the coat of arms of Equatorial Guinea with the inscription REPUBLICA DE GUINEA ECUATORIAL, below the nominal value 1000 FRANCOS CFA.
The reverse shows a ghost ship, sailing from the left edge in the direction of a large red moon, rising above the waves of the sea and reflecting its red shadow in them. In the center of the red moon is inserted a blue Swarovski® crystal element in the shape of a skull as an inlay. Below, the inscription LA LUNA DE / SANGRE / 2019.
Like its predecessor the piece shows a Swarovski® crystal element in the shape of a skull as an optical highlight. This time it is not black, but shimmering black-blue. The blood moon has been realized with precise and challenging pad printing in red-black-orange tones. The pirate ship with its torn sails is reminiscent of death vessels such as the Flying Dutchman, a myth that has reached the present in the figure of Jack Sparrow and his Black Pearl.
Crystal Skull – Luna de Sangre speaks of danger, fear, end of the world, fire and death – employing state-of-the-art and innovative minting technology.
Background
Blood Moon – describing the ghostly phenomenon of a total umbral lunar eclipse, during which we see the moon from Earth in a brown reddish color, that has always reminded people of blood. Therefore the blood moon is regarded as a bad omen, that, if we read the apocalypse of John, shall initiate the end of the world: "And I saw when the sixth stamp was undone, and there was a great earth-shock; and the sun became black as haircloth, and all the moon became as blood; and the stars of heaven were falling to the earth."
Luckily the blood moon of January 21st, 2019, had no apocalyptic consequences, so that we can admire the new creation by CIT Coin Invest in the crystal skull series, succeeding "Vanity", a bestseller of the year 2018.
The Crystal Skull series does not focus on one specific skull like the skull series issued in the name of Palau. Rather, it describes an emotion by use of associative elements. Was it the vanity of life in 2018, it is now apocalypse, end of the world, danger, as embodied by the blood moon.
Learn more about the coin on the website of Coin Invest.
If you wish to see the coin in detail, watch this video clip.
To learn about the blood moon and lunar eclipse, watch this video clip.
If you want to learn about the origins of the Flying Dutchman, read this article about the Ghost Ship.