[bsa_pro_ad_space id=4]
The SINCONA Fall Auctions Are Approaching
It's late autumn again, and everyone is eagerly waiting to see what treasures SINCONA in Zurich will showcase this time! The longing for exciting coins and banknotes is undiminished – especially because various coin fairs had to be cancelled in recent months and collectors show pent-up demand. SINCONA will not disappoint them!
Four catalogues offer a total of 3800 lots with an estimate of about 6 million Swiss francs. No less than three special collections are presented in separate catalogues, and every lover of numismatics is sure to find pieces that will perfectly fit into their collection.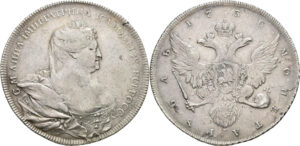 Auction 71: Coins and Medals from Russia
It has become a SINCONA tradition that a catalogue on Russian numismatics is published in autumn, as usual with texts in Russian and English. Collectors will find great rarities among more than 300 items presented in the catalogue. Pay attention to the ducats and the splendid platinum pieces minted under Nicholas I. The estimate is more than 1.5 million Swiss francs.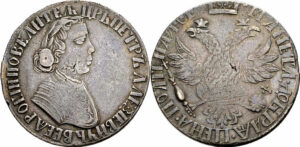 Lot 1: Peter I 1682-1725. Poltina 1703, Kadashevsky Mint. Very rare with excellent provenance [Ad. Cahn, auction 66 (May 1930), lot 997; Münzen & Medaillen AG, Basel, auction 20 (Dec. 1959), lot 819; SINCONA AG, auction 12 (14-16 Oct. 2013), lot 8]. Estimate: CHF 25,000.
Lot 4: Peter I (1682-1725). Gold medal 1704 commemorating the storming of the castle of Dorpat in July 1704. Die by P. H. Müller. Extremely rare. Estimate: CHF 15,000.
Lot 11: Peter I (1682-1725). Ducat 1716. Red Mint. NGC MS61. Estimate: CHF 50,000.
Lot 67: Anna (1730-1740). Rouble 1736. St. Petersburg. So-called Hedlinger's rouble. Only two specimens with his monogram I C H are known. Extremely rare. Estimate: CHF 175,000.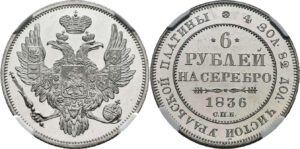 Lot :193 Nicholas I (1825-1855). 6 roubles 1836. St. Petersburg. Platinum. Only 11 specimens minted. NGC PF64+ CAMEO (the highest graded specimen of this coin by NGC). Estimate: CHF 80,000.
Lot 247: Alexander II (1855-1881). Gold medal 1879 weighing 40 ducats. On the exploration of the Northeast Passage and the polar circle by the expedition ship SS Vega. Probably the only specimen in private possession. Estimate: CHF 10,000.
Auction 72: SINCONA British Collection, Part 1
SINCONA is particularly proud to be in a position to present in the anniversary year 2021 one of the most important collections of British gold coins and medals assembled by a private collector. To honour its importance, they gave it the title "SINCONA BRITISH COLLECTION". More than 2500 gold coins and 800 historical medals of Great Britain and the Commonwealth were gathered by a passionate collector with great historical and numismatic expertise.
Starting this November, the first part of 400 lots will be put up for sale by SINCONA in auction 72. Further parts will be sold in the next year and the year after.
Look forward to the catalogue and discover pieces that you have rarely or never seen before. The famous Una & the Lion is also listed, it is one of the most beautiful coins of the world. In SINCONA's auction you will find it as part of an original set from 1839. Some examples follow according to historical sequence: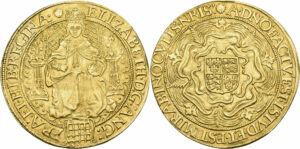 Lot 576: Elisabeth I (1558-1603). Fine Sovereign n.d., Tower Mint. Sixth issue, mint mark: scallop. Exceptionally sharp minting. Estimate: CHF 10,000.
Lot 623: Oliver Cromwell as Lord Protector (1653-1658). Broad of 20 shillings 1656. Magnificent quality, NGC MS61. Estimate: CHF 20,000.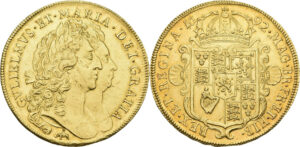 Lot 690: William III and Mary (1688-1694). 5 guineas 1692. Joint busts, below elephant and castle. Best-certified piece by NGC, splendid. MS62. Estimate: CHF 20,000.
Lot 825: George IV (1820-1830). 2 pounds 1825, pattern. Extremely rare; only 3 to 5 specimens minted. NGC PF63. Estimate: CHF 20,000.
Lot 852: Victoria (1837-1901). Proof set 1839, including 15 gold, silver and copper coins, including 5 pounds 1839 – Una & the Lion. Only 3 to 5 specimens of the variety offered here are known. Estimate: CHF 250,000.
Auction 73: World Coins and Medals – SINCONA Bullion Auction – Banknotes – Swiss Coins and Medals
Numismatic objects from the entire world are gathered in this catalogue. Almost 2300 lots with a total estimate of 2.25 million Swiss francs present coveted pieces for every collector, every dealer and – in the bullion auction – every investor.
Regarding the section of World Coins, one must first highlight an outstanding series of gold coins from Colombia. For many of these pieces, the mintage number was quite high, however, they can only rarely be found in excellent quality – many of the almost 100 lots are of above-average condition and have fine lustre.
There are series, especially of gold coins, from France and Italy as well as silver coins from Great Britain. SINCONA recommends to study the catalogue carefully to discover numismatic rarities. You will find a few examples in this preview, including a gold gulden from the Habsburg hereditary lands that had not been known before. According to the auction house, no expert and none of the Austrian institutions could provide information about the specimen. SINCONA therefore puts its own interpretation up for discussion and looks forward to your comments. Numismatics is and remains a fascinating field.
The auction house feels especially honoured by the fact that the Bernisches Historisches Museum entrusted it with the sale of some of their pieces. These coins have not been inventoried in the course of more than 100 years or have not been included in their collection for other reasons. This shows that SINCONA enjoys great trust and that there is a trusting relationship between the academic world, institutions and the coin trade.
Offering Russian issues in the autumn sales is not the only tradition at SINCONA – the banknote auction has also become a staple. More than 400 lots can be found this year in SINCONA's auction 73. They include, among others, the second part of the Chinese banknote collection with issues from 1948 onwards.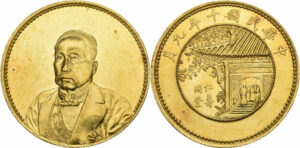 The beginning is made by magnificent and rare pieces from the section of World Coins.
Lot 1010: Argentina. Provincias del Rio de la Plata. 8 escudos 1829. Mint of Rioja. Extremely rare, only 2 to 3 specimens known. Estimate: CHF 45,000.
Lot 1060: China. Republic. Gold dollar year 10 (1921). Tientsin Mint. On the appointment of Hsu Shih-Chang as President. Extremely rare and with magnificent gold patina. NGC MS63. From the stock of the Bernisches Historisches Museum, ex. Graffenried-Favarger Coll. Estimate: CHF 30,000.
Lot 1257: France. Charles X (1824-1830). 10 francs 1830 A, Paris. Essay. Extremely rare. NGC MS65. Estimate: CHF 10,000.
Lot 1369: Great Britain. Victoria (1837-1901). Crown 1847, London. Gothic type. Estimate: CHF 1,500.
From Italy, there are also pieces from the stock of the Bernisches Historisches Museum, ex. Graffenried-Favarger Coll. Here is an example: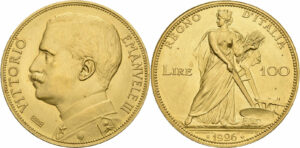 Lot 1454: Italy. Vittorio Emanuele III (1900-1946). 100 lire 1926, Rome. Only 40 specimens minted! The specimen with the best NGC grade. NGC MS66. Estimate: CHF 20,000.
Rarities and above-average quality from Colombia are also part of this section. Have a close look at the catalogue. The auction house would be happy to provide you with its personal assessments of the pieces, as some details or the lustre cannot alsways be seen in a picture.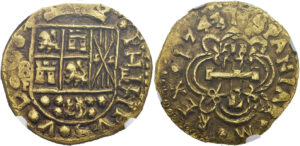 Lot 1538: Colombia. Felipe V (1700-1746). 8 escudos 1743 S, Santa Fe (Nuevo Reino). Extremely rare, probably the second known specimen. NGC AU58. Estimate: CHF 25,000.
Lot 1551: Colombia. Carlos III (1759-1788). 8 escudos 1778 SF, Popayan. Above-average quality. NGC MS62. Estimate: CHF 3,000.
For a long time, Liechtenstein and the Holy Roman Empire (HRE)/Austria used the same currency. There are 34 lots from Liechtenstein in this catalogue, and 68 from the HRE.
Lot 1637: Liechtenstein. Johann II (1858-1929). 5 korona 1898, Vienna. Very rare silver pattern (essai) with edge inscription. FDC. Estimate: CHF 5,000.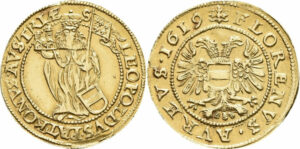 As mentioned above, the 1619 gold gulden is a numismatic challenge. It was minted in the interregnum between the death of Emperor Matthias (r. 1612-1619) and the election of his successor Ferdinand II (r. 1619-1637). But in which mint was it produced, perhaps even in Frankfurt / Main to help finance the tremendous costs of the election?
Lot 1712: Holy Roman Empire / Austria. Interregnum, gold gulden 1619. Extremely rare, probably the only known specimen. Estimate: CHF 35,000.
Lot 1695: Poland. Sigismund III (1587-1632). Taler 1630, Bromberg. Best-graded specimen by NGC, MS64. Estimate CHF 8,000.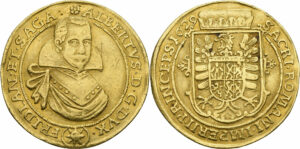 Lot 1814: Czechia. Albrecht von Wallenstein (1623-1634). 10 ducats 1629, Jitschin. Extremely rare and with known provenance. Estimate: CHF 50,000.
Following world coins and medals, another part of auction 73 will take place – the SINCONA Bullion Auction. By now, everyone knows the procedure: bullion gold is auctioned off at special conditions to private persons and dealers; bids are made as a percentage of the precious metal price, not based on the currency; and buyers do not pay a premium added to the hammer price regardless of whether they participate as room bidders, submit their bids via writing or Live Bidding.
In the same auction 73 and on the same day, the auction will continue with World banknotes, Paper money from China after 1948 and Switzerland.
The chapter on banknotes of catalogue 73 comprises almost 480 lots, starting with "Afghanistan" and ending with "Zypern" (Cyprus). It also has some lots with documents that are related to monetary history in a fascinating way. They can be found among Italian and Portuguese lots.
Last May, SINCONA auctioned off the first part of an extensive collection of Chinese banknotes. As an exception, the auction took already place in spring, the second part will now be included in the "official" banknote sale. This section comprises 70 lots, including various rarities that are missing in many collections.
The 59 lots with Italian pieces are worth a very close look as they include many banknotes of the old Italian states from the 16th century onwards.
SINCONA has already been able to please banknote collectors of the Austrian Empire twice; this time, there are 61 lots, once again including various rarities that are waiting for new owners.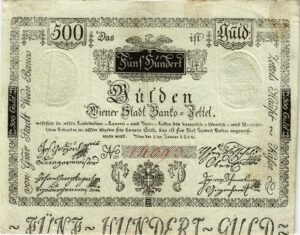 Lot 3284: Austrian Empire. Wiener Stadtbanco. 500 gulden 1800, 1 January. Very rare. Estimate: CHF 3,500.
One part of the banknote auction that naturally attracts a lot of attention is the section Switzerland that presents a veritable cross-section of the country's paper money history. A special highlight is a specimen banknote of the fourth issue of Swiss Reserve Banknotes, designed by the important Swiss artist Hans Erni.

Lot 3417: Switzerland. National Bank. Reserve banknote 1000 francs 1950, 1 January. Specimen banknote. Extremely rare. Estimate: CHF 10,000.
Coins of Switzerland
The following day, 23 November 2021, will be entirely dedicated to the monetary history of Switzerland. It is the last part of SINCONA's auction catalogue 73.
It starts with 23 lots with coins from the Bernisches Historisches Museum. As an example, we will show you one of the most outstanding and rarest specimens: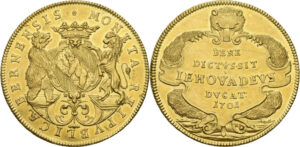 Lot 4003: Switzerland. Bern, 5 ducats 1701. Engraver: Justin de Beyer. Extremely fine to FDC. Estimate: CHF 20,000.
SINCONA is known for treating Swiss numismatics with special care, so it is no surprise that the catalogue comprises numerous rarities. Of course, one can find many individual pieces as well as multiple lots that are of interest to collectors with limited budgets. This fact is often neglected in auction previews, and we too will turn our attention to the great rarities once again.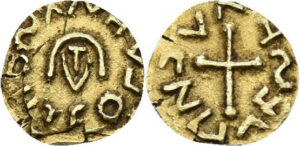 Lot 4032: Switzerland. Frankish-Merovingian period. Theudebert II (595-612) or Theuderic II (595-613). Triens n.d. (ca. 612), for Avenches. Extremely rare; the only known specimen. Estimate: CHF 40,000.
For a long time, Glarus coins of the 19th century of excellent quality were no longer offered; fortunately, several of these specimens are listed in this catalogue.
Lot 4212: Switzerland. Glarus. 3 schillings 1808. Extremely fine to FDC. Estimate: CHF 300.
Dated talers from Solothurn always attract the attention of collectors. Here is an outstanding specimen.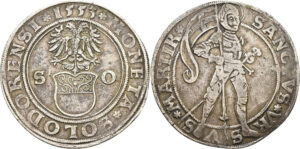 Lot 4383: Switzerland. Solothurn. Taler 1553. Very rare. Estimate: CHF 9,000.
Another rarity is a half taler of the three original cantons from the Altdorf mint – only few numismatists have ever held such a specimen in their hands.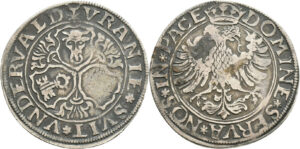 Lot 4462: Switzerland. Uri, Schwyz and Nidwalden. Half taler n.d. (around 1561). Extremely rare. Estimate: CHF 10,000.
Of course, you will also find specimens of the Swiss Confederation. The pattern of the 20 francs piece of 1871 by Durussel will probably realise a top price.
Lot 4642: Swiss Confederation. Pattern of 20 francs 1871 by Durussel. Very rare and almost FDC. Estimate: CHF 45,000.
Shooting medals are regularly featured prominently in SINCONA's auctions. And those who think they have already seen everything should take a look at lot 4787 – a medal that, until now, could only be found in an old photograph in the shooting medal reference work by Richter.
Lot 4787: Switzerland. Shooting medal 1918 of the Artillery Association for the Young Shooters Course 1918. Extremely rare. Extremely fine to about FDC. Estimate: CHF 250.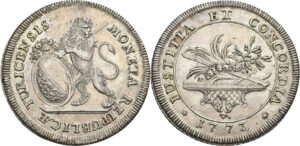 Auction 74: The Luthiger Collection – Swiss Coins and Medals
The name Viktor Luthiger-Holzgang (1852-1949) is probably familiar to every lover of Swiss cantonal coins. As is well known, the Museum Burg Zug was able to acquire the coins of the Canton of Zug from his grandson, Viktor Luthiger, in 2005.
However, only a few numismatists knew that V. Luthiger-Holzgang did not only collect coins of his native canton but also specimens and medals from all over Switzerland. His granddaughter inherited this part of his collection. SINCONA honours her grandfather's passion for collecting with a special catalogue.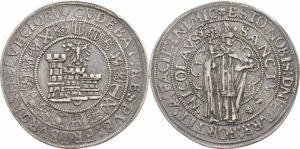 Lot 5170: Freiburg/Fribourg. Guldiner n.d. (1st half of the 16th century). Very rare and of attractive quality. Estimate: CHF 10,000.
Lot 5233: Graubünden. Diocese of Chur, Jos. Mohr v. Zernez (1627-1635). Taler 1628. Rare variety with Roman digits of magnificent quality. Estimate: CHF 5,000.
Lot 5311: Lucerne. Ducat 1715. Die by J. C. Hedlinger. Very rare. Estimate: CHF 7,500.
Lot 5554: Valais. Diocese of Sion, Matthäus Schinner (1499-1522). Guldiner 1501. Very rare. Estimate: CHF 5,000.
Lot 5618: Zurich. Taler 1773, so-called Gessner taler, after a design by the artist Salomon Gessner. After just 36 minted specimens, the die of what is probably the most beautiful Zurich taler of the 18th century broke and could not be used anymore. Extremely fine +. Estimate: CHF 10,000.
For many months, restrictions imposed by health authorities prevented coin enthusiasts from truly enjoying their passion due to the pandemic. Coin fairs had to be cancelled, museums were closed for some time and auctions could only be held online in various countries. These times are slowly but steadily coming to an end! If you have a valid Covid certificate, SINCONA would be glad to welcome you from 21 to 23 November 2021 in Zurich, otherwise the auction house is always available for you via phone, mail or online during the auction days. You can find all the relevant information on the SINCONA homepage.
Click here to go directly to the catalogues of SINCONA's fall auctions.