[bsa_pro_ad_space id=4]
"Fü(n)fliber" is the colloquial name used for the five-franc coin in Switzerland. This term dates back to a time before this coin even existed, when the Bernese mint was countermarking French coins on a daily basis. This was cheaper than minting its own coins for circulation. Now, the French coins bore the denomination "livres" and, when Switzerland issued its first five-franc piece in 1850, it was simply the "Fü(n)fliber", the coin worth five French livres. And the coin is still referred to as such today, even though its users have long since forgotten that people once paid with livres in France.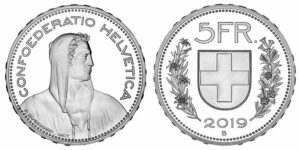 The Alpine Herdsman on the Five-Franc Coin
But this book isn't about the introduction of the five-franc coin. It is dedicated to a later episode in the history of this denomination, specifically the moment when the head of Helvetia on the obverse was replaced with that of an alpine herdsman, whom many people in Switzerland still believe to be William Tell to this day.
In the midst of the monetary chaos of the First World War, which would lead to the dissolution of the Latin Monetary Union, Switzerland was already discussing new coins that would more effectively emphasise the national aspect of Swiss money. The Swiss Federal Department of Finance announced a competition, which was just the first in a long series of competitions. In them, Paul Burkhard proved himself to be the most distinguished and skilled artist. He mastered the art of adapting a motif for a medium as small as a coin, a task that most of his competitors failed miserably in achieving. So, he was commissioned by the finance department to turn the head of his "alpine herdsman" into the motif for the new five-franc piece.
Paul Burkhard would not receive his salary of 4,000 francs until he delivered a finished matrix, i.e., the master die that would be used to produce all later dies. If he only produced a draft, his salary would be reduced to 2,000 francs. This was a mistake, because of course Burkhard ended up presenting a matrix that, unfortunately, did not meet the requirements of mass minting. It required elaborate corrections. As a result, the first Fünfliber coins with the year 1922 were not actually produced until 1923.
Nevertheless, SINCONA decided to celebrate this Fünfliber's 100th birthday with a fabulous coin collectors' party, which was held as part of its Auction 77 – Swiss coins and medallions. The highlight of this event was the launch of a new must-have book for any fan of Swiss federal coinage: Hanspeter Koch presented his book entitled "Paul Burkhards Fünfliber – 1922-2022: Ein Klassiker wird Hundert" (English: "Paul Burkhard's Fünfliber – 1922-2022: A Classic Turns One Hundred").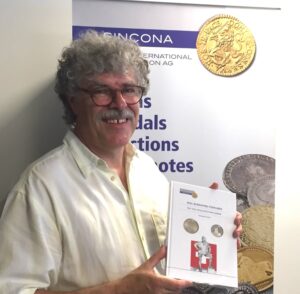 Hanspeter Koch
Any long-time Swissmint customer will know Hanspeter Koch, though perhaps not by name. He is the mastermind behind all the numismatic texts that are available to download from the Swissmint website. For many years, he has been responsible for examining obscure Swiss coins and for Swissmint's customer magazine 'Heads or Tails'. He is one of the great experts on Swiss federal coinage and has regularly presented important source studies on this subject in the past.
The Book: Paul Burkhard's Fünfliber
And so, as you'd expect, the book is thoroughly researched and features a great many images, which Swissmint was kind enough to provide. The subject matter is clearly structured and the texts are matter-of-fact and straightforward, which makes them a pleasure to read. Not a single word is wasted! And yet, the writer offers his readers an insight into the workshop of the money makers; he talks about plans that were ever realised, little modifications that only an insider would notice, turning this humble circulation coin into an exciting adventure.
After reading this book, nobody will look at the Fünfliber the same way again!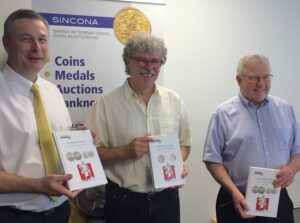 Special Editions for Collectors
This book, published by Gietl Verlag, is an absolute bargain at a price of 24.90 euros. That's a great deal of information for not a lot of money, and it's only available at this price because SINCONA is keen to show as many people as possible how exciting coin collecting can be – and not just the great rarities, but circulation coins, too.
But of course, Jürg Richter and his crew understand that collectors are always looking for something special. For that reason, they have also published three special editions of their book. All these special editions have one thing in common: instead of just the printed images of the 1922 and 2022 Fünfliber pieces, they come with real coins – in three versions, depending on the book price: very fine, extremely fine, about FDC.
So, "Paul Burkhards Fünfliber" is the first book in the world that collectors can obtain in "very fine", "extremely fine" or "about FDC" condition. And of course, as is always the case with such rarities, it's "first come, first served".
So, if you'd like a copy of this book, you can order one directly from Gietl Verlag.
If you'd like one of the rare editions in "very fine", "extremely fine" or "about FDC" condition, you should contact SINCONA right away to get your hands on one.