[bsa_pro_ad_space id=4]
To celebrate fifty years of the revolutionary seven-sided 50p coin, The Royal Mint has released a commemorative 50p bearing the original 1969 Britannia New Pence design. The coin also bears special privy marks, one of which is a minting first on a 50p coin. The coin is available in Brilliant Uncirculated, Silver Proof, Silver Proof Piedfort, and Gold Proof.
The iconic shape was first suggested by Hugh Conway, a member of the Decimal Currency Board. The 'equilateral curve heptagon' went through various stages of development, with Conway and his team using their considerable engineering experience to perfect this coin. Expertise of Bristol Siddeley's design office, was also called upon during the process of designing the 50p.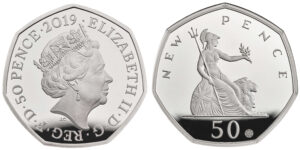 Nicola Howell, Director of the Consumer Division at The Royal Mint said, "Over the last 50 years the 50p has grown to become one of the most collectable coins. Its iconic and revolutionary shape is distinctive, and has led to it becoming one of the most loved coins amongst the public. It is an honour to mark such a significant anniversary with this commemorative 50p, featuring Christopher Ironside's design."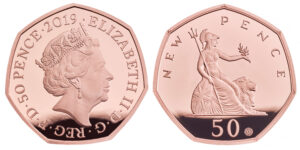 The inaugural 50p Britannia reverse design by Christopher Ironside has been chosen to feature on this coin. Ironside won a public competition and was chosen to create all of the reverse designs for six new coins that were required for decimalisation.
The coin has special privy marks which recognise the science behind the 50p's revolutionary 7-sided shape. On the outer rim of the reverse, the letters A to G appear on each point and are joined by arced crossing lines – a minting first on a 50p coin. There is also a secondary privy mark on the reverse, which is a Spirograph-type design drawn from an extension of lines forming the 50p shape.
Striking Your Own Coin
As part of the 50 years of the 50p celebrations, The Royal Mint Experience is offering visitors the opportunity to strike this new commemorative 50p coin bearing Christopher Ironside's design.
If you want to strike your own coin, get more information on the website of The Royal Mint Experience.
And this is the official website of The Royal Mint.
You can find more information on the decimalisation in the UK and Christopher Ironside in this article about when The Royal Mint issued another famous coin with an Ironside design, the Royal Arms.