[bsa_pro_ad_space id=4]
The Royal Spanish Mint has issued a 10 euro silver coin (for collectors: a 8 reales piece) to commemorate man's arrival on the moon and the contribution of the Spanish facilities. The reverse depicts a monitoring antenna based in Spain, the Lunar Module and, as a background, the Moon. The obverse depicts a portrait of His Majesty King Felipe VI.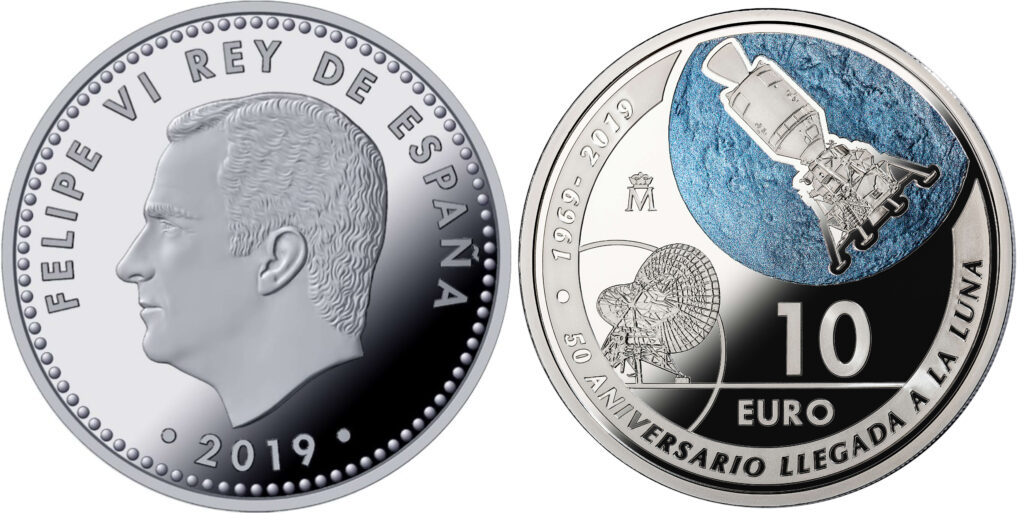 Together with the U.S. Mint, the Royal Spanish Mint developed a joint product of two coins in the same package. One coin is the 8 reales coin (with a 10 euro face value) from the Royal Spanish Mint and the other one is a curved half-dollar clad coin. The maximum mintage of the set of 2 coins is 5,000 units.
Apollo 11 blasted off on July 16th, 1969. Neil Armstrong, Edwin "Buzz" Aldrin and Michael Collins were the astronauts on Apollo 11. On July 20th, Armstrong and Aldrin landed on the moon and in the Spanish Lunar Module.
Three facilities located in Goldstone (California), Canberra (Australia) and Robledo de Chavela (Madrid) guaranteed the monitoring of the interplanetary spacecraft 24 hours a day, 365 days a year, covering 120 degrees each of the airspace of the Earth.
You can find out more about the commemorative coin at the Royal Spanish Mint's website.
CoinsWeekly reported about the auction of the Armstrong Family's memorabilia in May 2019.
The U.S. Mint also collaborated with the Royal Australian Mint and published an Apollo 11 commemorative coin.
"One small step for a man, one giant leap for mankind" – you can watch the CBS Television coverage Apollo 11 Lunar landing here.