[bsa_pro_ad_space id=4]
The United States Coast Guard was founded in 1915. It has served its country in a variety of ways since it was created – fighting off pirates and alcohol smugglers, deciphering the German Enigma G code system, eliminating sea mines and protecting merchant as well as passenger ships. But one thing was always at the center of their actions: saving people from distress at sea.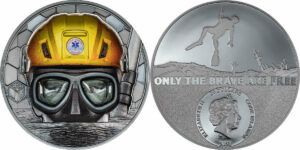 Description of the Coin
One side features the head of a member of the United States Coast Guard with helmet, diving goggles and snorkel protruding from the water. In the background a honeycomb pattern, in it the logo of the series with the legend REAL HERO; on the rim SO OTHERS MAY LIVE.
The other side depicts in the upper half the rescue of a drowning person: the lifeguard is lowered down with a rope to take the hand of the victim; in the background, sinking ship. In the lower, granulated half circle, in it the portrait of Elizabeth II by Ian Rank-Broadley (initials: IRB); around, ELIZABETH II – 20 DOLLARS – COOK ISLANDS – 2023. The coin was minted with the special technique smartminting® in an ultra high relief and partial color application at the B. H. Mayer's art mint in Munich.
Background
The duty of coast guards to save shipwrecked persons regardless of their nationality has been enshrined in international law since 1913: after the sinking of the Titanic in 1912, the International Convention for Safety of Life at Sea was signed the following year. In its fourth altered version, this treaty is still valid today. Coast guards across the world set out risking their lives in order to bring the crew and the passengers of sunken ships to safety, as the convention demands.
With the fourth motif of the Real Heroes series, CIT sets a monument to all coast guards in the world. Many of them continue to live and act according to the motto expressed by Colonel Richard T. Knight: "It is my duty … to save life and to aid the injured. I will be prepared at all times to perform my assigned duties quickly and efficiently, placing these duties before personal desires and comforts. These things we do, that others may live."
Further information visit the CIT website.
See also the previous releases of the Real Heroes series: Special Forces and Firefighters.
You can find more CIT coins in the online database of Cosmos of Collectibles.
Don't miss any new coin issues! Subscribe to the Cosmos of Collectibles newsletter for free.
If you want to experience all three dimensions of this coin, you have to watch the corresponding film: