[bsa_pro_ad_space id=4]
Rare and Important Numismatic Literature at Kolbe & Fanning
Kolbe & Fanning Numismatic Booksellers will be holding their Auction 158 on Saturday, November 21, 2020. The 467-lot sale features material from the TAB Library of works on ancient coins, the extensive working library of Eldert Bontekoe, and other properties. Most heavily focused on books and catalogues relating to ancient coins, the sale also features a substantial section on world coins and a smaller, but choice, selection of items of American interest.
Some highlights of the sale include: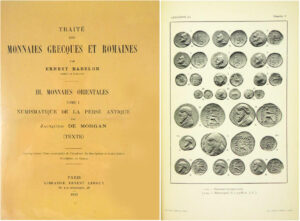 Lot 19: Joel Malter's well-preserved set of Jacques de Morgan's two-volume work on ancient Persian coins, the conclusion of the Traité des monnaies grecques et romaines. Estimate: $ 1,200.
Lot 27: Pierre Bastien's extraordinary three-volume study of Roman numismatic portraiture, Le buste monétaire des empereurs romains. Estimate: $ 600.
Lot 29: A bound provenance record of the magnificent Biaggi Blasys collection of Roman gold coins and medallions. Estimate: $ 600.
Lot 216: Edward T. Newell's set of SNG Lloyd, complete in eight parts and bound in one volume. Estimate: $ 750.
Lot 44: A 1542 folio edition of the first numismatic book, Guillaume Budé's De asse et partibus eius, elegantly printed in Paris by Michel de Vascosan. Estimate: $ 4,000.
Lot 141: A fine set of Giuseppe Mazzini's Monete imperiali romane, illustrating over 8000 coins from one of the finest collections ever formed. Estimate: $ 1,800.
Lot 388: The landmark 1819 work on preventing the forgery of bank notes, published by the Society of Arts and including a number of exceptional engravings. Estimate: $ 1,000.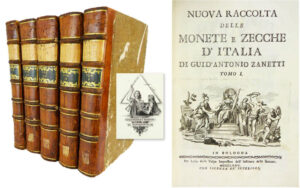 Lot 399: Dr. Bassoli's set of Zanetti's monumental study of Italian coinage, Nuova raccolta delle monete e zecce d'Italia (1775-1789). Estimate: $ 3,500.
Lot 410: A well-preserved copy of Henry Chapman's 1914 catalogue of the George Parsons collection of American and Canadian coins and medals, illustrated with 13 very fine photographic plates. Estimate: $ 1,800.
Lot 414: an original subscription set of Sylvester S. Crosby's Early Coins of America, the most important American numismatic book ever published, unbound and still in the original printed paper covers. Estimate: $ 5,000.
Bids placed via post, email, fax or phone must be received by Friday, November 20, the day before the sale, in order for them to be processed. Advance absentee bids may also be placed at any time online at the Kolbe & Fanning website; live internet bidding will be available during the sale itself through the same platform.
All lots can be viewed online or in the PDF-Calatogue.