[bsa_pro_ad_space id=4]
Pobjoy Mint announced the new release of the HMS Erebus 50 pence coin on behalf of the British Antarctic Territory. This new coin is to commemorate the 220th anniversary of the birth of Sir James Clark Ross and his expedition to the Antarctic.
Born in London on 15th April 1800, Sir James Clark Ross was a British Royal Navy explorer. Between 1839 and 1843, Ross was given command on the ship HMS Erebus and led his own expedition to the Antarctic and charted much of the frozen continents coastline, accompanied by HMS Terror.
The two ships were bombs vessels which had very strong hulls designs to withstand the recoil from the mortar bombs that they fired. These strong hulls were to prove invaluable in the thick ice they encountered.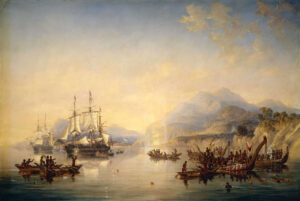 In 1841, James Clark Ross discovered the Ross Sea, Victoria Land and the two volcanos Mount Erebus and Mount Terror which were named after the expedition's vessels. They sailed for 250 nautical miles along the edge of low, flat topped ice shelf which was later named the Ross Ice Shelf in his honour.
The design of the coin features the HMS Erebus. The ship was originally launched in 1826, constructed by the Royal Navy. The obverse of the coin features an effigy of Her Majesty Queen Elizabeth II produced exclusively by Pobjoy Mint.
For more information go to the Pobjoy Mint website.
Even after James Clark Ross left the ship, the HMS Erebus has a legendary history: It was lost in the Arctic since an expedition in 1848 and was only rediscovered in 2014! Another reason that makes this an historically significant coin. Read more about Franklins unfortunate expedition with no survivors here.
Watch in this video divers explore the wrack of the HMS Erebus.