[bsa_pro_ad_space id=4]
Pobjoy Mint has announced the new release and first Christmas coin of 2020 on behalf of Ascension Island. As Ascension Island is actually mentioned in Charles Dickens' book Bleak House the Pobjoy Mint therefore felt this would be a perfect fit for the issue of a Christmas Crown. They are excited to share the new design which marks the 150th Anniversary of Charles Dickens. Charles Dickens himself needs no introduction. Born on 7th February 1812, the English writer created some of the world's best known fictional characters and is regarded by many as the greatest novelist of the Victorian era.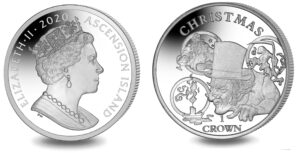 His novels and short stories are widely read all over the world today. Dickens died on the 9th June 1870 and he was given the honour of being buried in poet's corner in Westminster Abbey in London. One novel that remains especially popular all these years later and is still a great favourite during the festive season, is A Christmas Carol and it is this book that is the inspiration behind the design for the Christmas coin. In the centre of design is Ebenezer Scrooge counting his money by candlelight. Surrounding him are three ghosts who visited him that eventful Christmas Eve – the Ghost of Christmas past, the Ghost of Christmas present and the Ghost of Christmas future.
For more information visit the website of the British Pobjoy Mint.
Do you want to get in the mood for the Christmas season? Here you can listen to the audiobook of A Christmas Carol.
And here you can watch a video to learn more about the life and work of Charles Dickens.
Of course, you will find this Dickens coin in our online database Cosmos of Collectibles.