[bsa_pro_ad_space id=4]
Pobjoy Mint announced the release of a bi-metal £2 coin commemorating 200 years since the birth of Florence Nightingale, who established the principles of the modern nursing and hospital sanitation. In light of the global pandemic and the appreciation on the whole of the United Kingdom for the National Health Service system whom have worked day and night to deal with the threat of Covid-19, Pobjoy Mint felt this coin shows the values that have been seen in this country and all around the world.
The World Health Organisation has designated 2020 as "the Year of the Nurse" marking 200 years since the birth of Florence Nightingale, who established the principles of the modern nursing and hospital sanitation. Florence Nightingale was an English social reformer, statistician and the founder of modern nursing. She gave nursing a favourable reputation and became an icon of Victorian culture.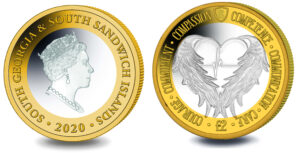 This new coin features the values every nurse works to known as Compassion in Practice or the 6Cs … Competence, Communication, Care, Courage, Commitment and Compassion. This code presents the professional standards that nurses, midwives and nursing associates must uphold in order to be registered in the UK.
2020 will be remembered in world history as a terrible year due to Coronavirus, but it will also be remembered as the year that the hard work and compassion of people and especially care workers was paramount. The 'Thursday night clap' in the UK showed the appreciation of a nation for care workers and the NHS who had sacrificed so much to help those affected by this terrible virus.
Pobjoy Mint will be giving 10% donation of the profit on this coin to support Cavell Nurses Trust who help nurses, midwifes and healthcare assistants who are suffering from personal or financial hardship which can often be due to illness, disability, old age or the impact of coronavirus. Pobjoy Mint believes this charity is the most fitting as it stands for the principles seen on the coin.
The design of this stunning new coin features a heart in the centre with the trace of a heartbeat running across the heart. The heart is then surrounded by the beautiful feathered wings of an angel symbolising the protection of the care workers that has been given to those who were affected. The 6Cs of Compassion in Practice are shown in the surround along with the Coat of Arms of South Georgia & the South Sandwich Islands.
The new £2 coin will be produced in bi-metal housed in a special presentation pack and a Proof Fine Silver coin presented in a box and special certificate.
For more information visit the Website of the British Pobjoy Mint.
The British Pobjoy Mint recently re-launched their new website, read on to find out more.
A short overview of Florence Nightingale's life gives this video:
You can read more in-depth articles on BBC and Time.