[bsa_pro_ad_space id=4]
In 2014, the UK government announced funding for the construction of a new polar research vessel for the British Antarctic Survey to replace a pair of existing vessels RRS James Clark Ross and RRS Ernest Shackleton.
The new vessel is named after the famed British broadcaster and natural historian Sir David Attenborough. The ship will be tasked with the purpose of carrying out research in Polar Regions with its improved ice breaking capabilities and greater endurance previously seen by its ancestors. The vessel will also serve as logistic support for the British Antarctic Survey teams in shore locations.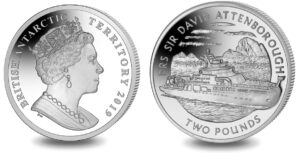 Pobjoy Mint was honoured to be able to produce a Silver version of this coin along with a Silver Boaty McBoatface 50p presented to Sir David Attenborough at the official Naming Ceremony on 26th September 2019. They are therefore delighted to announce this new Crown Coin featuring the RRS Sir David Attenborough ship that will carry the famous Autonomous Underwater Vehicle Boaty McBoatface.
The ship itself is about 125 metres long, with a beam of about 24 metres. Her draught is about 7 metres. The vessel will always have a special place in Pobjoy Mint's history with the vessel having several of its coins from three different British Overseas Territories placed under the keel block of the RRS Sir David Attenborough.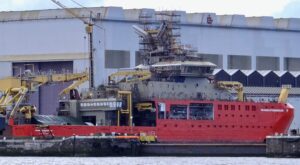 The new polar ship is commissioned by NERC, built by Cammell Laird to a Rolls Royce design and operated by British Antarctic Survey. The vessel will have a crew of approximately 30 and accommodate up to 60 scientists and support staff.
The design on the coin shows the research ship at sea in the Antarctic with the name RRS Sir David Attenborough shown on the outer edge of the coin.
The Pobjoy Mint Effigy of Her Majesty Queen Elizabeth II is shown on the obverse of the coin.
The Crown coin is available in Cupro Nickel and Proof Sterling Silver which has a £2 denomination.
For more information about the coin, visit Pobjoy Mint's website.
You can watch the ceremonial naming at Cammell Laird in this video.
On behalf of the British Antarctic Territory, Pobjoy has designed a coin in blue titanium dedicated to the Emperor Penguin.
If you want to learn more about the British Antarctic Survey's research, visit their website here.
Are you interested in ship coins? Then this book might be of interest to you.
If you like watching nature documentaries, you most likely will have come across Sir David Attenborough's voice. On BBC Earth's YouTube channel you can watch some of the very interesting documentaries, narrated by Attenborough.