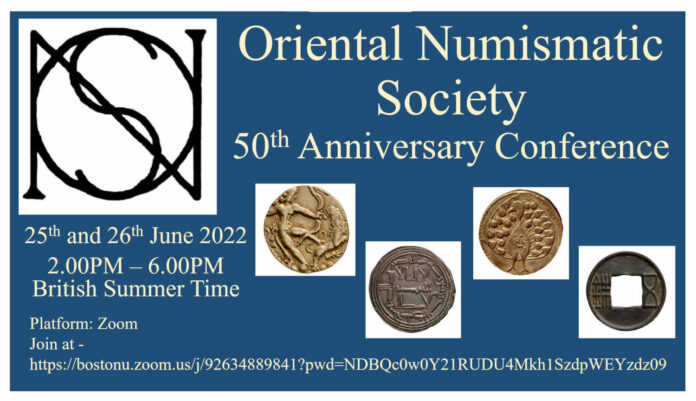 [bsa_pro_ad_space id=4]
To celebrate its 50th Anniversary the Oriental Numismatic Society is holding an international conference, via Zoom from 14.00–18.00 (UK time) 25–26th June 2022.
The Society was founded in 1970 by Michael Broome and has since grown into an international society with about 500 members across the world. The Society holds meetings in many countries and publishes a journal for its members four times a year. The conference proceedings will be published in the 250th issue of the Journal of the Oriental Numismatic Society later this year. The conference will be opened by Pankaj Tandon, Secretary General of the Society.
Keynote Presentations
John Deyell (Canada) Indo-Sasanian coinages: interpretive challenges and new ways forward
Dai Jianbing (China) Chinese coin culture
Presentations:
François Thierry (France) The circulation and use of the bamboo tallies in Jiangsu Province by the light of the Tongcheng Company issues
François Joyaux (France) Cataloguing the ancient Annamese private cash
Amiteshwar Jha (India) Fresh light on the copper coins of Vemakis
Pankaj Tandon (USA) The coins in the name of Chandragupta
Ehsan Shavarebi (Austria) From Bishapur to Vienna: A hoard of late Sasanian drachms?
Aleksandr Naymark (USA) Immobilized types in Sogdian coinage
Stefan Heidemann (Germany) Islam Mints and Urban Dynamics – Baghdad, al-Raqqa, and Other Places
Sanjay Garg (India) Badshah as the Caliph: Probing caliphal pretensions of the Mughal rulers of India
Richard Morel (UK) A biography in banknotes: The life and career of Alfred Joseph Bull, 1876-1950
Michael Mitchiner (UK) Bombay tolas
The conference is open to all – follow this Zoom-link.
For more information on the conference, view the conference program and conference synopses.
Membership is open to all, for anyone interested contact the relevant Regional Secretary. For more information on the Oriental Numismatic Society, visit their website.