[bsa_pro_ad_space id=4]
New York Ancient Art Dealer to Donate 20% of Proceeds
New York City was hit extraordinary hart by the COVID-19 outbreak, with over 120,000 infected and 14,000 dead. As a response to the critical situation, New York Based Dealer Hixenbaught Ancient Art announced that 20% of net proceeds from the sale of all items purchased from their website through June 30, 2020 will be donated to a New York city based charitable organization offering assistance to those impacted by the crisis.
Below are select items for your consideration as part of the Charity Promotion.
Inv#: 4809. Apulian Greek Red-Figure Kantharos. Apulia, Magna Graecia, Southern Italy. Ca. 330-320 BC. Height: 8 1/2 in. (21.5 cm). Intact. Formerly in the collection of C. A., Geneva, Switzerland, acquired in 1983. $12,000.
An ancient Apulian Greek red-figure Kantharos depicting on each side, a female head in profile wearing a kekryphalos, long earrings, and a diadem. Ionic columns are incised at either side of each head.
The output and quality of the Greek colonial potters working in Apulia increased greatly following the Peloponnesian War when Attic exports fell off sharply. Apulian craftsmanship is an amalgamation of the Ionian (Athenian, Attic) conventions, and Doric (Western colonial Greek) styles, with a noticeable native Italian aesthetic.
Inv#: 6326: Greek Bronze Inscribed Pilos Helmet. Ca. 400-300 BC. Height: 8 in. (20.2 cm). Intact. Formerly in the E. S. collection, Berlin, acquired in 1989 from a previous German collection. $18,000.
An ancient Greek bronze helmet of the Pilos type, of conical form with a recessed carinated band around the lower portion, with an inscription on the side, G L I.
The Pilos (pilos) helmet, takes its name from the felt shepherd's cap whose form it replicates. This helmet type came into use during the later Peloponnesian War, replacing earlier more closed and restrictive forms like the Corinthian type. The Pilos was especially favored among Macedonian cavalrymen of the 4th century BC. The helmet appears prominently on Macedonian coinage of Alexander the Great and his successors.
Inv#: 6303: Egyptian Red Jasper Head Inlay. Late Period, Ca. 700-30 BC. Height: 1 1/2 in. (4 cm). Intact. Formerly in the P. Daniels collection, New York; acquired by W. Daniels in Paris, 1955. $5,000.
An ancient Egyptian red jasper inlay of a head in profile facing left, with full cheek and large ear, the eye inlaid with glass paste.
Inv#: 6572: Roman Bronze Cupid Ca. 1st – 3rd century AD. Height: 2 3/4 in. (6.5 cm). Formerly in an Israeli private collection. $3,500.
An ancient Roman bronze figure of a winged nude cupid or eros with a suspension loop at the top of the head, probably once part of a wind chime or tintinabulum. The Roman god Cupid (Greek: Eros) was the youthful personification of Love, and was usually depicted alongside Venus (Aphrodite).
Hixenbaught also has Ancient Coins in stock. Here are some examples:
Inv#: 7323: Lysimachos 305-281 BC. Silver tetradrachm, 17mm, 4.29 gm. Ephesos mint, struck ca. 294-287 BC. $750.
Lysimachos (360 -281 BC) was a bodyguard and successor of Alexander. He was renowned for having saved Alexander's life during a lion hunt. Lysimachos inherited the Kingdom of Thrace which required constant warfare to maintain. He was killed at Corapedium fighting Seleucus.
Inv#: 6771: Pharsalos, Thessaly ca. 450-400 BC. Silver hemidrachm, 14 mm, 2.89 gm. $300.
Pharsalos was a well established Greek city by the 6th century BC. Today, it is best known as the site of Julius Caesar's decisive military victory over Pompey Magnus in 48 BC.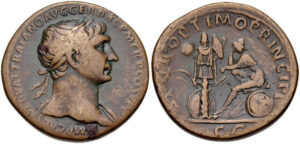 Inv#: 6697: Trajan Copper Sestertius, Rome mint. Struck AD 106-107. 33 mm, 24.17 gm. $800.
Trajan was born in Spain, he served in the German wars under Domitian, before being appointed governor of Germany under Nerva. He defeated Decebalus of Dacia in 102 and erected the Forum of Trajan. He died peacefully in Cilicia in 117 AD.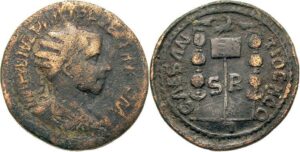 Inv#: 3014. Philip II 244-249 AD. Bronze, Psidia, Antioch, Syria.
27 mm, 10.09 gm. $60.
Philip II was the son of Philip I. He father elevated him to rank of Augustus (co-ruler). When his father was killed in battle, Philip II was murdered by the praetorian guard. He was 11 at the time of his death.
Visit the Hixenbaugh website for all offers and more information.
You can also contact them by e-mail.