[bsa_pro_ad_space id=4]
Major Collections Highlight Heritage's Numismatic Events in September
Special collections from legendary collectors will set the gold standard in Heritage Auctions' Dallas numismatic events spanning U.S. Coins, World & Ancient Coins and Paper Money and U.S. Currency September 16-22 in Dallas. Finest-known specimens from the highly esteemed James Dines "Original Goldbug" Collection to the first offering of the momentous U.S. Coin collection amassed by the legendary Bob. R. Simpson are just two of the private collections driving the three-day event, beginning September 17, 2020.
"We are honored to be entrusted with these collections from some of the most important collectors in our hobby," said James Halperin, Co-founder of Heritage Auctions. "It's no exaggeration to say this sale is truly a 'once in a lifetime' opportunity for numismatists around the world."
In this article you can read more detailed information on the James Dines and Bob. R. Simpson Collections.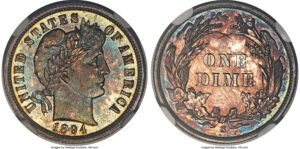 U.S. Coins
Included in the first event, which begins at 6 p.m. Central on September 17, is Simpson's offering of one of the most celebrated and coveted rarities of all time: the 1894-S Barber dime. Only a handful of examples exist and Simpson's collection, of course, has one of the finest, which is graded PR66. There is none higher. The appearance of a Barber dime is a head-turning offering, Halperin said.
Simpson's famous rarities include a 1795 Flowing Hair dollar – the finest ever certified with a silver plug, and a 1796 JR-1 dime, certified SP67 PCGS, which stands as the sole finest certified of this variety.
Turning to the Dines Collection, the September 17 sales will contain the majority of the collection's offerings, including high-quality examples of pre-1810 gold coinage. The collection also features coveted modern standouts including the 1907 High Relief, Wire Rim Saint-Gaudens double eagle, PR69, which would be the zenith of any assemblage.
What makes Dines' offering so exceptional is the fact that most other coins of this type are found in well-worn condition; after all, these were highly circulated in commerce. Dines' Bust dollars, however, are among the highest graded: the 1798 Draped Bust, Large Eagle dollar is graded MS64; the 1800, graded MS63.
U.S. Currency
A selection of Dines' collection of U.S. Currency will appear in the September 16-21 Currency Signature Auction. A $1 original note from Newark, Ohio's, First National Bank, PMG Choice Uncirculated 64, offers eye-catching signatures, inks and paper quality.
Outside of the collection, a $10,000 1934 Federal Reserve Note, PMG Gem Uncirculated 66 EPQ, is the finest $10,000 ever offered in public auction, as is a rare, $5,000 1934 Federal Reserve Note, PCGS Very Choice New 64, from a small run of Dallas notes.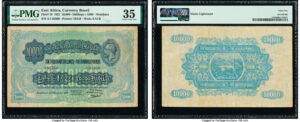 World Paper Money
The September 18 presentation of World Paper Money features four extremely rare specimens from East Africa. East Africa has become one of the most popular fields of collecting within the hobby, due in part to its interesting history, but also due to the wide variety of rare types that were produced, especially during the reign of King George V.
A 1921 10,000 Shillings East African Currency Board, Pick 19 PMG Choice Very Fine 35, is incredible in every sense of the word. This 10,000 Shillings banknote is the highest denomination issued for the group of colonies known as British East Africa, and one of the highest denomination notes issued anywhere in the world at that time.
In 1920, four of the five British colonies in East Africa adopted the Florin from the newly formed Currency Board. A 1920 20 Florins East Africa East African Currency Board, Pick 11 PMG Choice Extremely Fine 45, is a stunning and extremely rare 20 Florins that was a middle denomination in the famed 1920 series.
Heritage Auctions' Dallas Signature Auctions spanning three categories of numismatics starts September 17, with online bidding via the website.
You can find the online catalogs on the Heritage Auctions website.
Read more about the James Dines and Bob. R. Simpson Collections here.