[bsa_pro_ad_space id=4]
With their September auctions, Dallas based Heritage Auctions will start to offer parts of the most significant collections of Bob. R. Simpson and James Dines a which are expected to set record prices. Heritage will offer parts of these collections to be sold over the next months.
"We are honored to be entrusted with these collections from some of the most important collectors in our hobby," said James Halperin, Co-founder of Heritage Auctions. "It's no exaggeration to say this sale is truly a 'once in a lifetime' opportunity for numismatists around the world."
The Bob R. Simpson Collection – "One of the Greatest-ever Coin Collections"
Bob Simpson, the Texas energy executive and philanthropist, is as legendary in numismatic circles as the momentous United States coins he collects. And in coming months, Dallas-based Heritage Auctions will offer some of the greatest rarities found in Simpson's historic assemblage – or anywhere else in the world.
Simpson, whose collection is ranked by Professional Coin Grading Service as one of the best ever amassed, is deaccessioning selections from that collection beginning September 17, 2020, and continuing into 2021.
"Important Selections from The Bob R. Simpson Collection, Part I" will include some of the most significant U.S. coins spanning the 18th century to the 20th century. The first sale, and those to follow, will take place exclusively through Heritage Auctions, the world's leading numismatic dealer and auctioneer.
"Like all collectors, I've put together sets and collections and sold coins along the way to refocus my collecting efforts," said Simpson. "And that is what I am doing here."
"Bob isn't just a collector, but also a brilliant businessman, and we are so pleased Heritage was his auction house of choice," said Heritage Auctions President Greg Rohan. "It's especially an honor when the collector is also extremely savvy, and I would like to thank Bob for his confidence and trust as we begin this series of sales."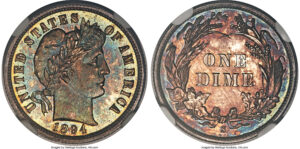 In the first event, which begins on September 17, 2020, Simpson is offering one of the most celebrated, and coveted, rarities of all time: the 1894-S Barber Dime, of which there are but a handful of known examples. Simpson, of course, has one of the finest – it's graded PR66. There is none higher.
Jeff Garrett and Ron Guth, authors of 100 Greatest U.S. Coins, consider the 1894-S dime one "in a triumvirate of America's most desirable coins," alongside the 1913 Liberty nickel and the 1804 silver dollar. Only nine specimens are known to survive of the 24 dimes minted; in March 1900, The Numismatist proclaimed that "in the last decade the San Francisco Mint has issued one of the very rarest United States coins."
More than a century later, tales abound about what became of the lost dimes; one involves the coin being spent on ice cream during a summer's day. To this day, historians have been unable to explain why the mintage was so small.
"Any time the 1894-S Barber dime has come to market," said Heritage Auctions Executive Vice President Todd Imhof, "it has been a headline event."
One of the most famous rarities in Simpson's collection is a 1795 Flowing Hair Dollar – the finest ever certified with a silver plug and the second-finest in existence.
Making it even more notable, if such a thing were possible, is the fact it's a Lord St. Oswald coin, among those originally acquired by Sir William Strickland during his visit to the United States in 1794 and 1795, when the future 6th Baronet of Boynton spent time in the company of George Washington, with whom he would become close, and Thomas Jefferson.
In fact, history now tells us this proof-like gem was very likely purchased by Strickland directly from the Philadelphia Mint in 1795. That lineage explains the quality of this coin, whose silver plug catalogers once mistook for damage when, in fact, it was a precious anomaly.
"We are all just temporary stewards of these beautiful pieces of history," Simpson said. "I've enjoyed acquiring these coins, I've enjoyed owning these coins, and now it's time for them to go into others' collections in the hope it brings them as much pride of ownership as they have given me."
One of the great prides in Simpson's collection is his patterns. After all, in 2008 he reportedly spent $36 million acquiring the entirety of the Southern Collection, which became the cornerstone of his patterns assemblage. And some of that he's holding on to, including the Amazonian Gold Pattern Set he keeps close to his heart. But several coins from the Southern Collection will be part of the Sept. 17 sale and those to follow.
"The pattern coins have always fascinated me," Simpson says of the pieces kept from the public's hands. "I think the designs are even more beautiful than the regular-issue coins. And because the mintages are so miniscule, they are so much rarer – and far more undervalued – than regular-issue coins."
There are more than 300 important coins in the September 17 auction, with countless more highlights to come throughout the next several months. Also included in Part I of the Simpson event are:
1795 Lettered Edge Cent, MS65+ Red and Brown
1801 Draped Bust Half Dime, MS66+
1796 Draped Bust Dime, JR-1, MS67
1918/7-S Quarter, MS64+ Full Head
1919-D Half Dollar, MS65
1855-D Gold Dollar, MS64
1808 Capped Bust Quarter Eagle, BD-1, MS63
1831 BD-1 Quarter Eagle, MS66+
1913-S Indian Head $5, MS65
1851 Augustus Humbert $50, MS63
1854 Kellogg & Co. $20, MS65
1796 Quarter Eagle in White Metal, Judd-23a, Private Restrike, MS63
1827 Quarter in Copper, Judd-48, PR66 Red and Brown
1871 Liberty Head Eagle in Aluminum, Judd-1174, PR66 Cameo
1872 Amazonian $20 Struck in Aluminum, Judd-1252, PR66 Cameo
1879 Quintuple Stella in Copper, Judd-1644, PR64+ Red and Brown
1916 Mercury Dime Pattern, PR64, Judd-1984, The Only Known Example
And that's just to begin with. The tip of the tip of the very tip of the iceberg.
"I've been a buyer and seller all along," Simpson said of his decision to part with so many sought-after numismatic rarities. "I am always fine-tuning the collection. I upgrade. I move in different directions."
"Bob Simpson's name has been synonymous with one of the great all-time collections for decades, and he is still very actively collecting," Rohan said. "It's just a huge thrill whenever we can work with one of the top collectors ever, and we are incredibly proud Bob selected Heritage Auctions for this series of significant auctions."
The James Dines "Original Goldbug" Collection – "A Wonderful Coin Collection With Attention to Detail and an Eye for Quality"
Heritage Auctions strikes gold this fall by offering The James Dines "Original Goldbug" Collection, named for the legendary financial prognosticator who is also an esteemed numismatist.
Mr. Dines, who rose to forecasting fame in the 1950s and '60s, has spent more than six decades – "and I don't know how many thousands of hours," he says – building a collection that reflects not only his steadfast faith in the enduring strength of gold, but his unceasing curiosity. Mr. Dines sought out coins not just for their value, but for their beauty and the stories they told about those who made them and those who protected them.
"Nobody owns a gold coin," Mr. Dines says. "They cannot be owned. We are temporary custodians."
Mr. Dines' collection will be offered in three auctions, beginning with the September 16-22 Currency Signature Auction and concluding with the October 30 World & Ancient Coins Signature Online Auction.
The September 17-21 US Coins Signature Auction will contain the majority of Mr. Dines' offerings, including high-quality examples of pre-1810 coinage. Given the exceedingly small quantities of coins that were produced during this nation's nascent days, and how heavily they were circulated, high-grade survivors are uncommon. Yet they abound in Mr. Dines' collection.
"Every coin in my collection was something that I thought was beautiful and loved," Mr. Dines says. "That was the single most important thing I looked for. I didn't look for which particular mint it came from."
"The name James Dines has long been synonymous with precious metals and careful research, so it should be no surprise to his readers and the numismatic world that Mr. Dines would put together a wonderful coin collection with attention to detail and an eye for quality," says Sarah Miller, Deputy Managing Director and Senior Numismatist in Heritage Auctions' New York office.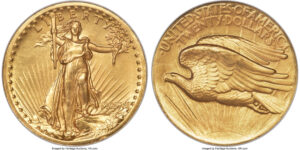 One of the standouts in Mr. Dines' collection is the 1907 High Relief, Wire Rim Saint-Gaudens double eagle, PR69, which would be the zenith of any assemblage. Indeed, this is a veritable Holy Grail for many collectors given its beauty and a mythic backstory that strongly suggests this coin came from the collection of Charles Barber, the sixth chief engraver of the United States Mint.
Jeff Garrett writes that this is "one of the most popular coins ever struck by the United States Mint," in large part because the 1907 Saint-Gaudens double eagle is "sculptural in appearance and … considered by many to be the most beautiful regular issue gold coin ever produced."
For this, of course, we must credit its designer: sculptor Augustus Saint-Gaudens, who based this design on the Winged Nike sculpture featured on his 1903 General William Tecumseh Sherman Memorial located in Manhattan's Grand Army. Few coins can boast such an artistic ancestry.
Fewer still are the 1907 Saint-Gaudens double eagle in such magnificent condition: This virtually perfect PR69 High Relief double eagle, which last appeared at auction in 2013 as part of the famous Tacasyl Collection, is tied with one other example for finest honors.
"To me, the Saint-Gaudens is a masterpiece," Mr. Dines says. "He was a genius, and it was his last coin. He really left us a great legacy. And God bless the people who protected those coins."
"This coin has survived in such amazing condition that NGC has called it a Proof or special striking, and has been virtually untouched despite being minted more than 100 years ago," Miller says. "This would be a true trophy coin for the Saint-Gaudens $20 gold piece collector, gold enthusiast, or those who must have the best and most artistic pieces for their high-end collection. This is the sort of coin that is so attractive and impressive in hand that it would stand out even to non-collectors."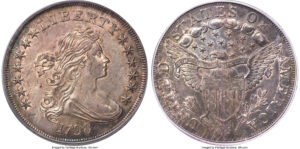 Two highlights from Mr. Dines' collection aren't gold at all, but Uncirculated Bust dollars – one from 1798, the other dated 1800. These were the second U.S. silver dollar types produced, following the short-lived Flowing Hair dollar, and feature on their obverse a bust of Liberty often said to be modeled after Philadelphia socialite Ann Willing Bingham.
What makes Mr. Dines' offering so exceptional is the fact that most other coins of this type are found in well-worn condition; after all, these were highly circulated in commerce. Mr. Dines' Bust dollars, however, are among the highest graded: The 1798 Draped Bust, Large Eagle dollar is MS64; the 1800, MS63.
Proof coinage is another area where Mr. Dines' collection shines, including both proof type and proof gold coinage. These special pieces were minted for collectors, but given the small quantities produced – not to mention the melting and mishandling that occurred over time – few proof gold coins have survived to the modern day.
Owning just one proof gold coin would be an accomplishment for most collectors, but Mr. Dines sought out several wonderful examples to highlight the best of the U.S. Mint's technology at the time. One such coin is the 1903 Liberty double eagle, PR65, a rare Cameo specimen that is among a small handful to bear finest certified honors.
Other highlights include:
1807 Capped Bust Right half eagle, MS64, Small Reverse Stars, BD-1 Variety
1796 Capped Bust Right eagle, AU50, Low-Mintage Early Gold Issue
1904 Liberty double eagle, PR65, Elusive Cameo Example, Registry Set contender
1892 Six-Coin Proof Set, PR64 to PR66
"Ranging from gorgeous proof coins to World and Ancient gold pieces to the cache of Saint-Gaudens $20 gold pieces, there is something for every numismatist in this exciting offering, all with Mr. Dines' provenance," says Greg Rohan, president of Heritage Auctions. "This collection also comes at exactly the right time, with gold prices on the move and strong demand for both numismatic coins and precious metals."
Visit the Heritage Auction website for further information on the auctions
Here you can read a comprehensive preview of Heritage's September Auction.