[bsa_pro_ad_space id=4]
In 2021, Dmitri Muratov was awarded the Nobel Peace Prize for his efforts to safeguard freedom of expression. As editor-in-chief of "Nowaja Gaseta", the last newspaper to be critical of the government, this was never an easy task for him. In March 2022, following the Russian invasion of Ukraine, the newspaper was forced to suspend publication. In response, Muratov declared that he would be donating the Nobel Prize money, equivalent to around 470,000 euros (ca. 495,000 dollars), and selling his medal in an auction – for a good cause.
Nobel Prize Medals – An Exclusive Field of Collection
Medals that have been awarded as honours are quite a grey area. Are they true numismatic objects? Or is their name the only thing they have in common with "numismatic" medals? The production process is very much the same. And there's a reason that Nobel Prize medals are offered at numismatics auctions. When they are offered, that is. It is only natural that these pieces belong to the most exclusive fields of collection of all.
In 2017, the English auction house Morton & Eden offered the gold Nobel Prize medal awarded to the chemist George Charles de Hesney in 1944. Estimated to fetch 120,000 GBP (around 140,000 euros), it was not sold, according to the auction catalogue.
In 2018, Heritage offered the oldest Nobel Prize medal to date for auction, namely the one awarded to German classical scholar Theodor Mommsen in 1902 for the literary quality of his works. This medal and its authenticity became the subject of a scandal, during which Heritage demonstrated how important it is to conduct research properly and keep a cool head. It probably wasn't Mommsen's medal, but it wasn't a fake either.
Although the list is not exhaustive, one thing is clear: a Nobel Prize medal is a real rarity and is hardly ever brought to market by the recipient themselves during their lifetime.
And anyway, things are very different this time round. Even before he had received the prize, Muratov made it clear that he did not want this medal to be understood as an award for himself alone, but rather for all the staff at his newspaper "Nowaja Gaseta". And with their support, the journalist handed the medal over to Heritage for auction. However, it was not to be auctioned as a collector's item, but rather as an "event that he hopes will positively impact the lives of millions of Ukrainian refugees".
Is It Allowed?
You may now be wondering: is Muratov even allowed to do that? In 2020, tempers flared when Munich-based auction house Hermann Historica offered a Medal of Honor for auction. This medal was awarded to a certain Thomas Kelly in the Spanish-American War of 1898, and now his descendants wanted or needed to part with it. In the USA, it is illegal to sell military honours awarded by Congress.
Muratov has not committed a criminal offence in the USA any more than he has in Norway. In fact, in his case, the Nobel Institute has explicitly approved this kind of sale for the first time. Director Olav Njølstad ruled: "This generous act of humanitarianism is very much in the spirit of Alfred Nobel. The intended sale is therefore subject to the wholehearted approval of the Norwegian Nobel Committee."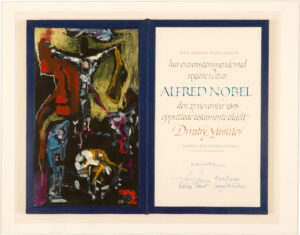 When Politics Sets the Prices
When a regime-critical, Russian Nobel Peace Prize recipient sells his medal to ease the suffering of children in Ukraine who have been attacked by his own country, it is obviously a political move. And it has a massive impact on an auction.
Bidding opened on 1 June, which is Children's Day in Ukraine. On 20 June, the medal went to the floor auction at The Times Center in Manhattan with a bid of 787,500 dollars (around 747,000 euros).
Bids quickly passed the million mark and, just a little later, had climbed all the way to 16 million. And then came the all-important phone call: 103.5 million dollars (around 98.18 million euros)! The auctioneer actually had to check that he had heard the amount correctly. Once the figure was confirmed, the hall erupted in cheers. There's probably no item in numismatics that has sold for even nearly that much. To illustrate:
The most expensive Noble Prize medal prior to this auction was sold by Christie's in 2014 for 4.76 million dollars (approx. 4.5 million euros). It is the Nobel Prize medal of medicine or physiology awarded to James Watson in 1962 for his involvement in the discovery of DNA structure. The world's most expensive coin, the 1933 Saint-Gaudens Double Eagle, sold for 18.9 million dollars (17.9 million euros) in 2021.
The buyer remained anonymous. According to Heritage, the total sum paid for Muratov's medal has already gone to UNICEF. On the same day, Muratov thanked Heritage for how efficiently they conducted the auction, and for the fact that they waved all their fees and commissions completely.
In addition, Heritage has created a website with UNICEF where customers can also donate directly to the project. Sam Spiegel (Director of International Numismatics at Heritage) wrote to us on 16 June that, as of that date, an additional 100,000 dollars had already been donated.
Record-breaking humanity.
The medal is still available to view in Heritage's auction catalogue.
And here you can access the UNICEF website.