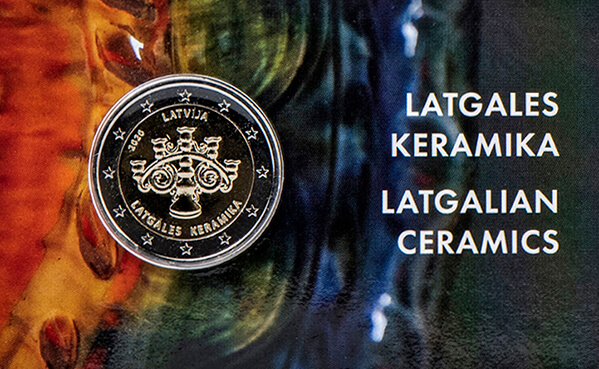 [bsa_pro_ad_space id=4]
On Friday, 5 June, the Latvian Bank (Latvijas Banka) issued a 2 euro commemorative coin "Latgalian Ceramics". Latgalian pottery is part of the Latvian Cultural Canon and has become one of the most striking examples of Latvian culture. The new commemorative coin features a candelabra – a typical Latgalian ceramic candle holder. Latgale and Kurzeme have seen the traditional pottery making develop for an extended period of time, but it is in Latgale only that it has been preserved down the ages and passed on from generation to generation.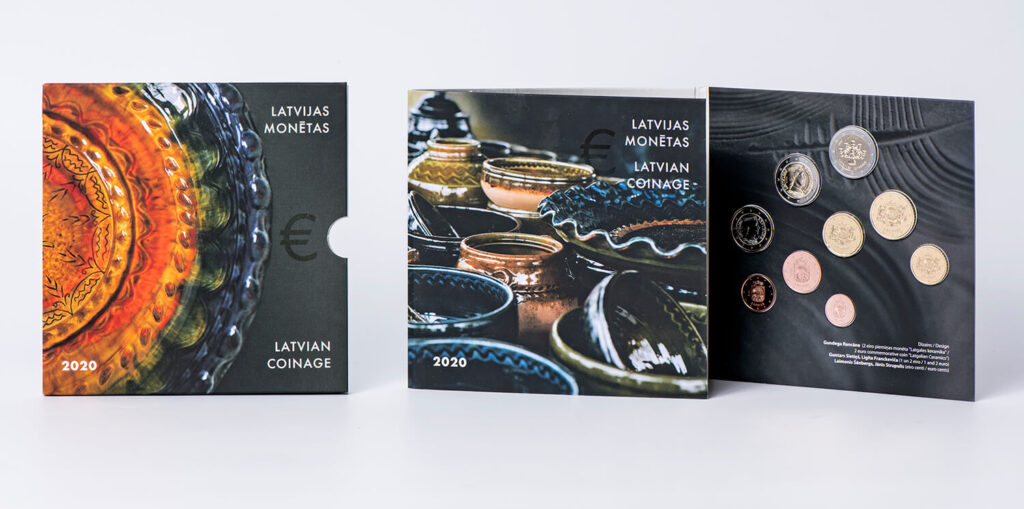 The author of the graphic design of the national side of the new commemorative coin is artist Gundega Rancāne, while the author of the plaster model is Jānis Strupulis. The author of the common side of the coin is artist Luc Luycx, and the material and size of the coin is the same as that of other 2 euro circulation coins.
The national side of the commemorative coin bears the inscriptions "LATVIJA", "LATGALES KERAMIKA" (Latgalian Ceramics) as well as the year of issue (2020). The edge of the coin, like all other 2 euro circulation coins of the Republic of Latvia, features the inscription "DIEVS * SVĒTĪ * LATVIJU *" (God Bless Latvia). The new 2 euro coin has been minted by UAB Lietuvos monetų kalykla (Lithuania).
The set of circulation coins "Latgalian Ceramics" contains the euro circulation coins issued in 2020 whose nominal value ranges between 1 cent and 2 euro, including the new 2 euro commemorative coin.
"Latgalian Ceramics" will be the only 2 euro commemorative coin issued by Latvijas Banka this year. Each year, every euro area country is entitled to issue two 2 euro commemorative coins of special design as well as one more commemorative coin within a joint programme of several euro area countries provided that such a programme is organised.
Latvijas Banka continues the tradition of minting circulation coins of special design in Latvia. Euro commemorative coins are legal tender in the Republic of Latvia and other euro area countries.
Due to the Covid-19 pandemic, the new numismatic products will not be available at the Cashier's Offices of Latvijas Banka. For the time being, it will be possible to receive the coins purchased on the website e-monetas.lv by post only.
The new 2 euro commemorative coins, which are also circulation coins, will be temporarily unavailable (including those in rolls). Latvijas Banka intends to put into circulation a total of 400 000 coins after the normal situation is restored, with the public being informed in a timely manner.
For more information visit the website of Latvijas Banka.
Every year, the Bank of LatviaCoinsWeekly reported on this year's vote on Latvia's coin of the year 2019 and presented the winner.
In this video you can learn more about Latgalian pottery and watch potters at work.