[bsa_pro_ad_space id=4]
Banks have to implement high security standards in coin production. Therefore, the Central Bank of Colombia "Banco de la República" uses the machines of LANG GmbH & Co. KG for its own production of master tools for the manufacturing of metallic coins. LANG has 35 years of experience in the coin producing industry and supplied a complete package of machines, software and support specifically designed to meet the Central Bank's needs. Safety is enhanced by the fact that no additional partners are involved in the process. The on-site commissioning took place recently.
Since 1982, the Banco de la República de Colombia has been producing its own coin blanks and coins, which were previously imported from specialized suppliers abroad. From now on, the production of the coining dies for manufacturing the original tool will also be carried out in-house.
Thomas Kozian, Managing Director of LANG GmbH & Co. KG, explains: "Since high technological standards and precise specifications are required for the minting of coins for the Central Bank in Colombia, we as a manufacturer of milling, laser and digitizing machines as well as automation systems have tailored an appropriate machine package to meet their special requirements. This includes the LDigit express digitizing system, the Impala 400 milling machine and the SU2 precision tool grinding machine."
The compact LDigit express digitizing system is used for fast and precise scanning and digitizing of 3D free-form surfaces and relief models, for example for coin production. With this system, sample tool data can be digitized with high precision and converted directly into CAD data. The Impala 400 milling machine is also specially designed for the needs of the coin industry. The machine features modern drive and control technology and ensures continuous high-speed machining. The SU2 precision tool grinding machine is responsible for further precision. It ensures the production and regrinding of engraving and form milling cutters as well as special tools. The high-precision fine adjustment enables a reading accuracy of 0.01 mm.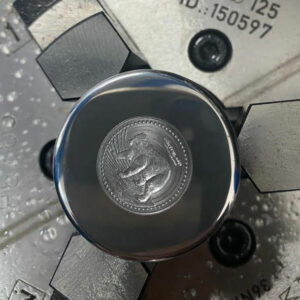 Fast Commissioning and Safety by System Solution
"The complete machine package was recently installed and commissioned on-site in Ibagué, Colombia, where the mint is located, by our service technician," explains Thomas Kozian.
Three employees of the Banco de la República were trained there in handling the machines and the special CAD/CAM software package CAD+Design. In addition, the service technician gave instructions for machine maintenance to ensure a trouble-free production process. All the measures resulted in a minting "learning success" in a timely manner: already during the training measures, the employees were able to create a coining die for the production of the original die for the 50 peso coin.
"Thanks to our in-house software, the comprehensive training concept and our online and hotline support, we can guarantee a smooth process on site at all times. Mints with their high security standards benefit from the fact that we as a system supplier offer everything from one single source. They do not need to involve any additional partners into the process. This offers great advantages in terms of compliance with safety standards, process optimization as well as economic efficiency and favors more effective processes, faster commissioning and shorter production times," explains Thomas Kozian.
Find more information on the website of LANG GmbH & Co. KG.
What exactly does LANG produce? In 2014, Ursula Kampmann visited the company and reported in this article.