[bsa_pro_ad_space id=4]
Kolbe & Fanning's 2022 Summer Americana Sale
Kolbe & Fanning Numismatic Booksellers will be holding a Summer Americana sale on Saturday, August 27, 2022. The sale features highlights from the Cardinal Collection Library of American numismatic auction catalogues, the Bourne Library of U.S. numismatic periodicals, and a number of other important American works on coins and related subjects. While the focus of the sale is on Americana, this includes American items featuring ancient and foreign coins, making for a sale that includes something for everybody.
Some highlights of the sale include:
Lot 6: the first six volumes of /The Numismatist/, one of the true landmarks in American numismatic literature.
Lot 115: the very rare plated version of S.H. Chapman's catalogue of the Charles Gordon Zug collection, one of only six copies we have traced with plates.
Lot 137: the 1923 first edition of S.H. Chapman's /The United States Cents of the Year 1794/, one of the rarest books on U.S. large cents.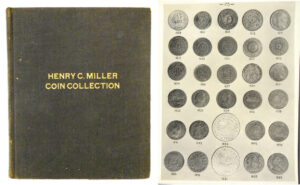 Lot 189: Tom Elder's 1920 catalogue of the Henry Miller collection, with 28 superb photographic plates depicting Roman, English and American coins, in the original binding.
Lot 202: a complete set of Ed Frossard's informative and entertaining periodical /Numisma/, from the library of George & Melvin Fuld.
Lots 236 and 237: the extraordinary photographic records of the Colonel E.H.R. Green collections of United States half eagles and eagles, one of the finest collections ever formed.
Lot 310: a complete set of B. Max Mehl auction catalogues, handsomely bound in 15 matching volumes.
Lot 345: the deluxe plated 1925 W.W.C. Wilson catalogue, Wayte Raymond's most important sale, with 45 exceptional full-page photographic plates of coins, tokens and medals.
Lot 503: W. Elliot Woodward's 1884 catalogue of the J.N.T. Levick sale, with four photographic plates, bound in full red morocco and hand-priced in ink.
The Bourne Library of American numismatic periodicals, the basis for Remy Bourne's book on the subject, and featuring nearly 100 lots of rare and obscure titles, is sprinkled throughout the sale. Many of these titles are being made available through us for the first time, including dozens of 19th-century titles that are almost completely forgotten today.
To view all lots and leave bids, search the auction catalog.
For further information, visit the Kolbe & Fanning website.