[bsa_pro_ad_space id=4]
Richard Margolis' Library Brings Record Prices at Kolbe & Fanning
Kolbe & Fanning Numismatic Booksellers sold highlights from the numismatic library of the late Richard Margolis at auction on Saturday, 6th March 2021. The sale attracted considerable attention from all over the world, with well over 250 bidders registering for the 539-lot sale. The sale realized more than twice its pre-sale estimate, with a number of lots bringing astonishing prices amidst heavy bidding. A handful of examples (The prices given include the 20% premium.):
Lot 236: an original copy of Schembri on Maltese coins, brought $4,800 on a $300 estimate.
Lot 255: a complete set of Milford Haven on the Medallic History of Navies, estimated at $2,500, realized $6,600.
Lot 322: a partial set of Ars Classica sales in matching bindings, sold for $7,800 against a $1,500 estimate.
Lot 352: a rare 1810 auction catalogue offering the collection of the French Director of Medals involved with the Libertas Americana, estimated at $500, brought spirited bidding and realized $3,600.
Lot 456: an exceptional group of priced and named British sale catalogues from the library of Leonard Forrer, brought $13,200 on a $1,500 estimate; several related lots brought similarly high price.
Lot 482: a complete set of the rarely offered Counterfeit Reports published by the International Bureau for the Suppression of Counterfeit Coins brought exceptionally heavy bidding, selling for $16,800 on a $1000 estimate
Lot 492: a beautifully bound complete set of Scott's Coin Collectors Journal attracted a number of bidders, bringing $6,000 on a $1,200 estimate.
Lot 498: a set of Spink's Numismatic Circular, estimated at $400, sold for a very strong $4,800.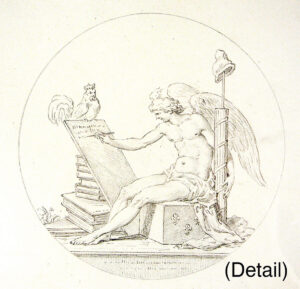 Lot 507: an original sketch by Jean-Pierre Droz, prepared for the 1791 French monetary competition, estimated at $750, realized $6,600.
Lot 515: a remarkable ink rendition of Wedgwood's famous abolitionist design, "Am I Not a Man and a Brother?," sold for $5,700 on a $500 estimate.
The accompanying fixed price list of original material from the archives of French engraver Augustin Dupré, offered in cooperation with John Kraljevich Americana, was a complete success, with all items selling quickly.
Kolbe & Fanning is proud to have been given the opportunity to catalogue the Margolis Library and are delighted that the books were so well received by such a wide audience. It is their intention to prepare bound copies of the catalogue, in cloth and in leather, in the near future. They plan to conduct at least three more auctions in 2021, including the offering of a very important library of strong international appeal in the autumn.
You can find all realized prices of the Margolis library auction on Kolbe & Fanning website. View the auction catalogue as PDF.