[bsa_pro_ad_space id=4]
On Tuesday, it was once again time for our Cosmos of Collectibles newsletter. This edition was also full to the brim with the new releases of last month and of the year so far from mints of the entire world.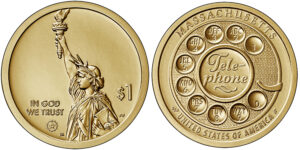 From the United States, for example, you can now find in the database this and last year's issues of the American Innovation Dollars series. The series started in 2018 and is supposed to continue until 2032. Four coins depicting great inventions from every US state and territory are published every year. This year, for instance, the State of Massachusetts with the telephone and Maryland with the Hubble Space Telescope were among the featured states.
Some further exciting new releases:
All these coins and many more can be found in the database. If your favourite piece isn't registered yet – don't worry! The database is growing constantly. Existing gaps are being filled and new fields registered one by one.
Click here to access the newsletter.
And here you can see all new issues that were published in the newsletter.
Click here to subscribe to our newsletter.
By the way, the database Cosmos of Collectibles isn't limited to contemporary coinage, historical collecting fields are also uploaded one by one. Here you can find, for instance, all coins of the German Empire.