[bsa_pro_ad_space id=4]
The Bank has regularly been the subject of satirical and political cartoons, but did you know that many staff members have been cartoonists themselves?
One employee who managed to make a second career out his cartoons was Basil Hone. Hone worked at the Bank of England from 1943 to 1980, starting as a clerk and eventually overseeing the Bank's internal communications. Hone drew cartoons for the Daily Telegraph under the pseudonym Ben Shailo, a scramble of his name. His cartoons commented on political, financial and economic news.
Hone likewise drew many humorous cartoons for the staff magazine, "The Old Lady". Produced from 1921 to 2007, "The Old Lady" was a quarterly staff magazine of the Bank of England which showcased the creativity and talent of staff. It contained articles ranging from sport and society reports, book reviews, retirement announcements, and drawings.
Another talented member of staff who likewise contributed to "The Old Lady" was Dennis "Danny" Denahy. He worked at the Bank for forty years, from 1952 to 1992, and the self-portrait above is from his retirement announcement.
Denahy had a varied career at the Bank, working in many roles including as a Bank Messenger. This brought him into contact with a wide range of people and departments. His paintings reflect the many comings and goings of daily life at the Bank that he would have witnessed on the job.
One favorite, reoccurring character in his paintings are the gatekeepers, who in this picture are seen prancing along in their eye-catching pink uniforms.
Along with Bank staff, Denahy illustrated the suited and booted bankers of days gone by. They bustle through the City of London in their suits and bowler hats.
Denahy also captured charming behind-the-scenes moments of life at the Bank, like this watercolor of employees getting ready for their day's work in a locker room.
Denahy, however, is perhaps best remembered for the Christmas cards he designed. The Bank produces a Christmas card every year, and in the past artwork has often been submitted by a member of staff. The selected staff member would have their artwork displayed in thousands of homes and offices each Christmas!
Danny designed the Christmas card on a number of occasions. In typical Denahy style, his festive cards often feature the head gatekeeper, kitted out with his iconic bicorn hat, red coat, and staff. Whether he's leading a crowd of carolers or receiving a present from Father Christmas, a jolly gatekeeper became a regular character in Denahy's Christmas cards.
One year he even reimagined the head gatekeeper as a pipe-smoking snowman standing guard in front of the Bank of England. Brr!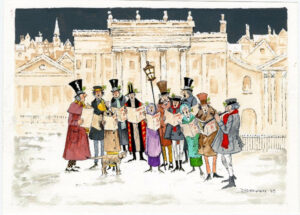 Retiring only increased Danny's passion for art, as one of his goals for retirement was to keep up his painting and drawing. He continued to submit designs for the Christmas cards even as a pensioner, like the card above from 1995. In it, a group of carolers are joined by the Head Gatekeeper and an adorable singing dog.
We're happy to hold nearly 30 original illustrations by Danny Denahy in our museum, including a mixture of watercolor and pencil drawings. Further copies of his work live on in The Old Lady, a complete set of which are held in the Bank of England Archive. Whether a festive treat or an illustration of daily life at the Bank, we love the splash of color Denahy's illustrations bring to the Museum's collection.
The author is Digital Engagement Officer at the Bank of England Museum. The article appeared first on the blog of the museum and is re-published here courtesy of Bank of England Museum.
Read more about the Cartoons in the Bank of England Museum.
Do you know all virtual resources of the Bank of England Museum?