[bsa_pro_ad_space id=4]
CIT Coin Invest AG presented its fourth design of the Skull series. The gold and silver coin, inspired by "Easy Rider", are issued on behalf of the Republic of Palau.
Description of the Coin
The obverse of the silver version features the national coat of arms of Palau with the inscription REPUBLIC OF PALAU, below, denomination 5 $; above coat of arms, fineness .999, below year of minting 2019.
The obverse of the gold version has the same design. Its nominal value is $1. Fineness and year of minting are not mentioned.
The reverse of the silver version features a bearded skull with an eagle tattoo on the left of forehead. The skull three dimensionally sculptured.
The independent design of the gold version features a skull with a squinting left eye, wearing a jet helmet with the visor tipped up.
Background
On the occasion of the World's Fair of Money 2019, CIT Coin Invest AG presented its fourth design of the successful Skull series. Inspired by the "land of liberty" and "Easy Rider", these issues are dedicated to all bikers.
The gold version with the typical jet helmet pays homage to all the bikers who see themselves in the tradition of the "easy riders" Wyatt, Billy and Hanson. The silver version, which was produced with smartminting technology, echoes a modernised biker ideal: With hipster beard and eagle tattoo, this small sculpture does not only appeal to those born to be wild.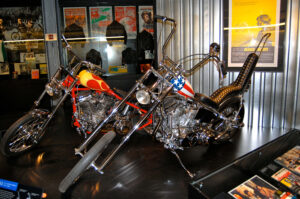 Just as the biker culture itself, the connection between motor bike and skull originates in the United States. It arose after the end of World War II. Half a million traumatised soldiers suddenly saw themselves on the street. Many of them did not know what to do with their lives. Money was short and therefore thousands of people seized the opportunity when the army decided to get rid of its discarded Harley Davidsons.
The dangerous ride on a fast motor bike became the purpose of the lives of many tough men who struggled to fit into the civilian world. During the war, all of them had encountered skulls as impressive symbols – on uniforms, submarines, aircrafts and other military equipment.
Thus, the skull became a part of their new identity. It represented the nearness of death and the equality of all people in front of it, it symbolised celebrating life when faced with the relentless fact that nobody can escape from his death.
CIT honours this attitude to life with its small sculpture "Biker Skull".
Also the impressive smaller gold version with its extravagant design made from 0.5 g of gold with BGM (Big Gold Minting) technology is not only something for collectors. It is the perfect lucky charm for all those who seek and find their freedom on the roads of the world.
On CIT Coin Invest AG's website you can find further information about the silver coin and gold coin.
For a detailed view of the coins watch this video:
The movie "Easy Rider" inspired an entire generation of young adventurers to hit the road. In this video clip you can see the recently deceased Peter Fonda on the legendary "Captain America":