[bsa_pro_ad_space id=4]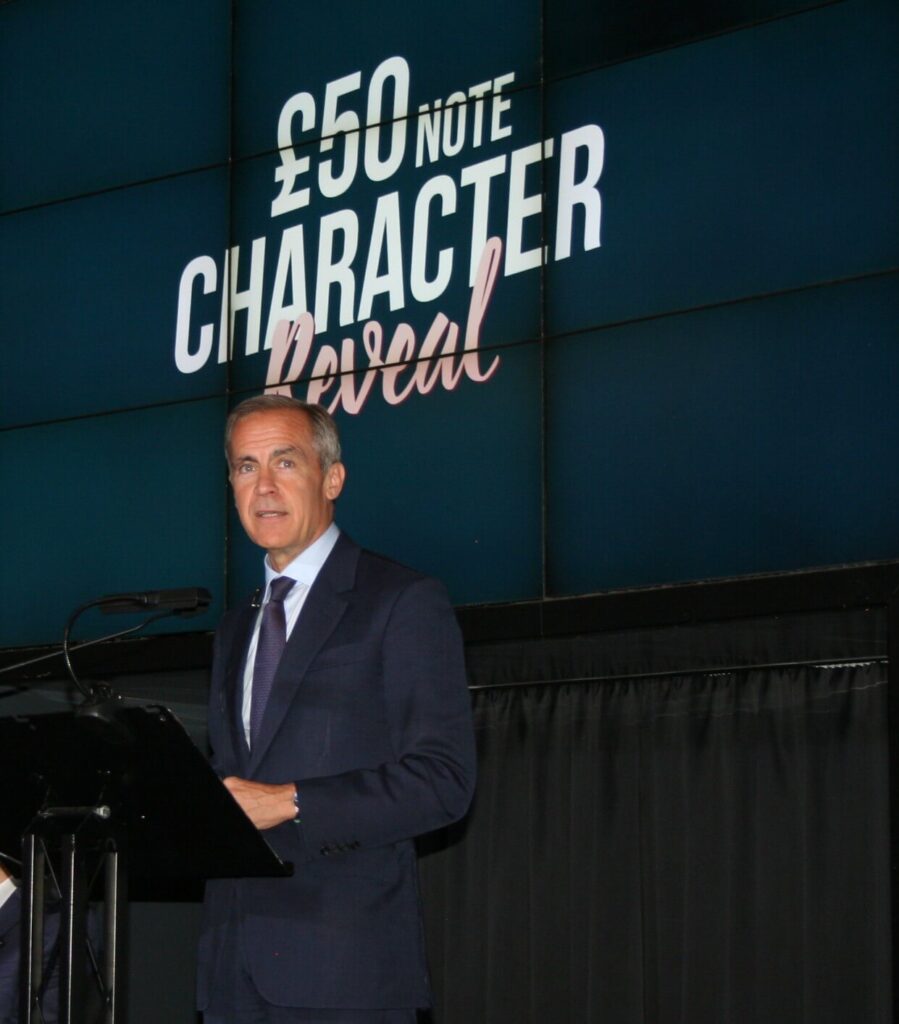 On the 15th July, Bank of England Governor, Mark Carney, announced, or confirmed to many who had accurately guessed or hoped – that Pioneer Computer Scientist Alan Turing (1912 – 1954) had been chosen to appear on the reverse side of the new £50 polymer note. Making the announcement at the Science and Industry Museum in Manchester, the Governor also revealed the imagery depicting Alan Turing and his work that will be used for the reverse of the note.
The decision to include the image of Alan Turing began with the announcement on the 2nd November 2018 in which the Bank asked the advice of the public who they would wish to see included on the new upgraded and highest denominated banknote in circulation. The conditions for nomination which were detailed by the Bank of England was that the person had to be someone who has contributed to the world of science. The proposed personality would be eligible for consideration if their contribution was in any recognised field of science including astronomy, biology, bio-technology, chemistry, engineering, mathematics, medical research, physics, technology or zoology within the United Kingdom.
The response was overwhelming with the Bank of England's Banknote Character Advisory Committee (BCAC) receiving 227,299 nominations during the six-week nomination period which closed on the 14th December 2018. After a preliminary shortlisting, the committee narrowed the list to 989 eligible names of proposed candidates. Ultimately, the list was reduced to just 12 and with advice of the Advisory committee, the final decision was made by the Governor. The shortlisted personalities or, pairs considered were Mary Anning, Paul Dirac, Rosalind Franklin, William Herschel and Caroline Herschel, Dorothy Hodgkin, Ada Lovelace and Charles Babbage, Stephen Hawking, James Clerk Maxwell, Srinivasa Ramanujan, Ernest Rutherford and Frederick Sanger. Bank of England Cashier and Director of Notes Sarah John, also on hand for the launch, confirmed in an interview that there was no "second place" in terms of a runner-up for this honour.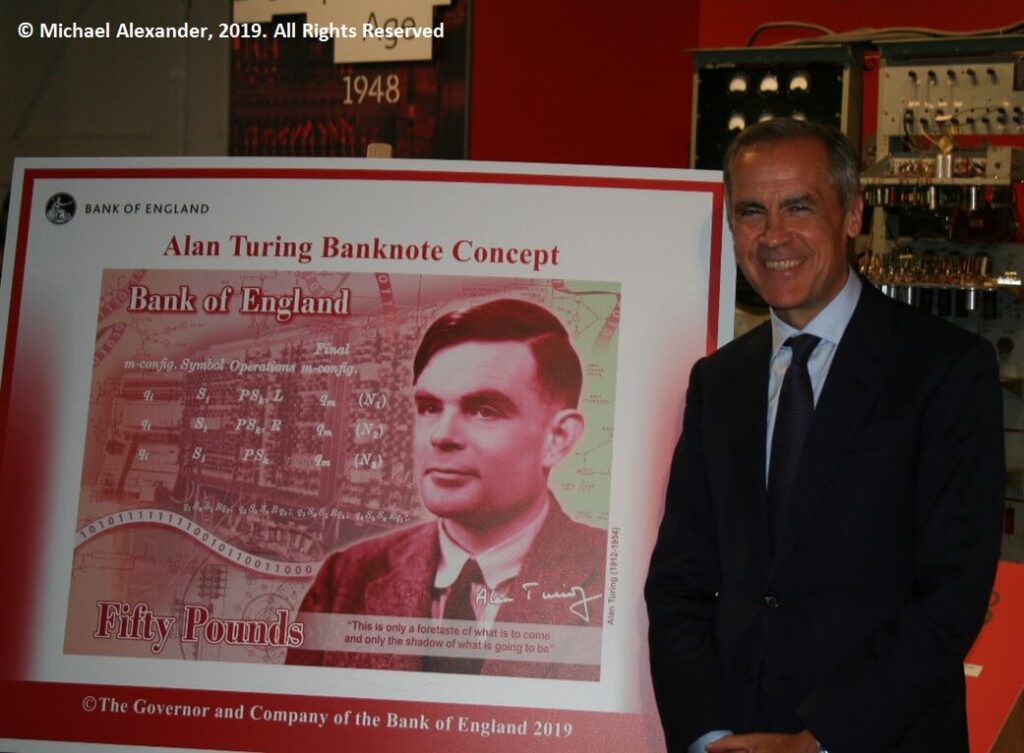 In his opening statement, Bank of England Mark Carney commented that the choice was obvious while highlighting a long list of Turing's achievements, while also addressing his unfair treatment after the Second World War due to his arrest on charges of indecency in 1951. The venue of the Science and Industry Museum was chosen as Turing's early work was conducted at the National Physical Laboratory and later at the University of Manchester.
During his address, Governor Carney commented: "Alan Turing was an outstanding mathematician whose work has had an enormous impact on how we live today. As the father of computer science and artificial intelligence, as well as war hero, Alan Turing's contributions were far ranging and path breaking. Turing is a giant on whose shoulders so many now stand."
After the launch, the Governor fielded some questions from invited guests & media and afterward, unveiled a display assembled by the Bank of England which focused on the other eleven candidates considered for inclusion on the note.
The reverse concept design of the new £50 note which honours Alan Turing and his pioneering work with computers will feature:
A photo of Turing taken in 1951 by Elliott & Fry which is part of the Photographs Collection at the National Portrait Gallery.
A table and mathematical formulae from Turing's seminal 1936 paper "On Computable Numbers, with an application to the Entscheidungsproblem" Proceedings of the London Mathematical Society. This paper is widely recognised as being foundational for computer science. It sought to establish whether there could be a definitive method by which any theorem could be assessed as provable or not using a universal machine. It introduced the concept of a Turing machine as a thought experiment of how computers could operate.
The Automatic Computing Engine (ACE) Pilot Machine which was developed at the National Physical Laboratory as the trial model of Turing's pioneering ACE design. The ACE was one of the first electronic stored-program digital computers.
Technical drawings for the British Bombe, the machine specified by Turing and one of the primary tools used to break Enigma-enciphered messages during WWII.
A quote from Alan Turing, given in an interview to The Times newspaper on 11 June 1949: "This is only a foretaste of what is to come, and only the shadow of what is going to be."
Turing's signature from the visitor's book at Bletchley Park in 1947, where he worked during WWII.
Ticker tape depicting Alan Turing's birth date (23 June 1912) in binary code. The concept of a machine fed by binary tape featured in the Turing's 1936 paper.
The full note design including all the security features will be unveiled closer to it entering circulation.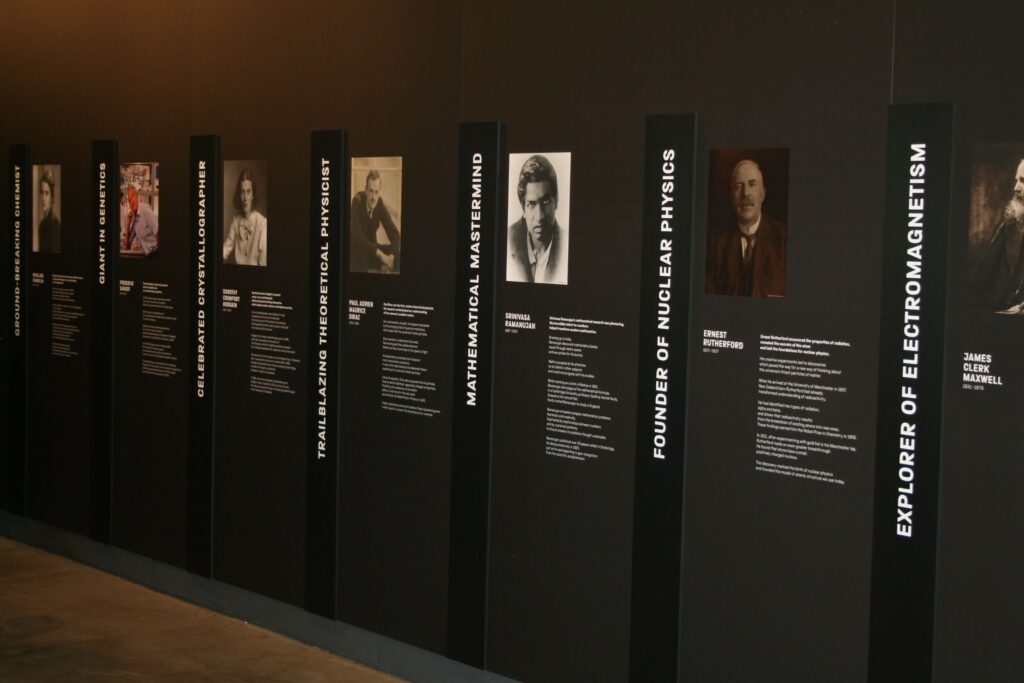 The Banknote Character Advisory Committee is made up of two Bank members of staff (Ben Broadbent as chair and Sarah John, Bank of England Chief Cashier) and seven independent experts: Professor Sir David Cannadine, Sandy Nairne, Baroness Lola Young, Dr Maggie Aderin-Pocock, Dr Emily Grossman, Professor Simon Schaffer, Dr Simon Singh. The £50 polymer banknote with updated security features and reduced dimensions is scheduled for release in late 2021. The front-side of the new "F" series polymer note is expected to retain the same effigy of HM Queen Elizabeth II and also retain the colour scheme of the current "E" series. The note's dimensions will be decreased which is in line with the present 5, 10 and forth-coming 20 Pound polymer note which is expected to be issued in October 2020. For additional information on Bank of England banknotes, please visit their website. https://www.bankofengland.co.uk/banknotes
The Bank of England's display entitled "Notables: 14 Scientists Who Shaped Our Lives" will be part of the Museum of Science and Industry's temporary exhibition until the 3rd November. For additional information, please visit the museum's website.
The Man, the Genius and the legacy of AI he left the world
Turing is widely considered to be the father of theoretical computer science and artificial intelligence as we understand it today. What cannot be disputed was his contribution to the War effort, enabling the allies to ultimately claim victory over the Axis powers in May 1945. Turing's genius played a key role in deciphering intercepted coded messages that contributed to the Allies defeat the Nazis in many crucial engagements and in so doing, it has been estimated that this work shortened the war in Europe by more than two years and saved over 14 million lives.
Alan Mathison Turing was born on the 23rd June 1912 as the second son of Julius Mathison Turing (1873–1947) and Ethel Sara Turing (née Stoney 1881–1976). Turing's father's family descended from a Scottish family of merchants that had been based in the Netherlands and included a baronet title. His mother's family were Protestant Anglo-Irish gentry from both County Tipperary and County Longford. Very early in life, Turing showed signs of the genius that he was later to display prominently. The headmistress of his primary school recognised his talent early on, as did many of his subsequent teachers.
Turing – the War Hero
Turing provided the theoretical underpinnings for the modern computer. While best known for his work devising code-breaking "Enigma" machines during World War II which was recognised as having perhaps shortened the War effort by several years, Turing played a pivotal role in the development of early computers first at the National Physical Laboratory and later at the University of Manchester. He set the foundations for work on artificial intelligence by considering the question of whether machines could think.
Turing's Method as it had become known was a by-hand code-breaking method devised in July 1942 at the British Government Code and Cypher School at Bletchley Park during World War II. The method was for use in cryptanalysis of the Lorenz cipher or Geheimschreiber (secret writer) tele-printer rotor stream cipher machines used to transmit secret messages within the German High command.
For his contributions to the British War effort, Turing was appointed an Officer of the Order of the British Empire by King George VI in 1946 for his wartime services, but his work still remained secret for many years. In common with all who had worked at Bletchley Park, he was prevented indefinitely by the Official Secrets Act from discussing his war work. As a result, his work had gone largely un-noticed or unrecognised for its importance during his lifetime. His OBE medal is currently housed in the archives of the Sherborne School in Dorset where Turing attended from the age of 13.
Turing's secret life
Turing's personal life was troubled and for much of his adulthood he was forced to lead a secret life. Had it not been for a burglary at his home in 1951, he might have lived a longer and perhaps more fulfilled life. Because it was believed the culprit was known to a young companion of Turing's, he reported the incident to the Police. Forced to divulge the nature of his relationship with the young man to the authorities, He was later tried and convicted on a charge of gross indecency on the 31st March 1952. As part of his punishment, he was given a choice of imprisonment or probation which was only on condition that he agreed to undergo hormonal alterations designed to reduce libido. He accepted that option which involved injections of what was then called stilboestrol, a synthetic oestrogen. Turing's conviction led to the removal of his security clearance which barred him from continuing with his cryptographic consultancy for the Government Communications Headquarters or, GCHQ and also included the British signals intelligence agency. Though he was able to keep his academic job, he was denied entry into the United States after his conviction in 1952 but was free to visit other European countries.
Sadly, Turing's life was ended far too early, believed to have been due to the circumstances resulting from his 1952 conviction. His lifeless body was discovered by his housekeeper on the 7th June 1954 at his home in Wilmslow, Cheshire, his death coming just two weeks short of his 42nd birthday. The cause of death declared after his inquest was cyanide poisoning which it was believed, had been administered by his own hand though this has been questioned by historians and investigators over the years after his death. Turing's remains were cremated at Woking Crematorium on the 12th June 1954 and his ashes scattered in the gardens of the crematorium, just as his father's had been.
Belonging to the 100 Most Important People of the 20th century
It is perhaps due to changing perceptions and attitudes towards a greater acceptance of orientation, that Turing's own reputation has been revived since the years after his death in 1954. Turing's name has undergone something of a renaissance in terms of recognition of his genius and contributions to the world's ability to comprehend and further develop computer science. He has deservedly taken his place among the world's recognised geniuses so much so that in 1999, TIME magazine named Turing as one of the 100 Most Important People of the 20th century, stating: "The fact remains that everyone who taps at a keyboard, opens a spreadsheet or a word-processing program, is working on an incarnation of a Turing machine."
In an effort to continue the rehabilitation of Turing's reputation, a national petition was begun in August 2009 by British programmer John Graham-Cumming which urged the British government to apologise for Turing's prosecution for the charge of gross indecency. The petition received more than 30,000 signatures which prompted Prime Minister Gordon Brown to both acknowledge the petition and release a statement on the 10th September 2009 which posthumously apologised. Turing then received a royal pardon for the conviction in December 2013. In 2017, the 'Alan Turing Law', was passed that posthumously pardoned men cautioned or convicted under historical legislation for similar charges as Turing had endured. His legacy continues to have an impact on both science and society today. Turing's life story was made into a full length feature film in 2014 entitled "The Imitation Game" and starring British actor Benedict Cumberbatch.
You want to know how characters are chosen to be featured on banknotes. Here's the Bank of England's statement.
Here you will find information on the latest invented bank notes.
Great Britain recently discovered that their population is not made of white men only. So there was a bank note in honour of a woman issued in 2014: Jane Austen is to be found on the 10 Pounds note. We reported about it.
Do you want to see the trailer of The Imitation Game?
And if you are not sure whether your bank note is genuine or not, try the Bank of England App.