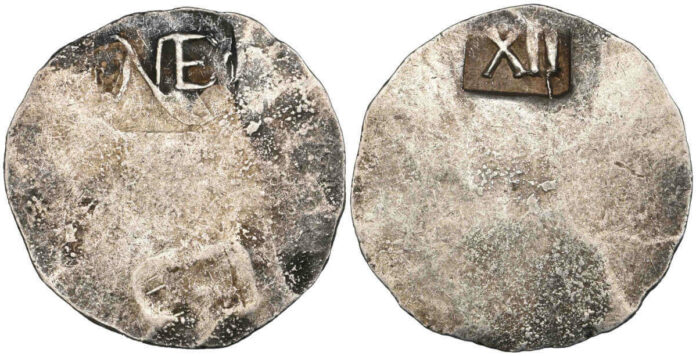 [bsa_pro_ad_space id=4]
An extremely rare mid 17th century New England shilling, was sold by specialist auctioneers Morton and Eden in London on Friday 26th November 2021 for an outstanding $351,912 (£264,000). It was bought by an anonymous US purchaser bidding online.
The coin, one of the very first coins to have been struck in North America in 1652, recently came to light when it was discovered in an old candy tin in the United Kingdom. Auctioneer and coin specialist James Morton, who originally identified the coin said: "I am not surprised at the amount of interest this exceptional coin attracted. The price paid, which was above its saleroom estimate, reflects its extraordinary historic significance and outstanding original state of preservation. The fact that it was previously completely unknown, together with its distinguished provenance, simply added to its appeal."
The simple silver coin is of rudimentary and rustic design and bears the initials NE for New England, together with the Roman numerals XII (indicating 12 pence which equals one shilling). The New England shilling is one of about 40 examples which are known to survive and has been certified as genuine and graded by NGC (Numismatic Guaranty Corporation). NGC accorded the coin "mint state" status, classing it as "MS61".
It is the only example of the issue to have been graded as mint state by either NGC or PCGS (Professional Coin Grading Service) and is therefore the finest recorded specimen of its type.
The Provenance
The newly discovered early American coin had been consigned to Morton & Eden for sale by the art advisor, the Hon. Wentworth "Wenty" Beaumont, whose family seat is Bywell Hall in the north of the United Kingdom. One of Wenty Beaumont's ancestors, William Wentworth (1616-97) is thought to have arrived in New England as early as 1636 and several members of the family were later to occupy prominent positions in Colonial America, including John Wentworth and his son (also John), both of whom represented New Hampshire in the Continental Congress of 1774-1781.
Wenty Beaumont recounts: "My father recently found the tin in his study. If he knew it was there he had long since forgotten about it. I'd never seen it before and when I opened it I thought it was just a rather bizarre collection of random old coinage. However as I don't know anything about coins I felt it was worth checking out so I took it to show James Morton at Morton & Eden. I'm very pleased I did and needless to say I was completely amazed when James Morton pointed out how important the rare shilling was in the context of North American history. I can only assume that the shilling was brought back from America years ago by one of my forebears."
Also found in the same vintage candy tin were a Massachusetts "Pine Tree" shilling, the more sophisticated successor to the original New England issue, which sold for $8,798 (£6,600), two examples of "Continental Currency" pewter dollars dated 1776, the date of the Declaration of Independence which both sold respectively for $76,608 (MS63: £57,600) and $79,980 (MS62: £60,000) and a "Libertas Americana" bronze medal (MS62), which sold for $17,596 (£13,200).
Visit the website of Morton & Eden.
For further information about NGC, visit their website.
If you are interested in how the numismatic story continued on the continent, don't miss our series on The Monetary History of the USA.