[bsa_pro_ad_space id=4]
Yap Stones from the Hallenbeck Collection at Kagin's
Kagin's ANA National Money Show Auction will happen on February 27-29, 2020. One part of the auction is the Ken Hallenbeck Collection of traditional Money that among other rarities features a selection of the stone money of Yap and Feather Money from the Santa Cruz Islands.
Since 1950, Ken L. Hallenbeck is a very active member of the American Numismatic Association, whose president he was from 1989 to 1991. He started collecting Odd, Curious, and Traditional (Primitive) money from all over the world roughly 50 years ago as he remembers: "I had collected round metal things and rectangular paper things for over 20 years, and the usage, shape, and stories of odd & curious money intrigued me." he says. "So it started me on that journey. And the greatest interest in these items is with collectors, historians and museums and not investors. Imagine trying to slab a Yap stone or feather coil!!"
The Stone Money of Yap
Nothing is odder or more curious than the stone money of Yap, a group of islands in the Caroline Islands group. It gained its value because the stone had to be quarried on the island of Palau, 250 miles away, then shaped, drilled, and finished by hand, and finally transported to Yap by canoe or steamship.
Introduced in the 18th century, it is more or less round, with central holes for carrying. Some pieces are extremely rough and porous, while others are polished to a very smooth, almost enamel-like finish. It was originally quarried with primitive stone tools, drifted out to sea on large bamboo rafts, and transported back to Yap by canoes, a log laid across two canoes passing through the center.
With the arrival of European traders, iron tools were introduced and the stones began to be shipped on their vessels. Captain David Sean O'Keefe made a business of this trade, transporting Yapese to Palau from 1872 to 1901, where they hewed out their money. They then pawned it to O'Keefe for transport back to Yap, redeeming it on their return with copra. As a result, the size of the stones became larger and larger. Those brought by canoes and rafts were a maximum of four feet in diameter.
After World War II, the United States took over the administration of the Caroline Islands from Japan, who had been preceded by Germany and Spain. Informed of the proposed substitution of U.S. dollars for Japanese yen, a Yapese chief remarked, "First Spanish money no good, then German money no good, now Japanese money no good. Yap money always good!"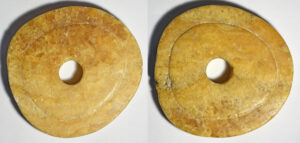 Collectors feel the same way, but export of the stone money of Yap has been prohibited for over 50 years. Examples appear at auction infrequently. But with the breakup of the Hallenbeck Collection of Colorado Springs, seven examples will be sold on February 28 at the American Numismatic Association's National Money Show in Atlanta by Kagin's Auctions. One is broken and another a miniature souvenir made by a Yapese women's cooperative, but the rest are perfect examples of this strange currency, up to 22.5 inches (57 cm) in diameter and weighing up to 70.8 lb (32 kg).
Due to weight, most Yap Stones won't be shipped to Atlanta, but can be viewed by appointment at Kagin's offices in Tiburon, California.
Red Feather Money
For over a century, the only money used in the Santa Cruz Islands consisted of long, wide coils of glued-together bird feathers. Reportedly invented in the mid-1860s, red-feather money was used to pay a fine for murder as early as 1871. By 2000 it was no longer being made, though it was still used as a standard of value for bride price.
Each coil was made on order and required the efforts of three men: one to snare 300 scarlet honey eater birds and pluck their red feathers; another to shoot pigeons with bow and arrow, glue their feathers into a platelet, and trim them with the red feathers; and a third to bind each of 1,500 red-tipped platelets onto two cords of bark fiber such that they overlapped, so that the whole 30-foot coil seemed to be composed entirely of red feathers. A single coil took up to 600 man-hours of work.
Unfortunately, the red color fades with time, causing the coil to depreciate as it deteriorates. When completely colorless it is worthless and is discarded. But the value of a coil increases geometrically from the least valuable to the newest and best. Bride price is always set at 10 coils, one of each quality, with the most valuable at the bottom of the pile and the least at the top, each coil being worth double that of the one above. Concubines could also be purchased with red feather money – but they cost ten times as much.
The Hallenbeck Collection session will start at 7:30 p.m. EST. Contact Kagin's Auctions to view all lots, register and bid.
You can browse the catalogue and bid directly online.
If you want to learn more about odd money, there is an extensive article about it in CoinsWeekly.