[bsa_pro_ad_space id=4]
The Royal Mint revealed the results of a survey which found that childhood character coins are attracting new and younger coin collectors to take up and share the popular hobby. As well as minting the coins found in our pockets, The Royal Mint makes collectable coins celebrating key themes and milestones and featuring some of Britain's most-loved childhood characters on UK coin.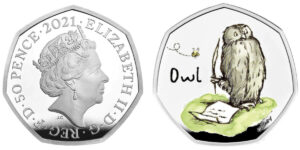 The new findings mark the launch of the latest coin in the collection inspired by Disney's Winnie the Pooh, which features Pooh's trusted friend Owl on a 50p at The Royal Mint.
According to the new research, more than half of 35–44-year-olds said that childhood character coins were the main reason for starting a collection. The childhood character coins also inspired almost three quarters of Royal Mint's collectors aged 18-24.
51% of 35- to 44-year-olds state childhood character coins as the main reason for collecting
74% of 18- to 24-year-olds consider character coins as one of the reasons for collecting
The research also found that the timeless hobby of treasuring Britain's favourite collectable item remains an interest which is passed down through generations – 45% started collecting because a grandparent or older relative introduced a collection to them, according to the survey results.
Collecting Mum: Januarie Braganza
Mum of two, Januarie Braganza, from London, is a keen childhood character coin collector, on behalf of her 75-year-old mother Sunny Hall and children; 2-year-old Blaise and 1-year-old Winnie. She said: "My children Winnie and Blaise collect coins with their Nanna Sunny, who has been collecting coins for years. It is a wonderful hobby they can enjoy together, and they regularly speak on Facetime and show their new coins. It makes her so happy to see the children sharing her passion and helps to keep her mind sharp. Speaking of the launch of the latest Owl 50p which celebrates 95 years of Winnie the Pooh with a design based on the original E.H Shepard decorations, she added: "We love the Winnie the Pooh coins best as my daughter has the same name! The latest Owl 50p coin is beautiful, and the color really brings the character to life. We're so excited to receive this coin as part of Blaise and Winnie's collection and Nanna Sunny loves it too!"
Collecting Grandad: Fred Kirby
During the Royal Mint's Collect Week, Kirsty Farrell nominated Grandad Fred Kirby from Monmouthshire for his impressive 50p collection: "My grandad Fred Kirby has an impressive 50p collection up to 2020. (No 2013 coins though as he is very superstitious). He has the 50p collection twice which he has in two separate folders. They are single coins in folders and coins in packs he has bought. He has 2 Kew gardens, 2 Olympic sets, 2 sets of Beatrix Potter, He has 2 sets of everything… He started coin collecting after he finished radiotherapy. He is 78 and started to struggle to get out like he used to. Coin collecting has been a brilliant past time for him. And a hobby he can enjoy time after time. He loves the children's characters and he has just started the Winnie the Pooh range. We cannot wait until the next 3 come out!"
Collecting Boy: Aston Thygesen
Aston Thygesen, aged 11 from Milton Keynes shared his collection as part of The Royal Mint's Collect Week: "I have been collecting special coins for 3 years. The 2014 WW1 £2 coin that says "Your Country Needs YOU" was the first coin I found and since then I've been hooked on collecting. I have many rare 50ps including an uncirculated Olympic Football 50p, my colored Winnie the Pooh and Friends 50p, Colored Plesiosaurus 50p, Colored Hylaeosaurus, Colored Dimorphodon, uncirculated Paddington at the Tower, uncirculated Paddington at St Pauls, uncirculated Olympic Team GB 50p. I also struck my own Decimal Day 50p when I visited the Royal Mint. It was a great day out my favorite part was seeing the man pour all the coins into the weighing machine."
Coins, the Most Popular Collectibles in the UK
Earlier this month, The Royal Mint revealed that coins are officially the most popular collectable item in the UK, with over a third of collectors having a passion for coins (36%). Stamps (30%) and books (26%) came in second and third most popular. The Royal Mint's Divisional Director of Commemorative Coin Clare Maclennan said: "Coins are Britain's favorite collectable item, and their appeal continues to reach new collectors with the increasing popularity of our childhood character coins which celebrate some of the greatest childhood stories and characters we know and love on official UK coin.
"The collectable Owl 50p is the latest release in Winnie the Pooh series, marking the 95th anniversary of the lovable bear. Inspired by the original watercolor decorations of E.H. Shepard, and available in a vibrant special color edition, the coin is itself a beautiful work of art for collectors of all ages, and we're so thrilled to see these pieces are inspiring new and younger collectors to get involved."
The Owl 2021 UK 50p is the fifth release in the nine-coin Winnie the Pooh and Friends collection.
| | | | | |
| --- | --- | --- | --- | --- |
| Coin title | Owl 2021 UK 50p Gold Proof Coin | Owl 2021 UK 50p Silver Proof Coin | Owl 2021 UK 50p Brilliant Uncirculated (Coloured) | Owl 2021 UK 50p Brilliant Uncirculated |
| Denomination | 50p | 50p | 50p | 50p |
| Issuing Authority | UK | UK | UK | UK |
| Alloy | 916.7 Au – Red | 925 Ag Sterling Silver | Cupro-Nickel | Cupro-Nickel |
| Weight | 15.50g | 8.00g | 8.00g | 8.00g |
| Diameter | 27.30mm | 27.30mm | 27.30mm | 27.30mm |
| Obverse Designer | Jody Clark | Jody Clark | Jody Clark | Jody Clark |
| Reverse Designer | The Walt Disney Company | The Walt Disney Company | The Walt Disney Company | The Walt Disney Company |
| Quality | Proof | Proof | Brilliant Uncirculated | Brilliant Uncirculated |
| Maximum Coni Mintage | 535 | 18000 | 45000 | Unlimited |
See the full Winnie the Pooh commemorative collection series.
For further information about the mint, visit the Royal Mint website.
You will find many British coins in our online database Cosmos of Collectibles.
And if you don't want to miss any new issues, subscribe to the Cosmos of Collectibles newsletter.
View this short video by the Royal Mint:
Another research conducted by the Royal Mint in 2013 revealed that Britons had some problems to recognise Britannia on the coins.