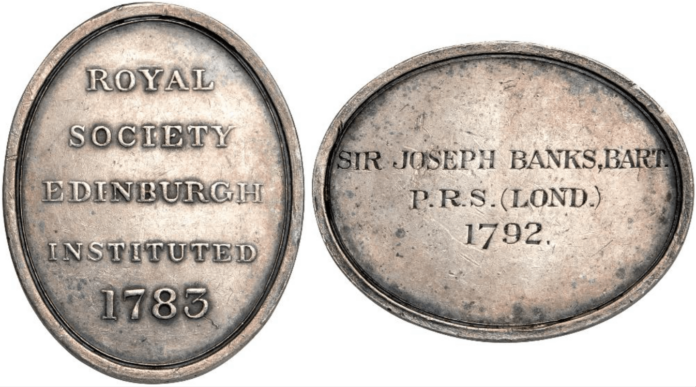 [bsa_pro_ad_space id=4]
What Sir Joseph Banks Showed, When He Entered a Meeting of the Scottish Academy
The recent report (13th June 2020, issue 2446) of Thomas Telford's silver membership ticket to the Royal Society of Edinburgh will serve to add interest to an exceptional group of seventeen named and three un-named tickets which are to be auctioned by Baldwin's of St. James's in London on 9th December 2020. The group has been discovered hidden amongst old stock that had been lingering in the basement vault of the coin dealers A. H. Baldwin & Sons. They were found together with a further group of seven named membership tickets to the Royal Institution in London. The whole group is quite unprecedented in recent auction history.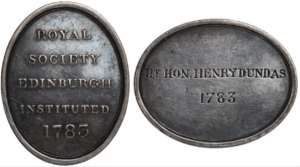 The Royal Society of Edinburgh was created in 1783 by Royal Charter for "the advancement of learning and useful knowledge" and started with a small group of just 178 founder members. Three founder member's tickets are amongst the group, each engraved with the member's name and the date of his election to Fellowship. The Rt Hon. John Grieve (d. 1803), Scottish Advocate and Statesman, was a Lord Provost of Edinburgh, a Commissioner of Excise and was highly influential in the "Mound Project" linking Edinburgh's Old and New Towns. The Rt Hon. Henry Dundas, 1st Viscount Melville and Baron Dunira (1742-1811), an advocate, Member of Parliament and statesman. Dundas was President of the Board of Control over the East India Company from 1793-1801.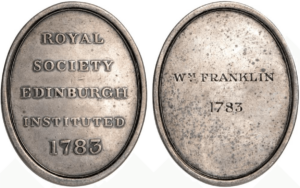 Then there is the Foreign Founder Member's ticket that belonged to Benjamin Franklin's illegitimate son, William (1730-1813). Unlike his father, his interests had been pro-British, he remained a steadfast Loyalist for which he was imprisoned. He went into exile in Britain in 1782, having lost his American estates, living in London until his death. Benjamin Franklin too, was elected an honorary founder member of the Society, though, sadly, his ticket is not amongst the group. William Franklin had travelled to Scotland and to Edinburgh in 1759 with his father (Benjamin Franklin was then living in London) and William was in Edinburgh again in 1783. The ticket to his father Benjamin sold at auction in New York in 2006 as part of the John J. Ford collection, for a staggering $26,000.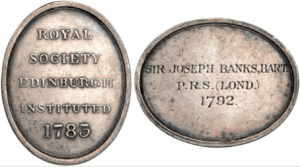 The highlight of the group has to be the highly important silver ticket or pass named to Sir Joseph Banks (1743-1820), the explorer, naturalist, botanist and great patron of the natural sciences. Banks was elected on 23rd January 1792, when he was President of the Royal Society in London. The 37 x 29mm ticket is engraved on the reverse "SIR JOSEPH BANKS, BART. F.R.S. (LOND.) 1792". Also two of the Royal Institution tickets are named to Banks, "Rt. Hon. Sir Jos. Banks Bart. P.R.S. F.S.A." and "Rt. Hon. Sir Joseph Banks Bart. G.C.B. Pr.R.S." Any memorabilia associated with Joseph Banks is extremely rare in the marketplace which has made it hard for the auctioneers to estimate the value but £5000-8000 has been placed on the Royal Society of Edinburgh ticket and £1000-1500 each on those of the Royal Institution. Banks's election to the Royal Society in London had come a mere two weeks after his return from Constantine Phipps's (who knew Banks from his Eton school days) expedition on HMS Niger, and over a decade before he and fellow botanist Daniel Solander, took part in Captain James Cook's first voyage to the Pacific (1768–1771), on HMS Endeavor. Banks had further Edinburgh connections having been elected a Fellow of The Royal College of Surgeons of Edinburgh.
The remaining two silver tickets of the Royal Society of Edinburgh are named to Henry Brougham (1742-1810) and Sir Henry Englefield (1752-1822).
The Royal Institution of Great Britain (located at 21 Albermarle Street, London), was founded in March 1799 at a meeting at the home of Sir Joseph Banks in Soho Square, London. The Institution received its Royal Charter in 1800 then in 1810 it was converted, by an Act of Parliament, from a private organisation owned by a small number of Proprietors to a public institution. The circular silver member's admission tickets in the auction all carry the date 1819 and each is engraved with the owner's name and titles. Banks's two tickets have already been mentioned, but another leading figure in the history of the Institution was Sir Humphry Davy (1778-1829). Davy moved to London in 1801 to work for them as Assistant Lecturer, being promoted to Professor of Chemistry the following year. Today he might be remembered for the miner's safety lamp (1815), but his achievements at the Institution makes a formidable list.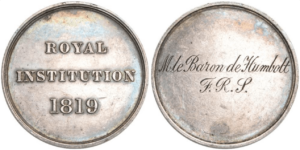 As with the Royal Society of Edinburgh, the Royal Institution has a ticket of American interest, named to William Penn's grandson, the politician and writer John Penn (1760–1834) who, on the death of his father in 1775, became the Chief Proprietor of the Province of Pennsylvania with hereditary governorship. He moved to America but following the American Revolution and after the Pennsylvania government paid him some £97,500 as his portion of the compensation due for the proprietorship, he returned to live in England. The sale also includes a ticket is named to the German naturalist and traveller, Alexander von Humboldt (1769-1859), whilst another is named to Alexander Davison (1750-1829), Admiral Lord Nelson's prize-agent.
All lots of the auction can be found online on the Baldwin's of St. James's website.