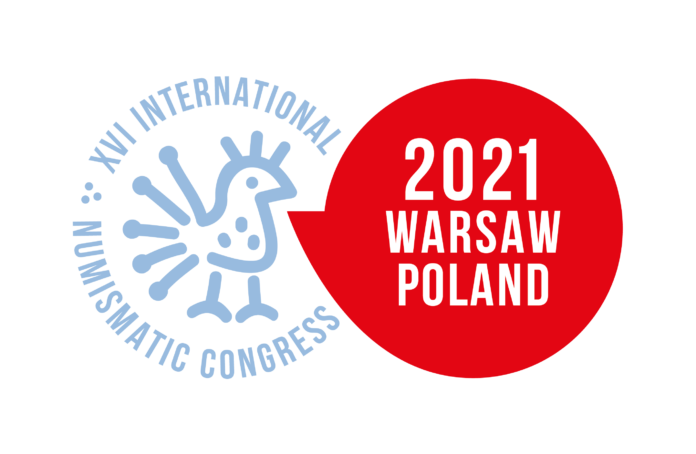 [bsa_pro_ad_space id=4]
The International Numismatic Congress takes place every six years. It is a very important event in the world of numismatics, as it provides the perfect – and incidentally, the only – opportunity for numismatists from all kinds of disciplines, countries, and professions to come together and meet on equal terms. Everybody is invited to the Congress: collectors and dealers, researchers and museum curators, mint employees and numismatic journalists. If you're at all involved with coins, bank notes, the history of money, or any other related area, you should seriously consider going to Warsaw from September 19 to 24, 2021. The sheer number of numismatists you can meet at the Congress should be enough to convince you.
Registration
The Congress website was launched a little while ago. On it, you will not only find details of the Congress location and information about the wide range of (numismatic) sights and attractions that Warsaw has to offer, but also the new "Pre-Registration" form. Pre-registering is easy and takes less than a minute. And the best part: if you register early enough, you can save a lot of money!
If you register before March 31, 2021, the registration fee will be between 150 and 300 euros, depending on whether or not you are part of one of the member organizations. If you're a collector, you should ask the president of your coin club or society whether they are also affiliated with the International Numismatic Council. The registration fee includes all academic sessions and workshops, congress materials, and coffee breaks. It also includes the opening and closing ceremonies, which both include a drinks reception, as well as the opening event for the exhibitions (with cocktails) and free admission to the city's major museums.
Have Your Say!
For the first time, the INC has invited members of the public to suggest themes they think the sessions and round tables should focus on. You can submit proposals until August 31, 2020. There's just one catch: you shouldn't think of it as putting in a request ("I want a session on this topic…make it happen!"), but rather as making a personal commitment ("This is a topic that interests me, so I'll do the work.").
If there's a certain topic you think is particularly important, you can take on the role of "organiser" of that session or round table. That also means that if you submit a proposal for a session or a round table, you should know that other people are interested in that topic, too. You should choose an exciting topic that is likely to attract enough speakers and listeners to ensure your workshop is well-attended.
A Great Opportunity to Spotlight Topics That Are of Interest to Collectors
This is a great opportunity to broaden the range of topics covered at the International Numismatic Congress, and to integrate marginal areas of research more effectively into the event. In previous years, the International Numismatic Congresses has focused predominantly on ancient coins and coin finds, because that's just what a lot of academics devote their research to. The typical areas of interest of collectors, on the other hand, are woefully underrepresented.
Wouldn't it be great if, for example, the ANA ran a session on numismatics and coin collecting in the US? Eucoprimo could organize a session all about traditional and pre-monetary means of payment! And wouldn't it be fantastic if we could also integrate mints, to talk to researchers about the new technical advancements made in the last 30 years? What's actually going on with paper money? Isn't this the perfect opportunity for museum curators to tell us about the latest research developments? And those are just the first few ideas that popped into my head – I'm sure every single one of you could think up many more!
One Congress – Five Languages
And by the way – you can't use "I don't feel comfortable speaking English" as an excuse not to contribute some ideas! You're given a choice of five languages in which to present your workshop or session: English, German, Italian, French, or Spanish. Unfortunately, Russian and Chinese are not on the list, though that would help to make the Congress – along with the International Numismatic Council – truly international. Well, there has to be a little room left for future improvement…
A Brilliant Organizational Team – On Course for Another Brilliant Congress
As far as I can tell, the organizational team are doing a splendid job so far. The organizational committee, led by Prof. Aleksander Bursche, is working hard to put together a Congress event that attendees will remember for many years to come – just like those hosted in Taormina, Glasgow, Madrid and Berlin, the four Congresses I've attended in my lifetime. Each and every one of them was absolutely fantastic!
So make sure you reserve September 19 to 24, 2021 in your agenda now! And remember, Warsaw is an exciting, bustling city in a beautiful country: make sure you factor in enough time to explore Poland! The country has a great deal to offer – and not just in terms of numismatics.
Here's the website for the International Numismatic Congress, run by the International Numismatic Council.
Click here to register.
Click here to submit a proposal for a workshop or round table.
If you want to find out more about Warsaw's numismatic attractions, take a look at our article in CoinsWeekly.
If you want something to get you into the Congress spirit, here's our article about the International Numismatic Congress in Taormina.
And of course, we've also published an article about Glasgow. Goodness, how time flies!