[bsa_pro_ad_space id=4]
Werner Burger (Chinese: 布威纳 Bu Weina) was born in Munich in 1936. He studied Chinese at Ludwig Maximilians University of Munich (LMU), graduating in 1962, with a thesis on Chinese money. According to an announcement by the Chinese Numismatic Museum in Beijing, Burger took 16 years to complete his PhD (instead of the usual 3-4 years), and 30 years to complete his volume Ch'ing Cash (2016). According to the website of the University of Tübingen he was the first person to write a PhD on Chinese numismatics.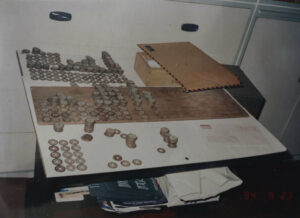 In 1963 he went to China to teach German in Shanghai. When the school he was teaching at closed down, he was sent to be a sheep farmer. He moved to Hong Kong in 1965.
Burger was also a member of the major research project Monies, Markets and Finance in China and East Asia, 1600-1900: Local, Regional, National and International Dimensions led by Hans Ulrich Vogel in Tübingen. For this project, he was looking in particular at "Qing Coinage, 1850-1911: Mint Statistics, Numismatic Evidence, and Monetary Policy". Werner Burger, known for his research on Qing dynasty coins and his extensive collection of coins and books, died in Hong Kong on 15th November 2021, aged 85.
Burger's publications include the following titles:
"Manchu Inscriptions on Chinese Cash Coins", in American Numismatic Society Museum Notes XI (1964)
"Um Amuleto em Manchu", in Boletim do Instituto Luís de Camµes (1969)
"Minting during the Qianlong Period: Comparing the Actual Coins with the Mint Reports", in Christine Moll-Murata, Song Jianze and Hans Ulrich Vogel (eds.), Chinese Handicraft Regulations of the Qing Dynasty (2005)
Chinese section of Coins of the World 1750-1850, by W.D. Craig (1976)
Ch'ing cash until 1735, Mei Ya Publications, Taipei, 1976
Ch'ing Cash, University Museum and Art Gallery, The University of Hong Kong, 2016.
Further information
"Coin stash that puts new spin on China's 100 years of humiliation" – feature article on Werner Burger, by Edith Terry, South China Morning Post, 22 Oct 2017.
Review article of Ch'ing Cash – by Fresco Sam-sin, in Journal of the Oriental Numismatic Society 229 (2016), pp. 9-13.
"Ch'ing Cash: Rise and Fall of the Qing Dynasty seen through its coinage" at Hong Kong University – talk by Werner Burger at Hong Kong University.
Dr Werner Burger's love of China – on the website of The Biography Society of China, 26 November 2021 (in Chinese)
Werner Burger (numismatist) – on Wikipedia
Memorial Event
Memorial gathering for Dr Werner Burger, in Hong Kong, 8th December 2021.
Visit the blog of Helen Wang for further topics on Chinese numismatics.