[bsa_pro_ad_space id=4]
Voltaire Collection of French Tokens and Medals at Tauler & Fau
Tauler & Fau's E-Auction 90 – Voltaire Collection features 262 lots and closes on Tuesday, 13th July 2021, beginning at 04:00 PM (CEST). This sale featuring an interesting collection of Tokens (Jetons) and Medals from France (17th-20th centuries). The collector will find a deep variety of magnificent silver tokens in Mint State condition from Louis XIV to 20th Century French Republic. This excellent and large selection of 104 Tokens or "Jetons" is a really good opportunity to complete your collection. The other side of the collection, you can find an excellent variety of 157 silver and bronze medals from Louis XIV to 20th century French Republic. Some highlights from this Auction: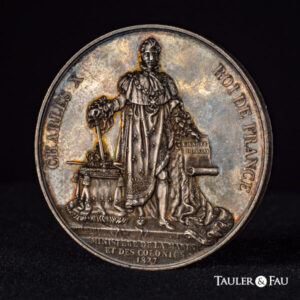 Lot 4175: France. Charles X. Medal, 1827, Paris. Anv.: CHARLES X – ROI DE FRANCE. Carlos X standing with coronation attire, holding a colonial letter and surrounded by symbolic objects, below signature MICHAUT. In exergue MINISTERE DE LA MARINE / ET DES COLONIES / 1827. Rev.: COLONIES / FRANÇAISES / CONSEIL / PRIVÉ, under small lamp, around laurel branch and palm. Almost mint state. Starting Price: 200 EUR.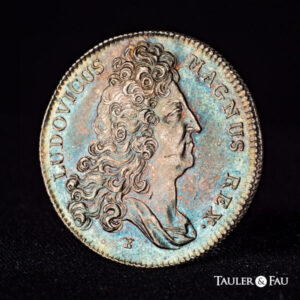 Lot 4005: France. Louis XIV. Jeton, 1704. Rev.: Allegorical figure of a river God, reclining and holding a jug of water. NON DEFLUET. Some bluish patina on obverse. Almost uncirculated. Starting Price: 25 EUR.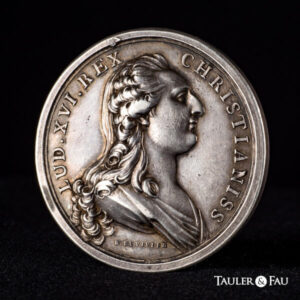 Lot 4114: France. Louis XVI. Medal, 1785, Paris. Anv.: LUD. XVI. REX CHRISTIANISS. Draped bust of the King on the right, below B. DUVIVIER. Rev.: NATALES LUDOVICI CAROLI DUCIS NEUSTRIÆ. France dressed in the old-fashioned style and crowned, seated on the right in the shade of a palm tree, in her left hand and on her knee she holds a tablet on which she traces the words: VOTA PUBL…. In exergue signature DUV and XXVII MARTII/ MDCCLLXXXV. Choice very fine. Starting Price: 100 EUR.
Lot 4078: France. Napoleon Bonaparte. Jeton, 1840. Rev.: COMITÉ DES NOTAIRES DES DÉPARTAMENTS / LOI DU XXV VENTOSE AN XI / MDCCCXL. Minor hairlines. Plenty of original luster. Almost mint state. Starting Price: 80 EUR.
Lot 4121: France. Napoleón I. Medal, 1805. Anv.: NAPOLEON EMP. ET. ROI., laureate head right. Rev.: BATAILLE * D'AUSTERLITZ, elaborate winged thunderbolt; below, · II · DEC · M · DCCCV XI · FRIM · AN · XIV ·. Battle of Austerlitz. Almost uncirculated. Starting Price: 65 EUR.
To view the lots of this auction including Special Pictures for selected lots, browse the online catalogue on the Tauler & Fau website.