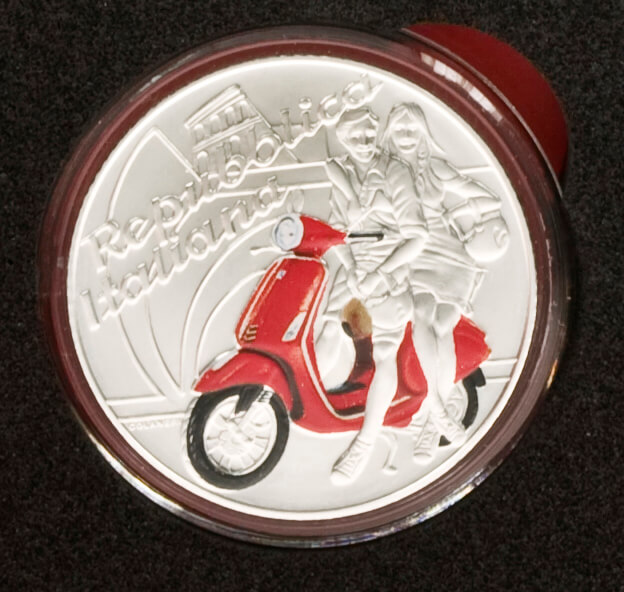 [bsa_pro_ad_space id=4]
La Zecca dello Stato (the Italian Mint) has issued a new silver 5 euro coin dedicated to the most famous Italian means of transportation: the Vespa. The pieces feature a colored depiction of the famous scooter. They were originally issued in the three colors of the Italian flag: green, white and red. Red and white are still available.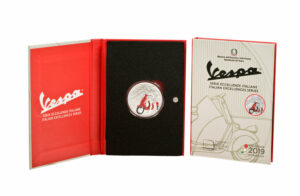 The obverse of the coin features a boy and a girl on a modern model of the Vespa in three different colors. In the background, we can see the Colosseum. The composition is dominated by the inscription "REPUBBLICA ITALIANA" and below, the name of the designer "COLANERI".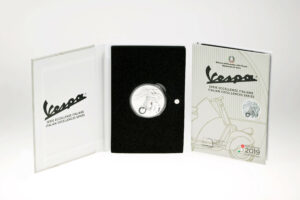 On the reverse, we can see a graphic composition of profile and front views of the Vespa with Piaggio elements and stylistic features. Above, the value "5 EURO", the name "VESPA" in the characteristic italics of the logo of the most famous scooter in the world; on the right, "R" identifying the Mint of Rome; below, on the right, the year of the coin's issue "2019".
More information is available on the Zecca dello Stato website.
Vespas became a global hit in the 1950s. One major contributing factor was Audrey Hepburn's famous Vespa ride in the 1953 movie "Roman Holiday".
You can find out more about the history of Vespas on the official website.