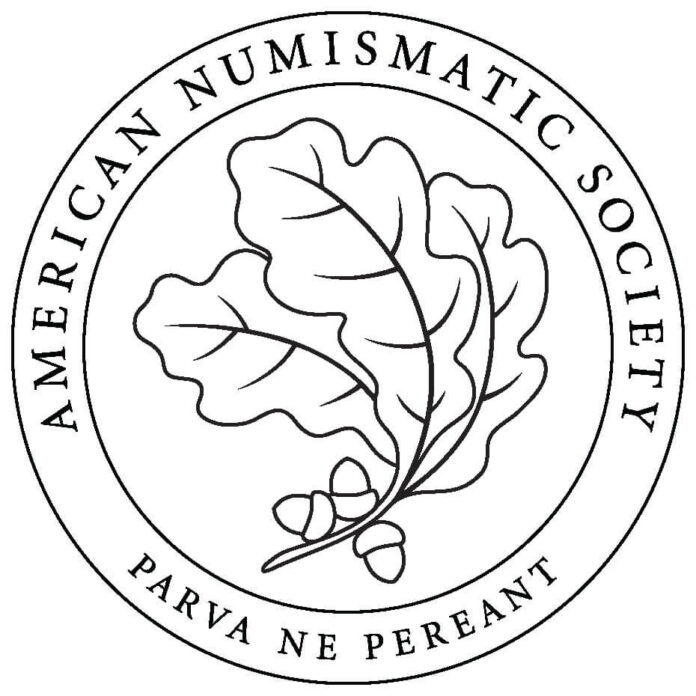 [bsa_pro_ad_space id=4]
The American Numismatic Society (ANS) announced Ute Wartenberg to be the Society's new and first female President. This decision highlights the ANS's role as a truly international organization being based in the US and having a German President and French Executive Director.
At the 163rd Annual Meeting of the American Numismatic Society on October 24, 2020, the American Numismatic Society announced that Mr. Sydney F. Martin would be stepping down from his position as President of the Society.
Sydney F. Martin Steps Down as ANS President
Mr. Martin has been a member of ANS since 1997, a Life Associate since 2002, was elected as a Fellow in 2009, and is one of the founding members of the Augustus B. Sage Society. Elected to the Board of Trustees in 2005, Mr. Martin served as Treasurer from 2009–2012 and Board President since 2013. Mr. Martin's leadership helped oversee the growth of the Society's endowment from approximately $37 million to $47 million today. In 2009 the Society's Conference Meeting Room was named in his honor and in thanks for his many contributions. In 2014 his generous pledge helped to kick off the Campaign to Endow the Chair of the Executive Director.
Specializing in Colonial American coinage, Mr. Martin has written several articles on the subject for the Colonial Newsletter, and has presented papers at the Coinage of the Americas Conference (COAC), historical societies, and clubs. He has authored four books, all published by the Colonial Coin Collectors Club (C4): The Hibernia Coinage of William Wood (1722–1724); The Rosa Americana Coinage of William Wood; French Coinage Specifically for Colonial America; and in 2018, St. Patrick Coinage for Ireland and New Jersey. In 2006 he became the editor, and is now the Associate Past Editor, of the award-winning C4 Newsletter. This year, the Society is especially honored to bestow its prestigious 2020 Archer M. Huntington Award to Mr. Martin. The presentation will take place on November 19, 2020, at which time he will give the Silvia Mani Hurter Memorial Lecture on "Numismatic Commemoratives of the 200th Birthday of George Washington in 1932."
Ute Wartenberg – the First Female President of the ANS
Also announced at its Annual Meeting is the Society's new President, Dr. Ute Wartenberg. Dr. Wartenberg brings to this position her more than two decades of experience as Executive Director of the Society, along with her extensive knowledge of numismatics and the community. A leader and trailblazer throughout her career, Dr. Wartenberg fittingly becomes the first female president in the 162-year-history of the ANS.
Before coming to the Society in 1998, Dr. Wartenberg was Curator of Greek Coins at the British Museum for seven years. She is a Rhodes Scholar and holds a DPhil in Classical Literature from Oxford University, where she taught Greek language and literature. She is currently a Research Curator at the ANS and an Adjunct Member in the Department of Classics at Columbia University. She is also the curator of the Amastris Collection. An author of many publications and curator of exhibitions on ancient and US coins, Dr. Wartenberg has served on many non-profit boards and committees. She was the first Chairperson of the Citizens Coinage Advisory Committee, on which she served from 2003 to 2007. Since 2008, she has been a Trustee of the Saint-Gaudens Memorial, which preserves and exhibits Augustus Saint-Gaudens's home, studios, and art in New Hampshire. She was a Trustee of the Annie Tinker Association for Women from 2009-18, and served as President and CEO of this organization, which provided financial support to elderly professional women, from 2014-15. In 2015, Dr. Wartenberg was elected to the Committee of the International Numismatic Council and in 2019 a member and Chairperson of ICOM International Committee for Money and Banking Museums. Among Dr. Wartenberg's honors and academic awards are the election as Numismatic Ambassador in 2002 and as Fellow of the Society of Antiquaries (UK) in 2008. She was awarded the Ehrenpreis der Gesellschaft für Internationale Geldgeschichte in Germany in 2015. In 2017 she was a Visiting Professor of the City of Wrocław, Poland.
"Through Syd Martin's leadership, the ANS has grown increasingly secure financially and seen its stature in the field grow ever more prominent," notes Kenneth L. Edlow, Chairman of the Board of Trustees. "The years he spent as President while Ute Wartenberg was the Society's Executive Director will surely be numbered among the Society's finest – they made a very powerful team for the ANS. Dr. Wartenberg's own rigorous scholarship and her incredible charisma have already shepherded the organization into the flourishing institution that we are proud to be a part of today. It's been a real joy to work alongside Syd on the Board of Trustees, and I eagerly look forward to continuing to work with Ute as she takes on her new role as Board president."
Further Newly Elected Board of Trustees
Also newly elected to the Board of Trustees are Ms. Carole Anne Menzi Collier and Mr. Robert Ronus.
Carole Anne Menzi Collier joined the ANS in 2019 and is a member of the ANS's Sage Society. Born in NYC and raised in Westchester, she holds a BA from Wesleyan University (Middletown, CT), graduating in its first class of women; an M.Phil in History of Art, Yale University; and an MBA, in International Trade and Finance, New York University. She met her future husband, art historian and realist artist James M. Collier, in the sacristy of Santa Croce in Florence. They were married in 1983 until his death in 2015. She now continues as curator of his collection of ancient coins and of his paintings. Her career includes 25 years in banking, the majority of which was at ABN AMRO Bank in New York and Amsterdam, heading up the Global Public Sector as Director General. Recently she has served as a financial consultant to startup companies in Italy and the Netherlands, where she has lived for 30 years.
Robert Ronus was born in London in 1942 and was educated at Christ Church, Oxford. He spent almost all his professional career in the investment management business, first in London, then in Geneva, and since 1983 in Los Angeles with the Capital Group, where he was a global investment manager and held a variety of management positions including non-executive Chairman. He went part-time in 2002 and retired completely in June 2019. A history buff all his life, he has a particular interest in the formative years of modern Europe from the Renaissance to the Enlightenment. He has published over 40 short articles on European coins of the early modern period from 1500-1700 in the Numismatics International Bulletin and has also translated or helped translate into English articles by non-native English speakers. He was elected a Fellow of the ANS in 2012 and is a member of the Augustus B. Sage Society. He is also a member of the British Numismatic Society, the Numismatic Society of Ireland, the Société suisse de numismatique, and the Gesellschaft für Internationale Geldgeschichte. He is a supporter of the Heberden Coin Room at the Ashmolean Museum and the Münzkabinett at the Staatliche Museen in Berlin.
A full list of ANS Officers and Trustees, and Fellows of the Society can be found on the ANS website Governance page.
For more information please go to the ANS website.
We reported in October 2019 when Ute Wartenberg-Kagan resigned as Executive Director of the ANS while Gilles Bransbourg followed her in this position.