[bsa_pro_ad_space id=4]
There are some places you need to see at least once in your life. Gibraltar is one of them, although I don't quite understand why. There are prettier and more interesting places in the world. At least I can take comfort in the fact, because I didn't actually make it into Gibraltar… Well, as revealed in this part of our numismatic travelog "To Spain!", Ronda is very nice, too.
Sunday, 2 April 2017
We had yet another early start today to make sure we beat the day trippers that flock to Gibraltar every day for its duty-free shopping. So, the roads were pretty clear as we drove toward the spectacular rock, which sits across the bay from Algeciras and is said to be one of the Pillars of Hercules.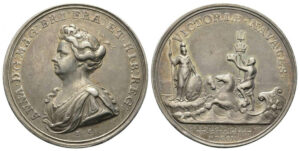 There's actually only one thing you need to know about Gibraltar: it represents a little piece of Great Britain on the Spanish peninsula and has done since the War of the Spanish Succession. Of course, there were military reasons for this. Whoever sat on the Rock of Gibraltar could control the Strait of Gibraltar with a couple of canons, and very effectively at that. And this rock wasn't considered one of the two Pillars of Hercules – which sailors avoided passing in ancient times for fear of floating into the unknown – for nothing. Charles V's motto offered a new interpretation of this rock as the gateway to the ocean, which gave Spain its command over a land where the sun never set.
Then the British invaded, seizing control of the streets of Gibraltar. The German Prince George of Hessen-Darmstadt ordered the attack on 4 August 1704 – during the siesta, of all times. So, the invasion was successful, as many of the Spanish troops were indeed enjoying their afternoon nap.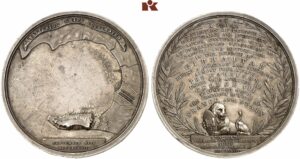 The British have presided over the rock ever since, and every now and then they strike medals celebrating another victorious defense. The latest attempt to wrest the Spanish enclave from the British was carried out between 1779 and 1783 by a combined Spanish and French fleet. It went down in history as the Great Siege of Gibraltar and failed, making it a very popular theme for British medals.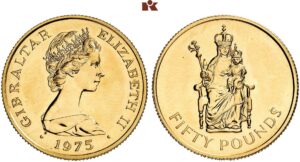 Nowadays, Gibraltar is a British Overseas Territory under the sovereignty of the United Kingdom, but it has its own parliament and an independent government. In terms of numismatics, this means that Gibraltar has the right to mint coins and that Gibraltar's coins feature the Queen of England.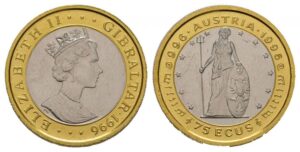 So, Gibraltar is one of the many states in whose name coin distributors issue commemorative "coins" featuring popular themes which have never seen the country whose name they show. I really like this example of Queen Elizabeth celebrating the Millennium of Austria.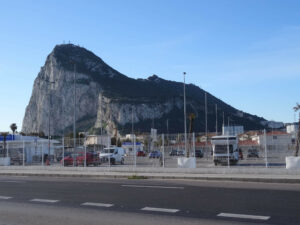 Of course, there are a few things to see in Gibraltar. Sadly, I can't tell you anything about them as, right before we reached the British border, I was frustrated to discover that I'd left my ID, along with my credit cards and purse, locked securely in the hotel safe. "Sorry, I'm afraid I won't be able to let you in." Well, at least I got to experience the height of British politeness when the officers stopped me from entering Gibraltar. After all, although Gibraltar is in fact part of the EU, it has not joined the Schengen Agreement, which is why every tourist is checked so thoroughly before they're allowed into the country – or not, in my case.

This left our day free for a spontaneous plan B. As I said, the day was still young, so we decided to drive to Ronda, Spain's answer to Rothenburg ob der Tauber, which is only accessible via rural roads and is located about 80 kilometers from Gibraltar.
The trip was worth it for the drive alone! The route to Ronda took us along a wonderfully winding road through a picturesque mountain landscape, where countless storks were nesting. It's a good thing Spain's power lines are above ground. Each and every pylon housed a pair of storks, which had built a nest and started raising young there. What a fascinating symbiosis between nature and modern technology! I reckon the storks think the pylons were put up purely for their convenience.
Our delightful drive through the mountains was slightly marred by one thing. Where the drivers of Tirol, for example, are known for their bravery and selflessness in showing a tourist the top speed at which he could have taken a turn, overtaking in Spain is more of a theoretical concept, which you may have heard about at some point in driving school. This means that the dignified old men and their wives, driving about 20% slower than the speed limit indicated on the road signs, are trailed by long lines of cars, crawling along behind them. If you're not prepared to overtake ten or twelve cars at once, you become part of this new, constantly growing line of cars, which travels all the way to Ronda en masse.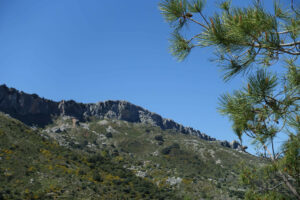 Despite this and after a beautiful journey – we overtook twelve cars in one go and so ended up driving to Ronda a little faster than 30 kilometers per hour – we arrived at around 11 am. That's early by Spanish standards, as we saw immediately at the local multistory car park. Ronda's new town has one car park in particular that appears designed to give visitors a taste of what they're missing by not driving through the city's narrow streets. In other words, every turn requires several driving maneuvers. After several unsuccessful attempts to squeeze our car into the remaining free spaces we could see on the first parking level, we realized that there were two more levels that were totally empty. That's where we left our car so we could explore Ronda.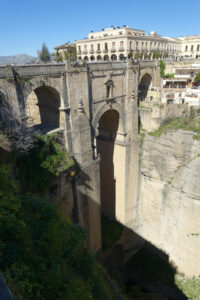 Put briefly, Ronda is a gorgeous city with an incredibly high bridge spanning an incredibly deep gorge. That's it. That's what all of the tourists, who are also stopping at Seville, Cordoba, or Granada on their travels, need to see. But the thing is, tourists in Seville, Cordoba, or Granada are spread out over a large area, whereas in Ronda they're all piled up in one spot to take a selfie in front of the bridge.
Ronda is also an ancient city, known even by the Romans, who gave it the name Arunda. Of course, the military made use of the unique location to build a fortress. Upon these Roman walls, the Moorish governor of Al-Andalus set up his own stronghold. This became a hideout where rulers, especially more minor ones seeking independence, would happily hole up. It's little wonder that Ronda was one of the last Islamic fortresses putting up resistance against the Reconquista. It wasn't before the reign of Ferdinand the Catholic that Ronda was conquered in 1485.
Ronda was too far from the sea to benefit from international trade, and it took really long that railways and modern roads were built. This left it in the shadows of history, meaning the 18th- and 19th-century architecture has been very well preserved. And it's really no wonder Ronda hasn't been made much of a name for itself in numismatics.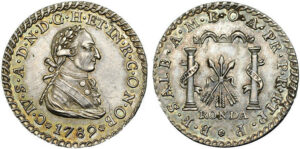 That said, there is one medal offered relatively often at Spanish auction houses which has close links to Ronda. This medal was issued under King Carlos IV and its inscription is downright enigmatic. In full writing it means: Bartolomé Felix Salvatierra Alferes mayor, Caballero del Orden de Alcántara proclama por el Rei y por la Patria.
You have to do a lot of research, if you want to know the historical background: The Mayor of Ronda, Bartolomé Felix Salvatierra, held a great festival to celebrate Carlos IV being nominated King of Spain. We still have the festival program of this celebration. And, as was customary in the 19th century, medals were struck during the festival. They depict the new king on the obverse and Ronda's municipal coat of arms on the reverse.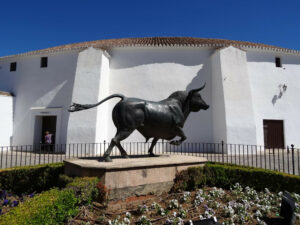 As I said, the city doesn't have a great deal to offer in terms of art history, but it is known as the home of modern bullfighting. It's where the early modern corrida, held for public entertainment, developed into today's sport with its complex set of rules which, for all its seriousness, obviously cannot cover up the fact that the bullfights are still entirely for public entertainment (which, of course, is also true of boxing matches, car races, and the Olympic Games).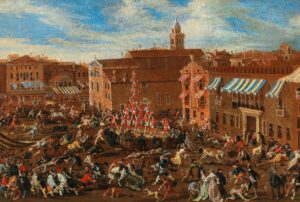 In the early modern period, bullfights weren't actually held in a ring but rather in a large square, and not just in Spain, either. There were various ways of killing the bull. The typical method in Spain was for the toreador, a nobleman, to jab an approx. one-meter-long lance at a bull from his horse and stick it into its neck at such an angle that it broke off at a predetermined point and remained stuck in the bull. Whoever left the most lances in the 20 or so bulls thundering around the square was the winner.
The noblemen would only deign to kill the bull with a sword if it "offended" them, either by injuring their horse or throwing off "their" lance. Normally, the bulls were only killed when the corrida was starting to wind down, and only by "lesser" participants. One would come over with their capes and distracted the creatures so that the others could cut into their tendons. The animals would then be slaughtered with some members of the audience come running willing to participate. There always were victims – and not just for the bulls – or, as Luis de Cabral wrote about a bullfight in Plaza Mayor in Madrid: "The bulls were decently; they killed five or six men and injured many others."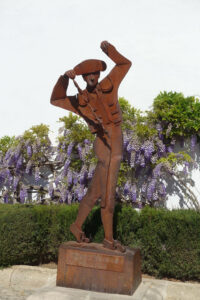 As I said before, modern bullfighting was "invented" in Ronda. Nowadays, the task of chasing down the bull is shared by the banderilleros, picadors, and the toreros, who fight on foot.
Ronda also has a magnificent bullring, but these days it only hosts historical bullfights performed in traditional costume, known as bullfights "à la Goya". With a diameter of 66 meters, the ring is said to be too large to guarantee an exciting bullfight.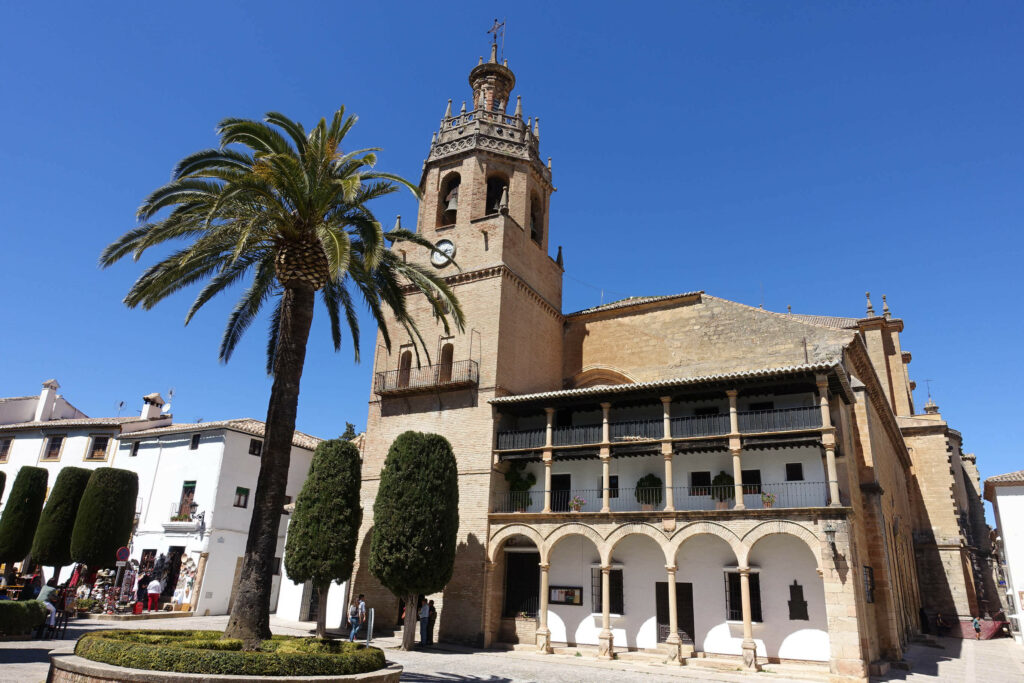 We didn't see a bullfight or visit the bullring or its museum, but instead shoved our way through the crowds in the old town, which boasted a couple of very beautiful, peaceful squares. We stopped for lunch at a little café opposite the city's biggest church. It really was a lot of fun, sitting there peacefully while all sorts of curiously dressed tourists trudged by.
And that was it. There isn't really much else to see in Ronda. So, we made our way back.
The next part of our numismatic travelog takes us to where every tourist in Spain longs to visit: Granada. I still need to work out how much to tell you about this stop of our tour.
Click here to view all parts of the numismatic travelog "To Spain!".