[bsa_pro_ad_space id=4]
Some of the Spanish coasts are practically the epitome of tourism. The Costa del Sol is one of them. Hundreds of kilometers of beaches lie in the shades of giant concrete hotels, making Torremolinos or Marbella today's synonyms for sun, sand and sunburn.
If this coast's reputation has kept you from visiting it until now, you may be surprised to hear that there are some very interesting places there, which, of course, we visited on our tour around southern Spain. Come along with us to Algeciras, Tarifa (with a view of the Pillars of Hercules), Baelo Claudia and Cape Trafalgar. And for all those interested in prehistory: On our way to the Costa del Sol, we passed the Antequera Dolmens Site, which is one of Europe's largest megalithic sites and was declared UNESCO World Heritage Site.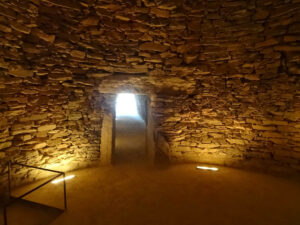 Friday, 31 March 2017
This morning, we left beautiful Córdoba. By now, we were really sorry to leave the Parador. We had gotten quite used to the luxury of our own balcony, and with every nightly visit had enjoyed the bar a bit more. But we did want to get all the way south, to the Costa del Sol. Not to go swimming, obviously – the legendary Pillars of Hercules were calling us. To get the chance to look from Spain to Africa, that was the plan. There was only one issue: On this Friday, the entire nation was on its way to the Costa del Sol (most probably not because of the Pillars …). The result: All the pretty hotels were fully booked. We therefore chose a less pretty hotel in the center of Algeciras, which was at least strategically located.
As mentioned before, we chose our route so that we would pass by Antequera, where one can marvel at some important examples of the megalithic culture. The three dolmens were built between 3,500 and 2,500 BC, during what is known as the Neolithic period. We expected having to search for a while and stumble through fields for miles. Experience has taught us that prehistoric sites are rather low in the ranking of tourists' liking. A phenomenon which the tourist offices take into account by consequently neglecting them. Yet, we were positively surprised: Seldomly have I seen such well-signposted megalithic architecture.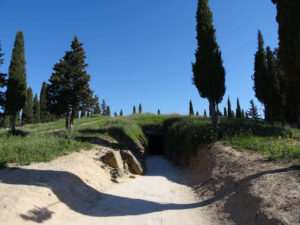 First, we got to the dolmen "El Romeral". We were greeted by a large parking lot and a booth, which in fact did not sell tickets, but – surprise, surprise! – distributed information leaflets in four languages (of course, German once again wasn't one of them…). But the lady at the entrance spoke perfect German. It was the first time we experienced that!
"El Romeral" is actually the youngest of the three dolmens, supposedly built around 2,500 BC – give or take a few centuries. You walk through a long corridor to a domed round chamber that was built using the technique of corbelling, just like the Mycenaean Treasury of Atreus.
The only difference in architecture is the giant stone used to cover the hole that is left at the top of corbelled structures. Remains of human skeletons and burial objects (of course removed by now) gave the archeological proof that this was in fact a burial site.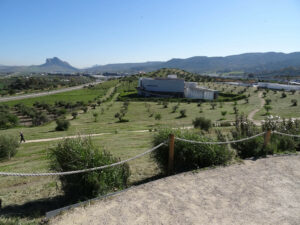 The lady at the entrance had insisted on explaining to us in full detail how to get to the other dolmens. Which actually wouldn't have been necessary, because those, too, were perfectly signposted. This time, there were two large parking lots as well as a visitors' center with an exquisite selection of literature. The (intended) highlight was a film about the construction of the giant burial sites, featuring terrible music (and a version of the Neolithic construction technique that I found slightly doubtful).
If you wanted to, you could not only visit the two dolmens for free, but also receive a free guided tour in English or Spanish. We preferred to visit the dolmens by ourselves. (The film had stirred up doubts whether the guided tour was actually worth our time.) Right away, we turned toward the Dolmen de Menga, a truly impressive construction with a large interior chamber partitioned by two giant columns. The megaliths are said to weigh up to 180 metric tons and were transported over a distance of about one kilometer.
The third dolmen by the name of "Dolmen de Viera" is a kind of long chamber tomb ending in a rectangular burial chamber.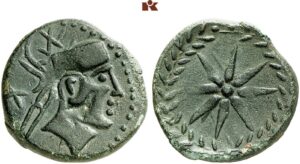 From Antequera, we made our way to Málaga – not entering the city though, only driving until the motorway intersection. From there, two highways lead to Algeciras: a toll road further away from the sea, and a free one running directly alongside the sea. We opted for the free one, not for saving money, but because we were looking forward to a drive along the water. What a mistake! We occasionally saw the sea, but most of the time, the approximately 50 meters of distance were covered with hotel bunkers. I knew that the Costa del Sol was a tourist stronghold, but I only got to understand what that means in practice on the drive from Málaga to Torremolinos. Endless amounts of concrete, one honeycomb structure with balcony (with a beautiful view of the picturesque highway) after the other, and in between restaurants where you could eat dishes of every nation: from Italian to Japanese to German, plus authentic British pubs. The latest trend seems to be golf clubs. Within 10 kilometers, we passed what felt like 20 of these. Some boast gigantic billboards featuring happy families holding golf clubs, beaming at the camera.
At the next opportunity, we changed onto the paid highway, further away from the sea. A good decision in every aspect! Quickly and without traffic jams, it led us to Algeciras, where the ferries to Tangier (Morocco) and Ceuta (Spain, but on the African continent!) depart. That's the reason why the speed limit signs are also in Arabic, which confused us at first, thinking we hadn't looked right …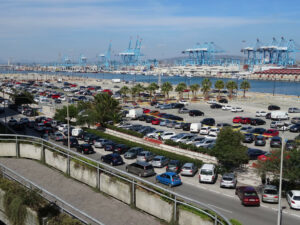 Algeciras is an ugly little harbor town, which has numerous quite decent hotels since it's in a favorable location traffic-wise. In an AC Marriott, we found a double room for the (especially for the weekend!) astonishingly cheap price of 60 euros. That made us nervous; all the other hotels charged at least three times as much. We never found out why our hotel was so cheap. It had modern rooms equipped with everything the traveler needs. There was quite a decent breakfast, and the entrance bore all kinds of signs from Trip Advisor, Michelin and others, announcing that one could sleep and eat well in this hotel. Which is exactly what we did.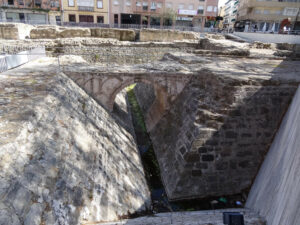 Apart from the hotel, Algeciras didn't offer much, even though its history actually dates back to the year 711. When the Moors invaded Spain, it was here that they first set foot.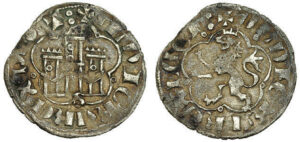 There even exist coins relating to Algeciras, like this dinero which was minted in Seville when Algeciras was besieged by Alfonso XI of Castile. The king conquered the town in 1344 during the Reconquista.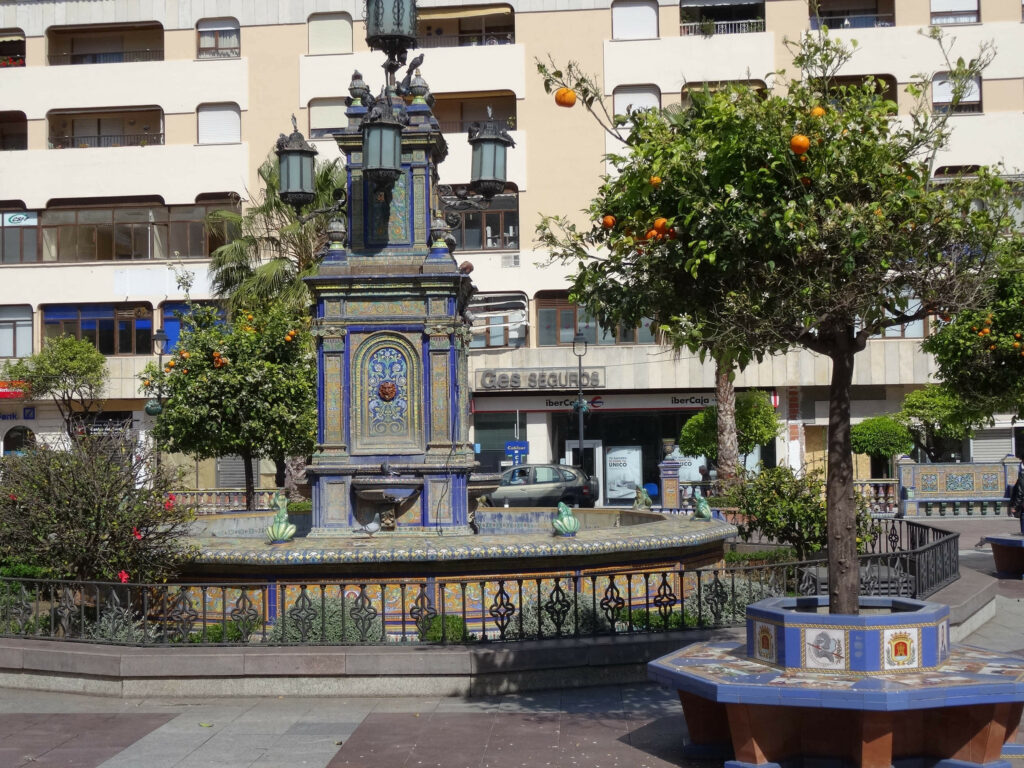 We went into the city center where we saw the remains of medieval and early modern fortifications. The main square was characterized by a non-functioning fountain with pretty tiles. And that was about it. We had (once again) a late lunch (or an early dinner) and, for that, were able to choose between a pizzeria and an Italian restaurant. There probably are a few Spanish bodegas, too, but we didn't find those in the short time …

Saturday, 1 April 2017
Today, our trip led us to the southernmost point of Europe, Tarifa, from where you have a splendid view of Africa. It did make us a little bit nervous that there were cameras everywhere, and that thoroughly-supervised parking lots were advertised. Nevertheless, we parked our car in the street, directly in front of a small grocery store. We just couldn't imagine that a burglar would have the audacity of breaking into our car directly in front of everyone's eyes.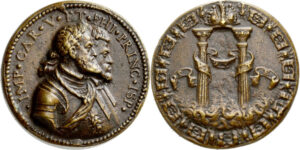 The Jebel Musa (where the arrow in image 13 points) and the Rock of Gibraltar make up the famous Pillars of Hercules, which at first were the personal emblem of Charles V, then became the symbol of the global power of Spain. When you look at its geographical preconditions, this emblem gains a significance of its own.
On his travels, the Greek hero Hercules supposedly pronounced this exact spot as the end of the (then known) world. The Spanish naval power reached beyond that and, with the motto plus ultra ("further beyond"), expressed the deep desire of the early modern era. The Renaissance gave way to the understanding that there is something beyond every border.
I suppose we don't need to mention here that the two Pillars of Hercules with a ribbon wrapped around them are still ubiquitous today – in the dollar sign.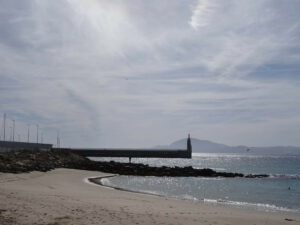 But back to Tarifa, which was named after the Moorish conqueror Tarif ibn Malik. It is a charming little travel destination, living off the fact that many beach tourists want to stand at the southernmost point of Spain once in their lives. Although, in fact, that isn't even possible, because the actual southernmost point is occupied by a fortress on the bird island Isla de Las Palomas, which is said to have been a Phoenician trading post in ancient times.

The island can be reached via a causeway separating the Mediterranean and the Atlantic. Left and right, there are public beaches; due to the low temperatures, they weren't exactly crowded. But divers and windsurfers animated the scenery. After all, the rough weather makes the area a surfing paradise, and the untouched nature – mind you, only in comparison to the rest of the Costa del Sol – attracts divers. Supposedly, there are even regular whale watching tours along the coast …
The rest of the town is fully aimed at tourists: nice restaurants, including many pizzerias (is it at all possible to enjoy Spanish cuisine in this touristy area?), plus a small market for edible souvenirs.
We didn't buy anything; a whole Iberian ham seemed somewhat over the top. And, from experience, I know that even the best cheese doesn't taste quite as good after being carried all the way home.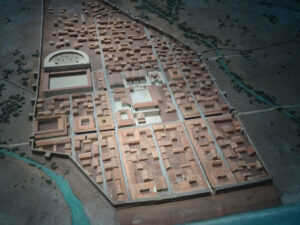 Not too far from Tarifa lies Baelo Claudia, a Roman settlement which once lived off fishery and nowadays is considered one of the best-preserved Roman settlements in all of Spain.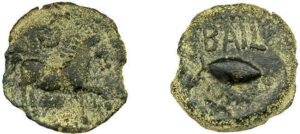 Through the Strait of Gibraltar, huge schools of tuna are said to have passed by Baelo twice a year. How important they were for the town is illustrated by the fact that the tuna is even referred to on one of the two coin types of the Celtic settlement.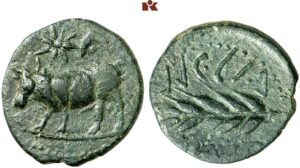 The second coin type with its wheat ear presumably indicates that agriculture also played an important role in Baelo. Either way, because of the fishermen of Baelo, a part of the big schools of fish could enrich at first their own and later the Roman cuisine. For Baelo Claudia, which had been granted the title of municipium under Emperor Claudius, gained renown among Roman gourmets for its exceptional garum.

Quick reminder: Garum was produced by mixing whole fish – preferably tuna or anchovies – with salt brine and letting them sit in the sun in open tubs with well-sealed bottoms for months. A factory where exactly that was done was unearthed in Baelo Claudia – and we were very thankful that it had stopped operating nearly 2,000 years ago. The stench of the fish protein fermenting due to the enzymes from the viscera must have been indescribable.
By the way, the final product, which resulted after the fish mush was squeezed, filtered several times and stored for a long, long time, supposedly had a rather pleasant smell …

The excavation site of Baelo has been turned into a very nice tourist attraction. It features a large parking spot and a small museum. Entry is free for EU citizens. Everybody else has to pay € 1,50. Luckily for us, the Spaniards simply ignored the fact that Switzerland refuses to join the EU. For them, my Swiss husband was European and did not have to pay the entry fee.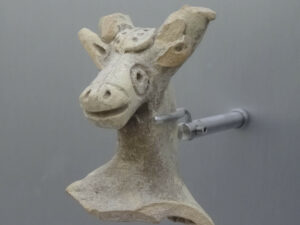 The museum of Baelo made an effort to come across as digital – the only option if you have nothing more than a few mediocre exhibits to show; its greatest treasures, Baelo had to cede to the archeological museums of Cádiz and Madrid.
But in compensation, the excavation site is rather impressive, with a nice bit of reconstructed Roman road, a small theater, of which unfortunately not much is left, a temple and quite a few ruins of little shops and houses.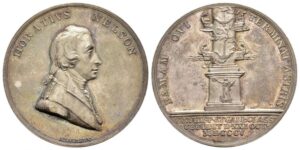 This would have been the final item on today's schedule, had I not discovered on a map that Cape Trafalgar was close by.
Come on! Trafalgar! Thanks to the London Trafalgar Square, the name can really be considered common knowledge – as opposed to Trafalgar's actual location. After having discovered it on a map, it went without saying that we would visit the historic place.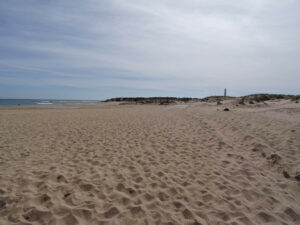 Let's put it this way: It appears that this historically so meaningful location is not exactly among the sights Spain wants to publicize. Rarely have I seen anything as badly-signposted as this cape. It was a veritable challenge to find the way there. We seldomly have had to make so many U-turns and try out so many different roads! Yet, one detour was worth it: When we took a wrong turn at Vejer de la Frontera, we passed a restaurant that was just perfect for our late lunch: Venta Pinto in La Barca de Vejer. Keep that name in mind if you're planning on ever getting lost near Trafalgar … At first, we were a little surprised by the rather high prices for Spanish standards (especially the extravagant fish dishes reached all the way into the lower three-figure range!!!), but the food was worth every penny. We ordered house-style mussels, a prawn casserole and an oven-braised wild boar (not a whole one, obviously, my name is not Obelix after all!), and it was delicious!
Thus strengthened, we finally did find Cape Trafalgar after half an hour: behind a camping site by the same name, without any monument or commemorative plaque, only the name and a lighthouse bearing witness to the world-historic events of earlier times.
And that was it for today. We drove back to Algeciras, where, in the next part, we will fail to visit Gibraltar. Adequate replacement, though, is offered by the spectacular Ronda.
You can find all episodes of the numismatic travelog "To Spain!" here.