[bsa_pro_ad_space id=4]
Like Brigadoon, a mystical village that appears briefly and then vanishes, the Beijing International Coin Expo (BICE) rises almost out of nowhere, flourishes and then is gone. As I carefully tiptoe my way through the China National Convention Center hall, this legend comes to mind. Workers are everywhere; on ladders, carrying pieces of plywood, laying wires. Discarded wrappings and boxes are strewn about. A few brave souls, like a pair of sales representatives from the Royal Mint, brave the chaos to examine their booth. Mostly it is just workers around me. A few more hours, though, and an immaculate numismatic city of dreams will be ready. Coins will gleam in all directions under the spotlights.
BICE, held this year from November 15-17, 2019, isn't a regular coin show. It represents an annual opportunity for the Chinese numismatic world to promote its products, to measure its progress. The largest displays belong to banks and government institutions. Unlike typical coin show exhibitors, these may offer little, or nothing, for immediate sale. They are there to encourage longer-term relationships. Some, though, give interesting samples away to the public. Like the Shenyang Mint does this year. For an hour people line up at its store for a free brass 2020 Year of the Mouse medal. There are also free samples to be found from the grading companies, like my friends at NGC.
Meet, Greet and Learn At the BICE
On one level, BICE is where you go to renew acquaintances and meet new people. This is the place to see and discuss the finest examples of numismatic technology that the People's Republic of China offers. There are many people from the mint system who only meet and greet the public at this show. That includes technical experts and artists alike. If you can speak Chinese, or have an interpreter along, they are delighted to talk about their work. Some of the outstanding coin designers who attend this year are Mr. Luo YongHui, Ms. Chang Huan, Mr. Cheng Chao, Ms. Tong Fang, Mr. Liao Bo and the list goes on and on.
On another level, it's just a great place to browse and absorb some Chinese coin culture. So, let's take a tour of the BICE convention hall floor. After the sign-in for a free ticket in the outer hallway, a single entrance door leads into the show (there are two major exits). Security is not obtrusive, but involves going through a metal detector to enter the building.
The area nearest the entrance hosts many of the largest displays. The most prominent belong to China Gold Coin, China Banknote Printing and Minting Corporation and the China Numismatic Museum. The museum always offers popular in-depth explorations of Chinese numismatic history. This year's exhibit, to commemorate the People's Republic of China's 70th Anniversary, describes how the country has blossomed. Brilliant examples of coins, paper money, posters, archival photos and the written word illustrate the last seven decades of life and events.
Banks like the China Construction Bank, China Agricultural Bank and Minsheng Bank promote themselves near the entrance. The Agricultural Bank offers playful precious metal cartoon characters in its display. An impressive Panda master set (with five gold Panda coins for every year from 1982 through 2019) is nearby.
Mints From All Around the World Compete For the Chinese Market
BICE attracts many world mints from the famous to the obscure. This year there are booths for: Monnaie de Paris, the Royal Mint, the Perth Mint, Münze Österreich, MDM/The German Mint, the Royal Australian Mint, the Royal Canadian Mint, the Mint of the Central Bank of the DPRK (North Korea), Singapore Mint, the Kazakhstan Mint, the New Zealand Mint and the Japan Mint.
Roughly in the center-front of the convention hall is an area for the coin and paper money producing branches of China's government. Some mints have familiar names like the Shanghai Mint and the Shenyang Mint. Others, like Zhongchao Guanghua, Nanchang Banknote and Printing and Shijiazhuang Banknote Printing companies are less well-known outside of numismatic circles, but are equally official. Each one displays innovative and sometimes spectacular products. Many of these may only surface publicly at this show. This makes it very worthwhile to calmly spend some time at each mint branch.
The Shanghai Mint store itself is an attention-getter. It recreates a 1920s Shanghai street. This includes a rickshaw carriage that is a popular prop for photos. Even such numismatic celebrities as Mr. Luo YongHui smile for the cameras in it.
China Gold Coin Inc, places its own subsidiaries directly in the convention hall's center: the Shenzhen Guobao Mint, Shanghai Gold Coin Investment, the Great Wall of China Investment Co. and the China National Grading Company. Shanghai Gold Coin Investment offers beautiful pins and pendants designed around a musical clef with a 1-gram gold panda embedded in it. These sell out by the second day and women wearing them are common sights for the rest of the show.
Farther back and along the periphery of the hall private dealers, publishers and packaging companies form another section of BICE. Their booths are more like traditional coin show tables and they are ready to sell everything from the 2020 silver Panda coins to sets of twelve oz. silver, or even gold, Lunar year coins. One large dealer's area is still packed with prospective bargain hunters at closing time on the last day.
This year the Panda Launch ceremony, customarily held at BICE, took place at Tian'anmen Square. Even so, pandas are prominently displayed at the coin show. The Shenyang Mint even offers a special promotion: buyers of a panda book (the Gold and Silver Panda Coin Buyer's Guide Chinese edition) receive a gift of a mint-struck bimetallic panda medal.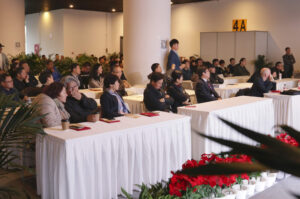 Educational Lectures For Collectors
Speaking of books, BICE sponsors educational lectures. A very well-attended one is for the Congress of the Coin & Medal Art Committee of the China Numismatic Society. Interested numismatists fill a large room to capacity for the talks. While that goes on, a few meters away China Gold Coin has placed a chair in-between a number of plexiglass-encased five and ten kilo gold coins. Visitors line up to sit in the chair and have their photo taken.
Everywhere you turn at BICE there are surprises and things to delight anyone with an interest in coins and paper money. There is nothing else quite like it. Then, poof, it's gone.
This year, CoinsWeekly attended also some coin shows in Asia. If you want to understand better what Asian coins shows are like, don't miss our articles on the Hong Kong Coin Show and the Singapore International Coin Fair.