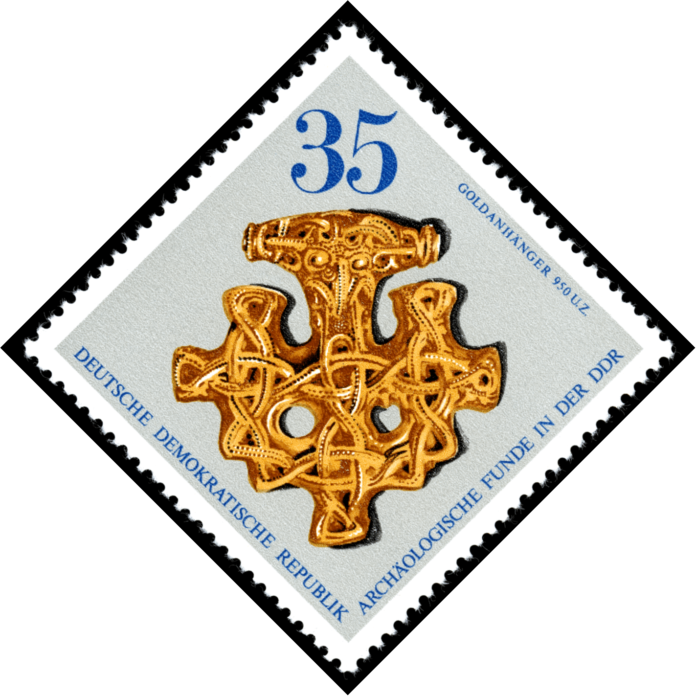 [bsa_pro_ad_space id=4]
Suddenly in 1873, strange gold objects came into the market. Rudolf Baier, a teacher and passionate archaeology enthusiast, quickly realized their importance for science. But where did all the common fishermen get these valuable objects from? To this day, this is not entirely clear. It is likely that a flood had washed clear their hiding place on the small Baltic island of Hiddensee. Rudolf Baier was thrilled by the impressive treasure of the Vikings. He wanted to prevent its melting down at any cost and therefore offered all finders to buy every ornament from them. He paid 4.10 marks per gram for it. At the time that was a pretty good price. For the gold coins of the German Empire, a gram of gold was only valued at 36 pfennigs.
Rudolf Baier bought up the entire treasure trove with 2,257 Reichsmark. It contains 596.2 grams of fine gold and is on display in the Stralsund Museum, which has covered it with an insurance of over 70 million euros.
Well, admittedly, the Teutoburger Münzhandlung will not be able to offer this treasure to its customers on December 7, 2019, of course, but it will be able to offer a replica, which also has a highly interesting history.
Since 1958, the GDR had carried out its annual Baltic Sea Week. In competition with the much better known Kieler Woche, it was developed as a colourful series of political, cultural and sporting events to which the communist neighbouring countries, as well as some non-aligned nations, were invited. In 1973 the event location was Rostock. Erich Honecker personally came to the opening. For this reason, the SED Rostock district management decided to have a copy of the treasure trove of Hiddensee made for him – but "just" in silver, gold-plated – in order to hand it over to him as a gift.
And one of three replicas, made in 1973 for Erich Honecker, Erich Mielke or the Cosmonaut Walentina Wladimirowna Tereschkowa will be offered in the coming December auction of the Teutoburger Münzhandlung. In fact, the word copy is misleading, because the object itself is a significant testimony to the history and self-portrayal of the German Democratic Republic.
You can find this replica in the catalogue 127 of the Teutoburger Münzhandlung under lot no. 4942.
You can read a detailed preview (in German) here.