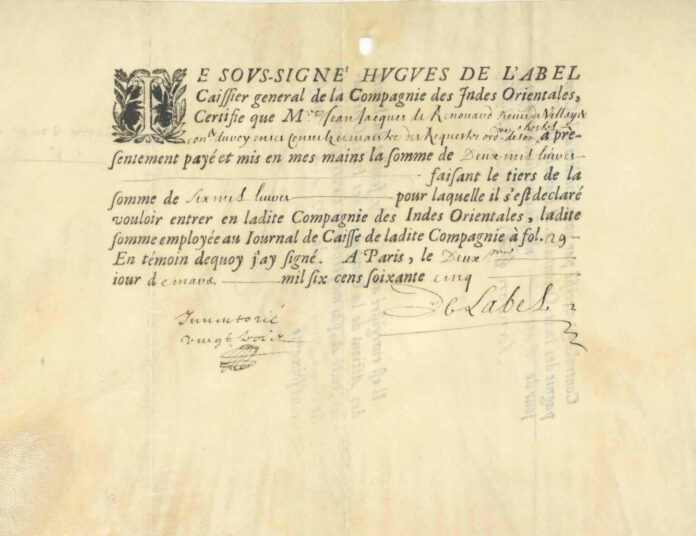 [bsa_pro_ad_space id=4]
In its last Summer edition, Scripophily magazine lists the top 25 scripophily auction lots from 2021. Ranked on number one is a share from the Compagnie des Indes Orientales. It was issued as early as 1665.
It was the French minister of finance, Jean-Baptiste Colbert, who founded in 1664 the Compagnie des Indes Orientales with authorization of Sun King Louis XIV. The purpose of the company: to compete against the English and Dutch colonial trading companies.
The company was granted a 50-year monopoly of French trade in the Indian and Pacific Oceans, from the Cape of Good Hope to the Straits of Magellan, with a concession in perpetuity for Madagascar and "all other islands and lands it could conquer". The company also had to build churches and train priests in its territories.
This certificate was issued in 1665, an eventful year: the Second Anglo-Dutch War begins, King Charles II of England leaves London fleeing the Great Plague, the Qing invasion of Taiwan fails due to a typhoon, and the Compagnie des Indes Orientales sends twenty settlers to start the colonization of Réunion.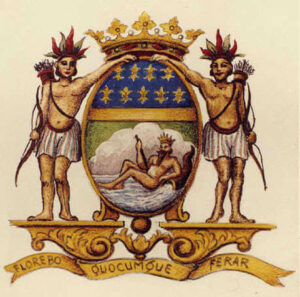 The company had interests all around the coasts of Africa, Madagascar, Réunion, the coasts of the Arabian Peninsula and India, as well as islands in Southeast Asia, even China and Japan. Several "comptoirs" were established in various parts of India such as Puducherry and Chandannagar. Especially Indian cotton was in demand on the French market.
In 1720 the Indes Orientales merged with John Law's Compagnie d'Occident to form the Compagnie des Indes.
The certificate is the oldest French share known today, as well as the oldest one from a company active on the Peninsula of India. It is also the oldest share ever offered at any auction world wide.
The share was printed as a standardized form and issued for 6000 French Livres, 2000 Livres been paid. Its features include transfers of ownership, hence it was tradeable and transferable. Only two other certificates like this one are known to have survived. Being one of the top items at the Swiss Finance Museum, this is the only one that is on display for the public. Bidding started at €44,000. The hammer fell at €120,000 and that's without buyer's premium.
Further references:
The Compagnie des Indes, by Howard Shakespeare, Journal of the IBSS, Feb 1997
This article was first published in Franky's Scripophily BlogSpot.
You can find more top results in our record slider of The Most Expensive Shares and Bonds.