[bsa_pro_ad_space id=4]
"The art of the medal is perhaps the most monumental of all the arts for it is the only one that survives throughout all centuries to bear witness to glory."
Vivant Denon to Napoleon Bonaparte
It is said that Napoleon Bonaparte experienced a kind of epiphany on an evening in the August of 1799. It occurred in the headquarters in Cairo. Through arrangements with Joséphine de Beauharnais, Vivant Denon had taken part in the campaign of Napoleon's army in Egypt as one of many scientific companions. That evening, he gave a presentation about it. In order to illustrate his explanations, he showed his sketchbook to the audience. Napoleon understood immediately.
Many years later, advertising expert Fred Barnard was to sum up Napoleon's revelation in the slogan "a picture is worth ten thousand words" for the Corsican decided not to rely on historiography but on the power of pictures in order to transmit his glory to posterity. Pictures that were to be spread through the entire then known world. And who better to entrust with the production of these pictures than the gifted lecturer, whose presentation had been a real eye-opener for him?
In 1803, Vivant Denon was appointed sort of a minister of culture and propaganda. In this function he was responsible – among other things – for the Louvre, which he turned into the largest museum of the world under the new name of Musée Napoléon. By means of elaborately staged triumphal processions, which featured also elephants, Denon had all the "new acquisitions" from countries defeated by France publicly transferred to the Musée Napoléon, where they were to be exhibited for everyone to see.
Additionally, Denon supervised the state production of porcelain in Sèvres and of tapestry in Paris. The Vendôme Column at Place Vendôme and much more can be traced back to him.
And last but not least: Denon also supervised the production of Napoleon's medals. One of the most magnificent specimens will be auctioned off in the upcoming Berlin Auction Sales of auction house Künker on 30 January 2020 as lot No. 811. It is a gold medal struck in 1807 that was offered for the first time in the famous Bank Leu Auction "Monnaie et Medailles Napoleoniennes".
Therefore, this medal was part of the collection of Prince Victor Bonaparte, which was sold by his descendants in the aforementioned auction in 1975. Apparently, Victor Bonaparte possessed the gold off-strikes made for Napoleon himself that had been given to him as specimens. Thus, it is quite certain that the piece on offer was part of Napoleon's collection.
But this is not the only reason that makes the medal so special. It is of huge historical significance because its motive tells us about the target groups of the extensive medal production – and by the way, the final decision regarding a medal's motif was always made by Napoleon himself.
There were two completely different kinds of customers. First, there was the state – meaning: Napoleon and his staff. The Monnaie de Médaille provided them with the gifts they needed for official exchanges of gifts. Here is one example: In 1804, on the occasion of his coronation, Napoleon ordered 950 gold, 2,800 silver and 500 bronze specimens of the medal type especially designed for this event – in addition to 70,000 small silver tokens. Whereas the silver tokens were thrown into the crowd, all state guests received a commemorative piece in gold or silver according to their rank.
There were many occasions for which Napoleon needed medals in order to use them as gifts. And he always took the time to decide carefully which medal of the historical suite and thus which topic was the right one. Did he want to impress or threaten the person in question? Well, a victory was perfectly suitable in order to do so. Did he want to express peaceful intentions? In that case, it was best to choose one of the medals dedicated to cultural and medical achievements. Famous guests like Pius VII or Tsar Alexander I were directly invited to the mint, where a medal commemorating their visit was minted.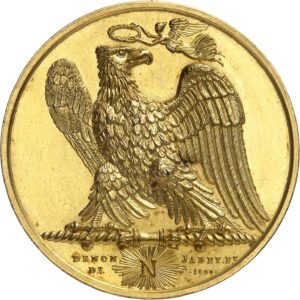 However, there were also visitors for which it was difficult to find an appropriate topic. For these people Denon had a medal with the date of 1807 made depicting the Napoleonic eagle on a thunderbolt. From the right, Nike flies towards the eagle bearing a wreath in order to put it on the eagle's head. The reverse does not bear a legend. There is only the letter "N" for Napoleon in the exergue. It is depicted in a way similar to the all-seeing eye of God we know from earlier medals. Next to it, you can read the inscription DENON DirigiT and JALEY FeciT, which means that Vivant Denon selected the motif and the way it was depicted while medallist Louis Jaley produced the die.
Denon wrote about why he chose a motif without any concrete historical references: "This medal may be of use to the emperor if he does not wish to give a medal of the historical suite, but he simply wants to honour somebody with a medal."
Denon did not mention the fact that these medals also were ideal products for the second target group: private customers buying medals at the Monnaie de Médaille. All "official" medals were for sale at that time. Vivant Denon reveals in a letter to Napoleon written on 23 December 1803 that collectors weren't the only persons buying these medals: "It is customary for wedding gifts to be accompanied by a medal that is appropriate for the ceremony. These medals are among the most produced articles of the Monnaie de Médailles. The existing dies that are being used for this purpose are poorly made and of very bad taste, they feature the portraits of our last kings. I think it is necessary to replace them."
And that's what Denon did. Until Napoleon's power came to an end, Denon designed the image of Napoleon's reign, which still exists in our minds today. His medals focus on the victoriousness of Napoleon whereas the defeated parties only appear on rare occasions. Could this be the reason why we forgot so easily about all the victims Napoleon's campaigns claimed?
We already published a preview of Künker's Berlin Auction 331.
You can browse through all lots of this auction at the Künker website.
Recently we reported on very special jewellery with roman aurei that was made as a present from Napoleon to his sister. It was also auctioned by Künker.