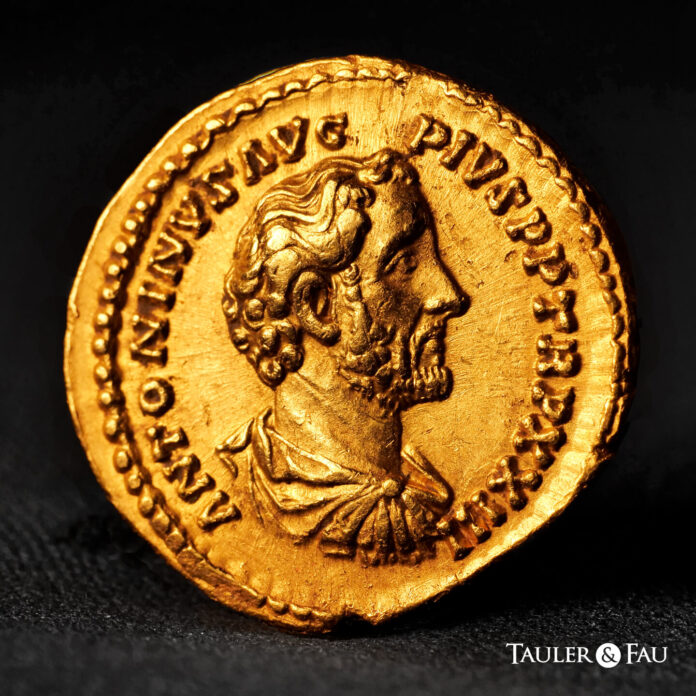 [bsa_pro_ad_space id=4]
Tauler & Fau's E-Auction 80
Tauler & Fau's E-Auction 80 – Ancient World Vol. IX features 645 lots and closes on Tuesday, 6th April 2021, beginning at 04:00 PM (CEST). This sale features Greek Coins, Celtiberian Coins, Roman Republican, Roman Imperatorial, Roman Imperial, Byzantine Empire and large lots. The collectors will find an interesting auction of Ancient Coins, specially, a good selection of Roman Republican denarii, Celtiberian and Roman Imperial Coins.
Some highlights from this Auction: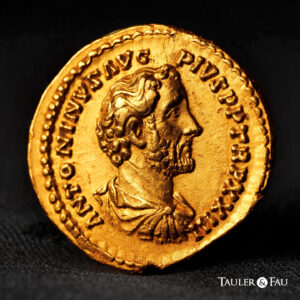 Lot 462: Antoninus Pius. Aureus, 159-160, Rome. Av: ANTONINVS AVG PIVS P P TRP XXIII, draped bust right. Rv: PIETATI AVG COS IIII, Faustina as Pietas left, two children at feet, holding globe in l. hand, child in right hand. A good sample. Almost extremely fine. Starting Price: 1,500 EUR.
Lot 323: Furius. L. Furius Cn. f. Brocchus. Denarius, 63 BC, Rome. Av: Bust of Ceres right between wheat-ear and barley-corn. III. VIR., across field, BROCCHI below. Rv: Curule chair between fasces, L. FVRI. CN. F above. Attractive. Extremely fine. Starting Price: 90 EUR.
Lot 40: Thrace. Koson. Stater, 42 BC. Av: Roman consul (L. Junius Brutus?) walking left, accompanied by two lictors, monogram before, KOΣΩN in exergue. Rv: Eagle with spread wings standing left on sceptre, clutching laurel wreath in right talon. Perfectly centered struck. Pleasant color and appearence. Almost uncirculated. Starting Price: 700 EUR.
Lot 226: Segovia. Unit, 30-20 BC, Segovia. Av: Head of Augustus right, C. L on the sides. Rv: Horseman right, holding spear, SEGOVIA below. Minor deposits. Very rare, even more in this grade. Almost extremely fine. Starting Price: 400 EUR.
Lot 443: Trajan. Aureus, 103-111, Rome. Av: IMP TRAIANO AVG GER DAC P M TR P, laureate, draped, and cuirassed bust right. Rv: COS V P P S P Q R OPTIMO PRINC, Libertas standing left, holding pileus and vindicta. Minor nicks on edge. Choice very fine. Starting Price: 1,200 EUR.
Lot 69: Kingdom of Thrace. Lysimachos. Tetradrachm, 323-281 BC. Av: Diademed head of the deified Alexander right, with horn of Ammon. Rv: Athena seated left, leaning on shield, holding Nike. Almost extremely fine/Choice very fine. Starting Price: 250 EUR.
To view the lots of this auction and see the included videos for selected lots, visit Tauler & Fau's website.